Yamaha Motor models to be displayed at the 40th Tokyo Motor Show 2007 (Part 1)
| | |
| --- | --- |
| | Sep. 20, 2007 |
Yamaha Motor Co., Ltd. is proud to announce that it will be displaying 19 exhibition models in a booth organized around the concept of "The Art of Engineering" at the upcoming 40th Tokyo Motor Show 2007 to be held over the 16 days from Oct. 27 (Sat.) to Nov. 11 (Sun.) (Organizer: Japan Automobile Manufacturers Association; Venue: Makuhari Messe, Chiba Pref.; Special invitation day: Oct. 26).

Here we introduce 11 of the display models (3 world premiere models, 5 Japan premiere and 3 others) that are sure to give visitors an experience of Yamaha's definition of Excitement.
[Summary of the main display models]




«World Premiere Models: 3»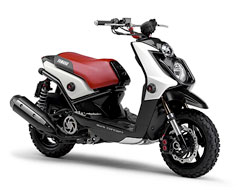 •BW'S CONCEPT (Special exhibition model/prototype)
This variation on the BW's scooter features block-pattern tires and special high-spec parts in the front and rear suspensions and brakes. This stylish commuter bike features a wild and tough design that projects an off-road image.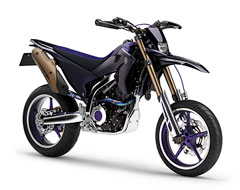 •WR250X SPECIAL (Special exhibition model/prototype)
This is a special version of the Yamaha "WR250X," a model featuring a newly developed engine and aluminum frame and achieves a harmonious balance of the lightness and enjoyable ride people want for around-town use and the high-level performance necessary for super motard competition. To this is added special coloring and equipment that creates a mysterious appeal. The result is a premium street sports model that inherits the name and DNA of the WR competition models.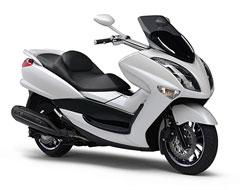 •MAJESTY SPECIAL (Special exhibition model/prototype)
To the Majesty, a model developed around the key words "Stylish and Emotional," have been added a number of quality appointments like special handlebars and switch boxes, an instrument panel with plated molding, a real leather seat, a projector type LED headlight and more to create a deluxe big scooter.
| | |
| --- | --- |
| | «Japan Premiere Models: 5» |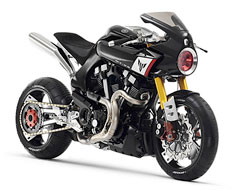 •MT-0S (Special exhibition model/prototype)
Taking the "Soul Beat V-twin Sports Model" MT-01 as its base, this concept model is designed to be "The Ultimate Quality Adult Hobby Bike" featuring special parts like a new muffler that expresses the unbeatable torque of the air-cooled V-twin engine and an LED headlight.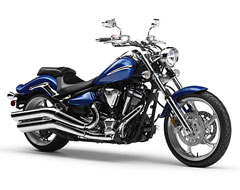 •XV1900 Raider S (Special exhibition model/export spec)
Designed as a completely new type of cruiser with a "customized" appeal not found in conventional mass-production models, the new "Raider" is a premium model with an impressive presence and plenty of deluxe features. It is a model with artistic styling and neutral handling that exceeds anything you would expect from a customized bike, while also providing an engine feeling that lets the rider experience the pleasing pulse you expect from a big-displacement V-twin.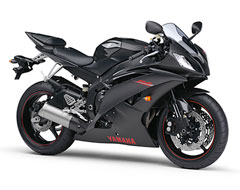 •YZF-R6 (Special exhibition model/export spec)
Building on the concept of "No. 1 in laser-sharp handling and super-exciting performance," the 2008 model YZF-R6 has undergone a full model change, with new features like the Yamaha Chip Controlled Intake (YCC-I) system developed in line with Yamaha's G.E.N.I.C.H. engineering ideal. It also features the first magnesium rear frame ever adopted on a production motorcycle, which enables greater concentration of mass to contribute to even higher levels of performance not only in circuit riding but also on secondary and winding roads.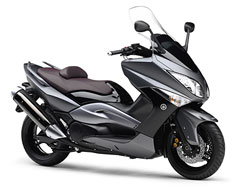 •TMAX (Special exhibition model/export spec)
With its release on the European market the Yamaha TMAX quickly won a following thanks to its outstanding ride and innovative styling and soon established a new category: the "automatic transmission sport bike." The 2008 model has been developed around the concept of "an evolution of the sports commuter" with measures like optimization of the intake and exhaust systems, adoption of a new-design aluminum frame, 15-inch tires front and rear and a new exterior design. The result is a new TMAX with new levels of performance in the ride, the look and feel of quality and environmental performance.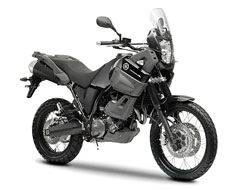 •XT660Z Tenere (Special exhibition model/manufactured overseas)
Inheriting the name of the famed Dakar Rally machine "Tenere," this is a model that boasts running performance worthy of that off-road tradition while also adding features that contribute to greater comfort in long-distance trips. The liquid-cooled 4-stroke single 660cc fuel-injected engine with its easy-to-use power development and outstanding response is mounted on a highly durable diamond type frame and proven front and rear suspensions in a chassis with styling that stimulates the adventurous spirit. It also provides longer running distance per fueling and plenty of carrying capacity for the gear you want to take along.
«Other Display Models: 3»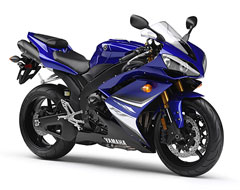 •YZF-R1 (Special exhibition model/export spec)
With a development concept of "the fastest supersport," this model brings together the fullest use of the state-of-the-art technologies born of Yamaha's GENESIS and G.E.N.I.C.H. design and engineering ideals aimed at rider-machine communication. Its main features include (1) a liquid-cooled 4-cylinder engine with the new Yamaha Chip Controlled Intake (YCC-I), (2) Yamaha Chip Controlled Throttle (YCC-T), (3) aluminum Deltabox frame and (4) an exterior design that uses definitive edges to create a sense of dynamic motion.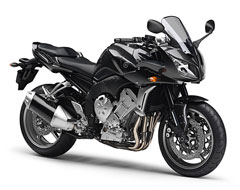 •FZ1 Fazer (Special exhibition model/export spec)
This is a model developed around the concept of a "real emotional roadster" and features light handling, engine settings that stress power development in the mid- to low-speed range and unique styling that expresses a sense of concentrated power and mass. It is an exciting high-level balance of the sports bike and the all-rounder that lets the rider enjoy easy-to-handle R1 type performance around town or out on winding roads.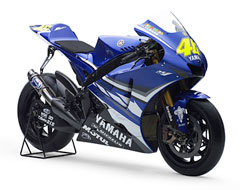 •YZR-M1 - Valentino Rossi's #46 machine
(Special exhibition model/commemorative model)
This is the factory racer used in the 2007 MotoGP season. It is characterized by the awesome power and drivability and exceptional ease of use achieved by the engine's phased crank interval and the resulting irregular firing interval, the advanced engine management system and the optimized rigidity balance of the frame.