Featuring Yamaha's "YCC-I" electronic control intake and the first magnesium rear frame ever on a production motorcycle for the next evolution in sports performance 2008 European model Yamaha YZF-R6
| | |
| --- | --- |
| | Sep. 11, 2007 |
Yamaha Motor Co., Ltd. (YMC) announces the development of the latest model change of its mid-class supersport model YZF-R6, mounting on an aluminum frame a 600cc liquid-cooled 4-stroke DOHC in-line-4 cylinder 4-valve high-performance engine with power output that exceeds the equivalent of 200 hp per liter of displacement. This new model will be displayed at the Mondial du Deux Roues 2007 show opening in Paris on Sept. 28 and will be released on the European market as a 2008 model.
This model adopts Yamaha's new "YCC-I" electronic control intake, which has been developed under Yamaha's G.E.N.I.C.H. engineering ideal using exclusive electronic control technologies and is now put to practical use to boost engine performance. Another new feature is the lightweight magnesium rear frame made possible by a unique Yamaha technology *1 and adopted for the first time ever on a production motorcycle. By contributing to greater concentration of mass it helps realize the next level of sport riding performance.
*1 This is a further development of Yamaha's exclusive CF (Controlled Filling) Aluminum Die Casting technology optimized for the production of cast magnesium parts. It makes possible the casting of large, thin-walled pieces that were previously believed too difficult for die-casting.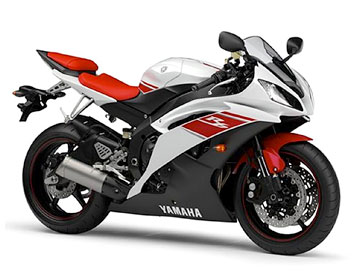 2008 European model Yamaha YZF-R6
Name:

Yamaha YZF-R6

Release date:

From Oct. 2007
(dates will vary by European distributors)

Coloring:

Bluish White Cocktail 1
Deep Purplish Blue Metallic C
Dark Gray Metallic G


Market Background and Product Summary


The 2006 model YZF-R6 featured a high-performance engine adopting for the first time the "YCC-T" (Yamaha Chip Controlled Throttle) based on Yamaha's G.E.N.I.C.H. engineering ideal and was released as "the extreme supersport fastest on the circuit." Ever since, it has won great popularity on the European and North American 600cc supersport markets. The reasons for its popularity are its acceleration in the over 10,000 rpm range, smooth power development and response, light, agile cornering, smooth operability and unique styling. At the same time, as the market has expanded, there have been many calls for even higher levels of running performance while maintaining the same original model concept.
In light of this market background, the new YZF-R6 has been developed around the new concept of "an R6 that is No. 1 in laser-sharp handling and super-exciting performance." Under this concept, the existing circuit performance and performance on secondary and winding roads has been supplemented by (1) added excitement in circuit riding, (2) handling that lets the rider enjoy quicker banking and turning and more agile exiting of turns and (3) new developments in original styling that maintains the YZF-R6 identity. This model also adopts new technologies for greater product maturity, including Yamaha's new "YCC-I" electronic control intake and the first lightweight magnesium rear frame ever adopted on a production motorcycle. These features further boost running performance.


Main Features


Engine

1) New-design piston for higher compression ratio
A new-design piston has been adopted to enable a more compact combustion chamber and achieve a compression ratio of 13.1 : 1, the highest ever on a Yamaha production model. To accommodate this higher performance level, (1) changes have been made in the materials and dimension used for the crankshaft and control rod bearings (2) new intake/exhaust valve springs made of a new alloy with excellent fatigue strength (3) adoption of new parts like cam chains coated with palladium for outstanding surface hardness.

2) "YCC-I" (Yamaha Chip Controlled Intake) for greater smoothness at high rpm
In order to effectively bring out the effects of fuel injection with its ability to adjust fuel supply in accordance with air intake conditions and achieve powerful, easy-to-use power development, the "YCC-I" (Yamaha Chip Controlled Intake) system with its variable air funnel *2 has been adopted. This is a system born of Yamaha's G.E.N.I.C.H. engineering ideal of man-machine interface using the latest electronic control technologies and it has been adopted in the same spec on the 2007 YZF-R1. The system switches between a long and a short intake funnel length based on rpm and throttle opening and thereby utilizes the different torque and power development curves of the two lengths to improve low- to mid-speed range and achieve a stronger power feeling in the high-speed range and a wider power band. This further boosts the power feeling in the high rpm range and contributes to a more exciting ride.
*2 Air funnel = the funnel-shaped duct that defines the air flow between the air cleaner box the intake duct.
3) "YCC-T" (Yamaha Chip Controlled Throttle) settings changed
The "YCC-T" (Yamaha Chip Controlled Throttle) first adopted on the 2006 model YZF-R6 as the first electronically controlled throttle ever on a production motorcycle is now adopted with improved control functions. It achieves smooth control with good control characteristics.

4) Other changes
Other changes include (1) a new-design air cleaner box (2) enlarged 2nd and 3rd cylinder exhaust pipe connecting port diameter for improved power and torque development and (3) a new muffler end shape for more compact design.

Chassis

1) Newly developed Deltabox frame
The chassis was reviewed in every aspect, starting from zero and completely re-designing the frame in terms of rigidity and strength balance. The basic framework was kept the same but changes were added, including (1) revision of the rigidity of the cast cross member(s) and (2) changes were made in the shape of the panel members and the thickness of the sheet-metal parts. The combined effect of these changes has achieved a high-level rigidity balance during cornering. This contributes to even better handling stability.

2) Magnesium rear frame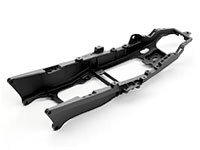 This model adopts the first rear frame made of magnesium to ever appear on a production motorcycle. The use of magnesium parts with their high strength-to-weight ratio has helped improve concentration of mass. This frame is made by a Yamaha-exclusive CF Magnesium Die Casting technology.

3) Sculpted design in a new evolution of the YZF-R6 styling tradition
While maintaining the identity of the past YZF-R6 models, this model adopts a new exterior design that reflects the evolution in performance. The key words for the design are "Mass forward movement and minimalist image." The design of the upper edges of the side panels and the shaping of the upper surface of the fuel tank provide an image of forward thrusting movement. Another characteristic is the sculpting of the shape to emphasize the firm ground hold of the front end.

4) Other changes
Other changes include (1) optimizing of the rigidity balance of the rear arm, (2) optimizing of the rigidity balance of the front fork, (3) a new-design forged aluminum under-bracket and (4) lightening of the weight of the rear suspension bracket.


2008 model Yamaha Sports "YZF-R6" Specifications


| | |
| --- | --- |
| Overall length x width x height | 2,040mm x 705mm x 1,100mm |
| Seat height | 850mm |
| Wheelbase | 1,380mm |
| Dry weight | 166kg |
| Engine type | Liquid-cooled, 4-Stroke, DOHC, 4-Valve |
| Cylinder arrangement | In-line 4 cylinder |
| Displacement | 599cm3 |
| Bore x Stroke | 67.0mm x 42.5mm |
| Compression ratio | 13.1 : 1 |
| Maximum power | 94.9kW/14,500r/min |
| Maximum torque | 65.8N•m/11,000r/min |
| Starting system | Electric |
| Fuel tank capacity | 17.3 liters |
| Fuel supply system | Electronic fuel injection |
| Tire size (Front / Rear) | 120/70ZR 17M/C 58W / 180/55ZR 17M/C 73W |