A new type of cruiser with unique styling and outstanding stability New 2008 North American Model Yamaha "Raider"
| | |
| --- | --- |
| | Sep. 11, 2007 |
Yamaha Motor Co., Ltd. (YMC) announces the development of the new cruiser model "Raider" mounting a 1900cc air-cooled 4-stroke OHV V-twin engine on a new-design aluminum frame. This new model has been developed around the themes of "artistic design" and "high-level running performance that defies the conventional custom bike image." The Raider will be released on the North American market as a 2008 model.
The new Raider features unique, individualistic styling that never seen before in a conventional custom model, as well as a pleasing engine feeling. These features are harmonized with a ride unlike anything you expect for a conventional custom bike, characterized by its high level of handling stability that makes this new model a pleasure to ride.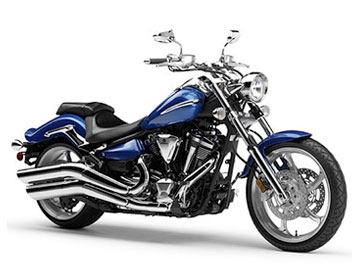 2008 North American market model Yamaha "Raider"
Name:

Yamaha "Raider"

Release date:

From Oct. 2007

Coloring:

Purplish Blue Metallic 7
Black Metallic X
Deep Red Metallic K
Deep Red Metallic K (with graphics)


Market Background and Product Summary


The US market for cruiser type motorcycles has been growing strongly in recent years to a current level of 450,000 units in annual demand, which is about three times more than the 160,000 unit level of 1997. Within this market, one of the growing trends in recent years is bike customization. The "custom models" in today's North American market are characterized by long front forks, engine assemblies designed for impressive presence, fat rear tires and extravagantly decorative parts finishes. In terms of use, these cruiser models are used mainly for short-distance around-town riding and as a form of communication tool among bikers, while use for long-distance cruising is relatively small. This is why many custom bike enthusiasts today are calling for custom models that are easy to ride and highly reliable.
The newly developed "Raider" is Yamaha's answer to these needs, featuring a high-level harmonization of individualistic styling unlike conventional production models, a pleasing engine feeling and enjoyable handling stability not found on other custom bikes. Within the unique styling you will find a marriage of "artistic design" and "high-level running performance that defies the conventional custom bike image" made possible by Yamaha's long years of cruiser series development technologies and know-how.


Main Features


Engine

1) 1900cc air-cooled OHV V-twin engine
This model mounts a 1900cc air-cooled 4-stroke, OHV, 48-degree V-twin, 4-valve/2-plug fuel-injected engine. Delivering max. power output at 4,500 rpm and max. torque at 2,500 rpm, this engine is characterized by the directness of its power feeling and the depth of its torque, as well as the kind of strong pulse feeling you expect from a big-displacement V-twin.
The basic specs are the same as the XV1900A and a space behind the fuel tank is used for part of the air cleaner box in a design that produces outstanding pulse to improve intake efficiency, while also making very efficient use of space in the overall design.

2) Right-side 2-2 muffler with sharp, pleasing exhaust pulse
The 2-2 muffler (inside structure: 2-1-2) mounted on the right side of the machine is designed for an excellent performance match for the fuel injection setting, while also producing an exhaust sound with a good feeling of pulse and a clearly defined outline to its sound. Also, an EXUP valve is mounted in the section where the two pipes are joined as an exhaust regulating device to help bring out excellent torque characteristics in the low- to mid-speed range.

3) Other features (features shared with the XV1900A)
Other features shared with the XV1900A include, (1) a left-right divided balancer that also contributes to a more compact engine design, (2) an oil cooling system that circulates engine oil to the cylinder head as a coolant and (3) air-cooled engine cylinder fins that accentuate the simplicity of the exterior design.

Chassis

1) New-design aluminum frame
A new-design aluminum frame is adopted. Four of the six parts that make up the frame structure are the same shape as those of the XV1900A, but the other two parts have been redesigned, including (1) the head pipe section through the fuel tank rail section, and (2) the engine mount section. These changes give the frame a new and different character. Like the other models of the Yamaha cruiser series, the engine mounting system is a rigid type that on this model involved four mounts at the engine head portion for excellent chassis balance that helps produce a ride that lets the rider enjoy the direct power feeling of the V-twin engine. Also, a newly designed rear arm made by Yamaha's exclusive CF aluminum die casting technology is adopted. This new rear arm helps create a design characterized by smoother lines on both sides of the machine.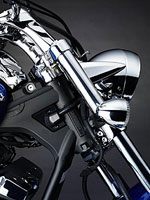 2) Optimized dimensions including new yoke angle
While adopting a long wheel base of 1,799 mm, the various dimensions and engine mounting position have been optimized in order to achieve natural handling stability. Particularly notable among these dimension changes is a yoke angle *1 adopted for the first time on a Yamaha production motorcycle and the accompanying optimization of the front assembly dimensions. In addition to the 34-degree caster, a yoke angle of 6 degrees was adopted. When seen in terms of the fork bracket offset, the top bridge side is 0 mm and the under-bracket side is 30 mm. This makes it possible to retain an ideal 102 mm of trail while enabling the fork to come closer to the steering axis and thus reduce the inertial moment of the front assembly. This creates a high-level harmonizing of a natural handling stability with excellent straight-forward running stability and less susceptibility to the effects of changes in the steering angle while in motion.
*1 Yoke angle = Borrowing the name of the yoke used to bind a pair of oxen together, the yoke angle on a motorcycle is the angle that is sometimes given to the axes of the normally parallel steering axis and front fork axis.
3) New design that accentuates the custom look
A new exterior design is adopted that accentuates the customized bike look. It harmonizes the three elements of (1) "Take off Movement", (2) "Black-based artistic design" (3) "Strong rider attitude" to create a highly original design.

4) Other features
Other features include (1) a handlebar design that doesn't show wire harnesses, (2) a rear suspension with lateral shock alignment greater concentration of mass, (3) a 15.5 liter flangeless fuel tank (no visible welding lines), (4) a secondary drive belt incorporating carbon fiber, (5) 5-spoke cast wheels with star-configuration hub, (6) A 120mm wide front tire exceeding class standards and a rear tire with 40% flat tire profile, (7) a seat with seat surface indentations and (8) a 3-way catalytic converter with oxygen sensor for outstanding environmental performance.


2008 model Yamaha "Raider" Specifications


| | |
| --- | --- |
| Overall length x width x height | 2,572mm x 925mm x 1,165mm |
| Seat height | 695mm |
| Wheelbase | 1,799mm |
| Dry weight | 314kg |
| Engine type | Air-cooled, 4-stroke, OHV, 4-valve |
| Cylinder arrangement | V-twin |
| Displacement | 1,854cm3 |
| Bore x Stroke | 100mm x 118mm |
| Compression ratio | 9.48 : 1 |
| Maximum power | N.A. |
| Maximum torque | 167.8N•m /2,500r/min |
| Starting system | Electric |
| Fuel tank capacity | 15.5 liters |
| Fuel supply system | Electronic fuel injection |
| Tire size (Front / Rear) | 120/70-21M/C 62H / 210/40R18M/C 73H |