Release of the new 2008 Yamaha flagship utility ATV model GRIZZLY 700FI With F.I. (fuel injection) engine and an E.P.S. (electric power steering) system for greater convenience
| | |
| --- | --- |
| | June 13, 2007 |
Yamaha Motor Co., Ltd. announces the release on the Japanese market of the new flagship utility model ATV, the "GRIZZLY 700FI," powered by a 700cc liquid-cooled SOHC single-cylinder engine with F.I. (fuel injection) and adopting the first E.P.S. (electric power steering) system ever on a production ATV for the Japanese market to provide new levels of functionality and comfort in use.

The existing GRIZZLY 660 and GRIZZLY 125 will also be released as 2008 models with new body graphics.

The 2008 Yamaha utility ATV lineup now consists of three models including this new model Grizzly 700FI, which will be released as a 2008 model on July 15, 2007.
*ATV=All-Terrain Vehicle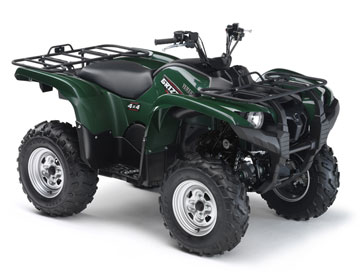 Yamaha ATV "GRIZZLY 700FI"
| | |
| --- | --- |
| Name: | Yamaha ATV "GRIZZLY 700FI" |
| Release date: | July 15, 2007 |
| Coloring: | Pastel Deep Green |


Market Background and Product summaries


With their characteristic low-pressure balloon tires, ATVs have the performance capability to tackle all kinds of off-road terrain, whether its unpaved or hilly ground, rock beds, sand, grass lands or frozen roads. That is why they are used for a wide range of uses from outdoor leisure and sport riding to transportation, hauling loads and patrol duties. In recent years the domestic demand for these vehicles in Japan is about 500 units annually (Yamaha survey).

Presently, Yamaha offers a lineup of eight ATV models ranging in engine displacement from 50cc to 700cc in the two basic categories of utility models designed for a variety of jobs and sports models designed for leisure sport riding.

The "GRIZZLY 700FI" now being released on the Japanese market was previously released in 2006 on the European and North American markets to high acclaim as the flagship utility model of the Yamaha ATV lineup.

It mounts a 700cc liquid-cooled SOHC, 4-valve single-cylinder engine with F.I. (fuel injection) on a newly designed frame and adopts the E.P.S. (electric power steering) system, along with other features inherited from the existing GRIZZLY 660 like the Yamaha-exclusive drive mode switching system and a fully automatic transmission. The result is a model that provides not only outstanding off-road running performance but also new levels of enjoyment, smoothness and comfort in use.


Main Features of the GRIZZLY 700FI


SOHC single-cylinder engine with F.I. (fuel injection)
The 700cc SOHC 4-valve, single-cylinder engine is equipped with F.I. (fuel injection) that enables stable fuel supply at all times and a single-axis balancer. This power unit delivers gutsy torque from the low-speed range and plenty of usable power on up, while also providing reduced vibration and quieter performance.

Yamaha exclusive drive and transmission systems
This model's "On-command" system allows the rider to switch between the three drive modes of 4-wheel drive, 2-wheel drive and differential lock with a simple switch action. The "Ultra-matic" V-belt automatic transmission is another exclusive Yamaha system that provides stable engine-brake performance even on downhills.

E.P.S. for improved drivability and comfort
This model adopts the E.P.S. (electric power steering) system to provide smooth steering under all kinds of riding conditions. This ensures a ride with even more pleasing drivability.

Chassis designed for optimum weight distribution and reduced weight
A newly designed high-tensile steel frame and positioning the fuel tank below the seat have made it possible to optimize weight distribution while also achieving the lowest level of body weight in class. All of this contributes to outstanding handling characteristics.

New suspension design for outstanding off-road performance
The 4-wheel separate double wishbone suspensions with a newly designed rounded type A arm achieves a minimum ground clearance of 275 mm and wheel travel of 180mm for the front wheel and 230mm in the rear that contribute to excellent off-road running performance.


GRIZZLY 700FI Main Specifications


| | |
| --- | --- |
| Name | GRIZZLY700FI YFM700FWAD (4WD) |
| Overall length x width x height | 2,065mm×1,180mm×1,240mm |
| Seat height | 905mm |
| Wheelbase | 1,240mm |
| Min. ground clearance | 275mm |
| Dry weight | 274kg |
| Engine type | Liquid-cooled, 4-stroke, SOHC, 4-valve |
| Cylinder arrangement | Single cylinder |
| Displacement | 686cm3 |
| Bore x Stroke | 102.0mm×84.0mm |
| Compression ratio | 9.2:1 |
| Starting system | Electric |
| Lubrication system | Pressurized wet sump |
| Drive system | Shaft |
| Engine oil capacity | 2.4L |
| Fuel tank capacity | 20.0L |
| Carburetion | Fuel injection |
| Ignition system | T.C.I. |
| Transmission type | V-belt CVT, left-hand operated forward/reverse shift |
| Tread (Front/Rear) | 940mm/915mm |
| Tire size (Front/Rear) | AT25×8-12/AT25×10-12 |
| Brake type (Front/Rear) | Hydraulic disc×2/Hydraulic disc×2 |
| Suspension type (Front/Rear) | Double wishbone (independent)/ Double wishbone (independent) |
| Headlight | 12V 35 W /35W×2 |


GRIZZLY 700FI Feature Map




2008 Yamaha Utility ATV Model Lineup *excluding GRIZZLY700FI


GRIZZLY 660
This model powered by a 660cc liquid-cooled 4-stroke engine is a hard-working vehicle used in forestry and ranching. Its drive system can be switched between 4WD, 2WD and differential lock with a single button operation. It also has a big carrying capacity.

Release date: July 15, 2007

GRIZZLY 125
With a highly maneuverable compact body powered by a 125cc air-cooled 4-stroke engine, this model has the same heavy-duty look as the GRIZZLY 660.

Release date: July 15, 2007


Main Specifications


| | | |
| --- | --- | --- |
| Name | GRIZZLY660 YFM660FWA (4WD) | GRIZZLY125 YFM125A |
| Overall length x width x height | 2,085 mm×1,150 mm×1,210 mm | 1,700 mm×990 mm×980 mm |
| Seat height | 880 mm | 685 mm |
| Wheelbase | 1,275 mm | 1,080 mm |
| Min. ground clearance | 275 mm | 145 mm |
| Dry weight | 272 kg | 144 kg |
| Engine type | Liquid-cooled, 4-stroke, SOHC, 5-valve | Liquid-cooled, 4-stroke, SOHC, 2-valve |
| Cylinder arrangement | Single cylinder | Single cylinder |
| Displacement | 660 cm3 | 124 cm3 |
| Bore x Stroke | 100.0 mm×84.0 mm | 49.0 mm×66.0 mm |
| Compression ratio | 9.1:1 | 9.0:1 |
| Starting system | Electric | Electric |
| Lubrication system | Pressurized dry sump | Pressurized wet sump |
| Drive system | Shaft | Chain |
| Engine oil capacity | 2.2 L | 1.45L |
| Fuel tank capacity | 20.0 L | 7.0L |
| Carburetion | Carburetor | Carburetor |
| Ignition system | C.D.I. | C.D.I. |
| Transmission type | V-belt CVT, left-hand operated forward/reverse shift | V-belt CVT, left-hand operated forward/reverse shift |
| Tread (Front/Rear) | 925 mm/900 mm | 695 mm/710 mm |
| Tire size (Front/Rear) | AT25×8-12/AT25×10-12 | AT20×7-8/AT22×10-8 |
| Brake type (Front/Rear) | Hydraulic disc×2/ Hydraulic disc×1 | Mechanical drum×2/Mechanical drum×1 |
| Suspension type (Front/Rear) | Double wishbone (independent)/ Double wishbone (independent) | Swing axle (independent)/Swinging arm (linked Monocross)-(Not independent) |
| Headlight | 12V 30 W /30W×2 | 12V 30 W /30W×2 |