YAMAHA MOTOR RELEASES F350, THE WORLD'S HIGHEST POWER OUTPUT COMMERCIALLY SOLD OUTBOARD MOTOR
| | |
| --- | --- |
| | February 16, 2007 |
In the summer of 2007, Yamaha Motor Co., Ltd. (the "Company") will release the new four-stroke model "F350" as the first commercially sold outboard motor mounting a V8 engine and delivering the world's highest power output at 350 horsepower, on the US market.
The new F350 is the first outboard motor to mount a V8 engine. With a displacement of 5,330 cm3, this model generates a maximum power output of 257.4 kW (350 hp), the highest horsepower rating for a commercially sold outboard motor in the world today. The massive power and torque of this model ensures a big boost in speed and acceleration performance, and the model also provides outstanding durability and reliability along with extremely comfortable and enjoyable running performance. This F350 also features a streamlined, new external design with a completely new look from Yamaha's four stroke outboards of the past.
In terms of environmental friendliness, this model clears with a 3-star rating the 2008 emissions standards of the California Air Resource Board (CARB), which are said to be the world's most stringent.

The F350 is being displayed at the Miami International Boat Show held from February 15 to 19 in Miami, Florida. It will also be displayed at the Japan International Boat Show 2007 in Yokohama held in Kanagawa Prefecture from March 15 to 18.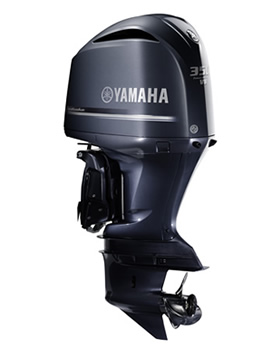 Market Background and Product Summary


The total global demand for outboard motors is said to be approximately 860,000 units, and roughly 40% of that demand is concentrated in the U.S. market.
Traditionally, offshore-use boats of over nine meters have been powered primarily either by inboard or inboard-outboard motors. However, recent years have seen a shift toward outboard motors as the power of choice for larger boats due to their excellent speed performance, fuel economy, ease of mounting and maintenance and the fact that they allow for more usable onboard space. As a result, there is a trend toward outboard motors with bigger horsepower and greater speed in the American boating scene.
The new F350 is a completely new product that has been built to meet these needs by breaking out of conventional categories in order to open up new market demand.

Main features of the F350

●

Massive power and torque from the world's commercially sold biggest horsepower outboard

・

The first60° V8 engine ever, with a displacement of 5,330 cm3and a DOHC, 32valve format

・

In-Bank Dual Exhaust with Power Surge Chambers, a system that relieves pressure in the exhaust ports to increase power output

・

Variable camshaft timing to greatly increase engine torque at low and mid-range rpm

・

Up to 45 percent more thrust than conventional 250-hp class, four-stroke outboards (Yamaha comparison)

・

Specially designed Saltwater XL Series propellers with a significantly larger diameter and blade area to bring out the full performance potential of the F350

●

Outstanding Yamaha durability and reliability

・

Larger gear shaft adopted for greatly increased strength for use on larger boats

・

Forged motor mounts and oversized mounting bracket for outstanding durability and excellent noise and vibration reduction

・

Strategically placed sacrificial anodes and exclusive electrophoretic painting finish applied throughout the motor for outstanding corrosion protection

・

Ionic Combustion Sensor adopted for the first time on an outboard to detect the production of ions and enable adjustments to maintain good combustion

・

Larger thermostat, large-capacity water pump and dual-course coolant supply system adopted to improve cooling capacity to accommodate the increased displacement

・

Exclusive new-design Drain System adopted inside the cowling to quickly drain away any water that enters the cowling and reduce the amount of water intrusion to one-tenth that of conventional outboards (Yamaha comparison)

●

Outstanding operability and convenience for more enjoyable cruising

・

Newly developed Yamaha Command Link Digital Electronic Control system for lighter, more enjoyable operability as well as greater reliability

・

Variable Trolling RPM control function as standard equipment for optimum idling adjustment

・

Automatic multi-engine (up to three engines) rpm synchronization function

・

Tilt Limiter function as standard equipment to enable free adjustment of the tilt angle to accommodate varying boat mounting well shapes


F350 Specifications


| | |
| --- | --- |
| Engine type | Four-stroke 60° V8 |
| Displacement | 5,330 cm3 |
| Propeller shaft horsepower | 257.4 kW(350 hp)/ 5,500 rpm |
| Fuel induction | Electronic fuel injection |
| Fuel type | Unleaded premium gasoline |