Announcing the development of the Yamaha hydrogen fueled "FC-AQEL" fuel cell motorcycle
| | |
| --- | --- |
| | Oct. 19, 2006 |
Yamaha Motor Co., Ltd. (YMC) has developed a hydrogen fuel cell motorcycle named the "FC-AQEL" with a system that runs on hydrogen gas fuel from two high-pressure tanks. From Oct. 23 to 28 this new motorcycle will be on display as a special exhibition model at the 22nd International Battery, Hybrid and Fuel Cell Electric Vehicle Symposium & Exposition in Pacifico Yokohama.

YMC believes that spreading the use of compact personal vehicles is a meaningful way to contribute to the reduction of overall environmental impact, and in line with this philosophy we have introduced to the market products that run on clean energy, like our electro-hybrid bicycles and commuter vehicles that run 100% on electricity. Since more than 20 years ago, YMC has also been conduction research on the use of fuel cells as an energy source, and in September of last year (2005) the Yamaha "FC-me" fuel cell motorcycle (50cc class) powered by "Yamaha Direct Methanol Fuel Cell System" that YMC had been developing since 2003, went into practical use by Shizuoka government offices on a lease basis.

The FC-AQEL that will appear as a special exhibition model this time adopts Yamaha-developed electric drive technology, electronic control technologies as well as environmental technologies, and it mounts our exclusively developed "Yamaha Hydrogen Fuel Cell System" that brings to the world motorcycle market the fuel cell motorcycle with 125cc class performance and highly versatile use potential.
The hybrid system with a secondary battery boasts high efficiency and power output, while the use of metal separators in the fuel cell enables a more compact, lightweight design. The system's two high-pressure (35Mpa) fuel tanks aim to provide ample running distance. The drive unit utilizes our ultra-thin Yamaha Integrated Power Unit (YIPU) technology developed for our electric commuter vehicles and, by designing a drive system that mounts (1) ultra-flat brushless DC motor, (2) a super-small controller unit and (3) the planetary gearing all into the rear hub, a compact design has been achieved. Furthermore, it is all integrated with the rear arm design. The result is a model that combines solid power output and compactness without sacrificing any of the convenience and ease of handling people expect in a motorcycle.

The FC-AQEL was developed with the aims of advancing environmental technologies and creating a new motorcycle market sector and YMC plans to continue the development of its "Yamaha Hydrogen Fuel Cell System" and "Yamaha Direct Methanol Fuel Cell System" and research and development for fuel cell motorcycles making the most of the characters of these two systems.
* The FC-AQEL name : FC stands for Fuel Cell, AQEL combines the Italian for water, Acqua, and Electric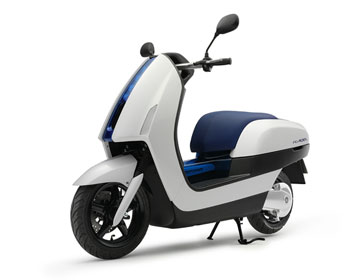 Yamaha Fuel Cell Motorcycle "FC-AQEL"


Yamaha Fuel Cell Motorcycle "FC-AQEL" Main Specifications


| | |
| --- | --- |
| Dimensions (overall L x W x H) | 1,845mm x 770mm x 1,100mm |
| Fuel cell type | Polymer electrolyte fuel cell |
| Fuel | Compressed hydrogen gas |
| Hydrogen tank pressure | 35MPa |
| Electric drive unit type | Synchronous motor |
| Secondary battery | Lithium-ion battery |


Yamaha Fuel Cell Motorcycle "FC-AQEL" Feature Map