Nine variations with improved ride quality offered 2007 European market model Yamaha "FZ6 Fazer spec2" debuts at "Intermot 2006"
| | |
| --- | --- |
| | Oct. 10, 2006 |
Yamaha Motor Co., Ltd. (YMC) announces the debut of the new 2007 European market model the Yamaha "FZ6 Fazer spec2" (with cowling) and "FZ6 spec2" (without cowling) at the "Intermot 2006" (international motorcycle and scooter exhibition) opening on October 11, 2006 (press day – Oct. 10) for a five-day run in Cologne, Germany. With the release of these new models, Yamaha now answers a wider range of user needs with a full line of nine FZ6 variations, including ones with ABS as standard equipment and basic ones with lower engine output.

While maintaining the basic structure of the popular existing mid-class sports model "FZ6-S Fazer"(with cowling), the new "FZ6 Fazer spec2" has been designed with greater running performance, new body parts and environmental performance that clears EU3 standards to achieve a higher level of overall product performance. The main new features include, (1) optimized fuel injection (FI) system mapping, (2) a 3-way catalytic converter, (3) a new seat design, (4) a new-design rear arm, (5) a monoblock caliper for the front brake and (6) a new cowl design. Also, two new basic type variations with a lowered engine output of 57 kW, named the "FZ6 Fazer" (with cowling) and "FZ6" (without cowling) are being offered as well as a 25 kW output version "FZ6 Fazer" to accommodate young rider (18 to 21) regulations in some Western European countries.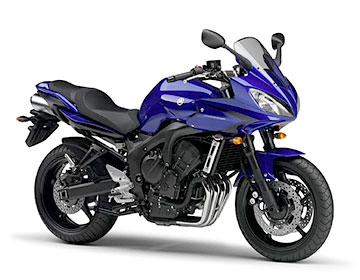 2007 European market model
Yamaha "FZ6 Fazer spec2"
Name:

Yamaha "FZ6 Fazer spec2"
(with nine variations)

Release date:

Beginning from October 2006
(Date to vary with the different European distributors)


Main features


1) Optimized fuel injection mapping
The fuel injection (FI) system was re-programmed with optimized mapping to improve ease of use in the most often used speed ranges and provide a good feeling of rpm increase in the high-speed range.

2) 3-way catalyzer for excellent environmental friendliness
The structure of the catalytic converter in the center section of the up-slanted muffler has been changed. Three honeycomb catalyst units are positioned in the exhaust pipe in a way that the heat of the exhaust is used to maximum effect to increase the catalyzing function.

3) New-design seat adopted
The hardness of the seat was re-examined, the bottom portion has been redesigned and a new seat cover material has been adopted. These changes have created a soft by solid riding feeling to the seat while also ensuring easy leg reach to the ground.

4) New rear arm adopted
The existing box type rear arm is replaced by one with a design that connects to the main frame and has a look of greater quality. The rigidity balance has also been changed.

5) Monoblock caliper adoted
A "monoblock" caliper formed in one piece and requiring no bolt to join the right and left halves as with conventional calipers has been newly adopted on the front brake. This unit enables a more compact brake design as well as excellent controllability.

6) New-design front cowl (only on "FZ6 Fazer spec 2" and the "FZ6 Fazer spec 2" with ABS)
The new cowl is designed to create a look of compactness that accentuates the lightness and emotional sportiness of this model. This produces a front look with a greater sense of mass concentration in the vertical dimension.


2007 Yamaha "FZ6" model variations


Model name
Max.output
Cowling
Main new chassis features
"FZ6 Fazer spec2"
72kW
New type cowling

- New rear arm
- Monoblock front brake caliper
- New rear footrest
- New handlebar holder, front fender
- New fork outer tubes
- FZ1-type meters

"FZ6 Fazer spec2" ABS
↑
New type cowling
"FZ6 spec2"
↑
×
"FZ6 spec2" ABS
↑
×
"FZ6 Fazer"
57kW
Same existing cowling
"FZ6 Fazer" ABS
↑
Same existing cowling
"FZ6"
↑
×
"FZ6" ABS
↑
×
"FZ6 Fazer" ABS
25kW
Same existing cowling


2007 European model Yamaha "FZ6 Fazer spec 2" Technical Specifications


| | |
| --- | --- |
| Overall length x width x height | 2,095mm x 750mm x 1,210mm |
| Seat height | 795mm |
| Wheelbase | 1,440mm |
| Dry weight | 186kg |
| Engine type | Liquid-cooled, 4-Stroke, DOHC, 4-Valve |
| Cylinder arrangement | In-line 4 cylinder |
| Displacement | 600cc |
| Bore x Stroke | 65.5mm x 44.5mm |
| Compression ratio | 12.2 : 1 |
| Maximum power | 72kW / 12,000rpm |
| Maximum torque | 63.1N•m / 10,000rpm |
| Starting system | Electric |
| Fuel tank capacity | 19.4 liters |
| Fuel supply system | Electronic fuel injection |
| Tire size (Front / Rear) | 120/70ZR-17M/C 58W / 180/55ZR-17M/C 73W |