Yamaha and Yamaha Motor Launch Tree-planting Project in Indonesia
| | |
| --- | --- |
| | December 15, 2005 |
On Sunday, December 11, Yamaha Corporation (President and Representative Director: Shuji Ito) and Yamaha Motor Co., Ltd. (President and Representative Director: Takashi Kajikawa) planted about 5,000 mahogany, teak, sengon laut and other young trees in Sukabumi Province, Indonesia. Aimed at preserving the environment and contributing to society, the activity was conducted mainly by Yamaha, Yamaha Motor and their subsidiaries and affiliates in Indonesia, with the cooperation of local communities and organizations.

Indonesia has a close relation with Yamaha and Yamaha Motor, and is home to a number of operations for both. It is the location for a number of production bases for Yamaha pianos, electronic musical instruments, wind instruments, loudspeakers and other products. Meanwhile for Yamaha Motor, it is the largest motorcycle producing and selling country in the world.
This formed the background to the planning of the joint project. The project also benefited from a collaboration with OISCA-International, an NGO with extensive experience in tree planting throughout Asia and other regions.

Called "Yamaha Forest," the tree-planting project aims to reforest about 120 hectares of land in Sukabumi Province by planting about 150,000-200,000 mahogany, teak, Sengon laut, and other young trees over five years.
The activity on December 11 marked the start of the project, which begun with a ceremony featuring speeches from the governor of Sukabumi Province, Yamaha Director Shinya Hanamoto, and Yamaha Motor Director Toyoo Ohtsubo, as well as the unveiling of a monument. In addition to these participants, about 1,400 people helped plant the trees, including environmental staff from the two companies, staff of subsidiaries and affiliates in Indonesia and their family members, government officials and citizens of local communities, and schoolchildren.

Through the Yamaha Forest project, Yamaha and Yamaha Motor will give local residents guidance on agriculture and effective land use, and support educational facilities in the area, while helping preserve the environment, contributing to local communities, and promoting other activities in cooperation with OISCA-International. Yamaha and Yamaha Motor will also continuously review these environmental activities for their feasibility in other regions and nations.

| | |
| --- | --- |
| | Outline of Tree-planting Project |

Place
Chitaps, Sukabumi Province, West Java, Indonesia
Start
Sunday, December 11, 2005, 9:30 AM
* The ceremony and tree planting took place as scheduled above. Further events will be conducted in accordance with the project plan.
Period
2005 through 2009 (5-year project)
Scale
120 hectares planted with 150,000-200,000 mahogany, teak, sengon laut, and other trees
Sponsors
Yamaha Corporation and its subsidiaries in Indonesia
Yamaha Motor Co., Ltd. and its subsidiaries in Indonesia
Collaboration
OISCA-International
("OISCA" is the "Organization for Industrial, Spiritual and Cultural Advancement".)
Cooperation provided by
Local governments and universities and other organizations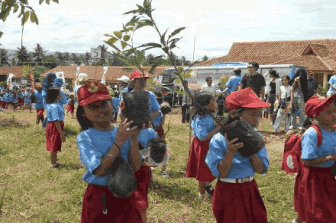 Local schoolchildren carrying young trees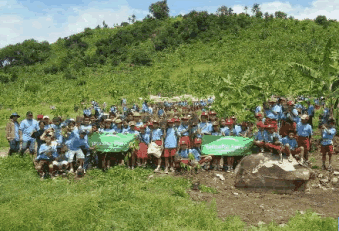 Participants in the tree planting event