YAMAHA ASEAN CUP 2005 Qualifying riders from Indonesia, Malaysia, the Philippines, Singapore and Thailand compete for the title of "No. 1 ASEAN Rider"
| | |
| --- | --- |
| | December 15, 2005 |
Yamaha Motor Co., Ltd. (YMC) will hold the "Yamaha ASEAN Cup 2005" championship competition over the three days from Dec. 16 to 18 at the Bangkok Racing Circuit (Thailand /overall length: 1,900 m).
Now in its third holding, the Yamaha ASEAN Cup is an international one-make(*) championship competition using Yamaha's 4-stroke sporty moped model ridden by riders who have qualified by winning tough national competitions to compete in this event for the right to be called the fastest in the ASEAN region. In the first holding of this competition in Indonesia in 2003, the competing riders were from the three countries of Indonesia, Malaysia and Thailand. In the second holding in 2004, two more countries joined the competition, the Philippines and Singapore. With this, riders from five countries competed for the championship titles. In this third holding, there will once again be 43 riders from these five countries competing in two classes, an Expert Class and a Novice Class.

Amidst recent market conditions here in the ASEAN region where the interest in motor sports is growing and the number of young people pursuing active lifestyles is increasing, YMC has been promoting a wide range of activities aimed at (1) strengthening the image of Yamaha as a sporty brand and (2) promoting the development and spread of motorcycle sports in the ASEAN region.
YMC considers the ASEAN Cup to be a very important event that has special symbolic meaning among these.
As the host of this year's event, Thai Yamaha Motor Co., Ltd. will take charge of the race operations, and the model to be used in this competition is the region's popular 4-stroke sporty moped "T110 (Thai market name: Spark 110)". Also, on the day of the final races, there will be an exhibition race held using a special variation model," which is based on the new Yamaha flagship moped model "T135 (Thai market name: Spark 135)" for the ASEAN market.
* A one-make race is a type of race competition in which all the competitors use the same make.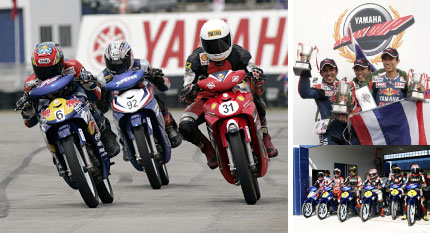 The photos show the Yamaha ASEAN Cup 2004 (Malaysia)