39th Tokyo Motor Show Yamaha Motor Display Models
| | |
| --- | --- |
| | October 05, 2005 |
Yamaha Motor Co., Ltd. (YMC) mounts a booth under the theme of "The Art of Engineering" at the 39th Tokyo Motor Show which runs from October 22 (Sat.) to November 6 (Sun.) (Organizer: Japan Automotive Manufactures Association / Venue: Makuhari Messe / Special invitation day: Oct. 21). At this booth will be displayed a total of 21 models, including nine world premiere models (special exhibition models, planned production models and export spec models) and seven Japan Premiere models. The display models are as listed below.
World Premiere - 9 models

Japan Premiere - 7 models

[Special exhibition models: prototypes]
•Gen-Ryu
•DEINONYCHUS
•HV-01
•FC-me
•MAXAM 3000
•XT250X
•VOX
•Concept model
[Planned for production]
•Passol-L

[Special exhibition model: export spec]
•YZF-R1 SP
•YZF-R6
•FZ1
•FZ1 Fazer
•FJR1300AS
•Roadliner S
[Special exhibition model: overseas manufactured]
•MT-03

---

Other display models


[Special exhibition model: export spec]
One model
•MT-01

[Production model]
One model
•EC-02

[Commemorative models]
Racers 2 models, other: 1
•YZR-M1 #46, Valentino Rossi's machine
•YZ450FM #72, Stefan Everts' machine
•125YA-1, Yamaha Motor's first motorcycle


Product summary


| | |
| --- | --- |
| | World Premiere - 9 models |
| | |
| --- | --- |
| | Gen-Ryu (Special exhibition model: prototype) |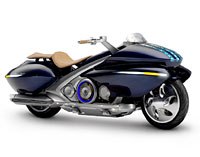 This model is a proposal for a "High-performance Hybrid Motorcycle." Based on Yamaha's "Genesis" design ideal and the new "G.E.N.I.C.H." ideal reflecting the latest electronic control technologies, this model combines the lightweight, compact YZF-R6 600cc engine and a high output, high efficiency electric motor. It is designed to offer both the joy of handling of a motorcycle and the comfort and carrying capacity of a scooter. Features like the lightweight aluminum CF die-cast body with optimized rigidity balance, large diameter wheels and long wheelbase give this model running performance and handling similar to a 1,000cc class machine.
Furthermore, as Yamaha H.M.I. (Human Machine Interface) systems, this model adopts ASV (Advanced Safety Vehicle) features aimed at preventative safety functions and smart functions for increasing rider comfort. The ASV functions include (1) a vehicle-vehicle distance warning system using the latest communications technologies, (2) a cornering light system that improves nighttime vision when turning at intersections and curves, The smart functions include (1) a noise canceling system that greatly reduces wind noise, (2) a short wave tandem intercom system, (3) voice navigation function, (4) music player and hand-free cell phone function and (5) rear view monitoring system using a CCD camera and LCD display.
| | |
| --- | --- |
| | DEINONYCHUS (Special exhibition model: prototype) |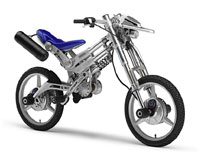 Taking full advantage of the greater chassis design freedom afforded by an in-wheel motor, this is Yamaha's proposal of a completely new type of two-wheel-drive (2WD) EV (electric vehicle) with "Stretch & Shrink" functions in the vertical and horizontal directions that brings a very Yamaha joy of riding. In addition to the great drivability of the 2WD it is possible to adjust not only the riding position but also the silhouette of the chassis to fit the rider's body size, riding environment, road surface conditions and personal preference. This is Yamaha's proposal of a bike of the future that offers the kind of personal fit only possible with an electric vehicle.
| | |
| --- | --- |
| | HV-01 (Special exhibition model: prototype) |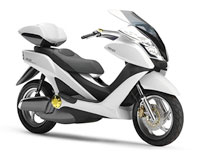 This is a parallel hybrid scooter mounting an electric motor and gasoline engine. Despite the large body that gives a feeling of spacious comfort to the ride, this model has torque-y power development in the low rpm range that delivers the acceleration feeling of a bike one class above, as well as good fuel economy, environmental friendliness and performance that brings a real joy of riding. At the same time it has convenient functions that only hybrid bike offer, such as a "quiet mode" (running only on the electric motor) and a "push mode" that makes pushing the bike in places like parking lots (super low-power drive when off the bike).
| | |
| --- | --- |
| | FC-me (Special exhibition model: prototype) |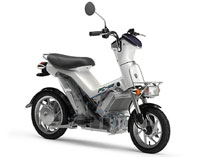 Fuel cell systems using hydrogen gas as their fuel are most common but it is difficult to make a compact system of this type. The "Yamaha Direct Methanol Fuel Cell (DMFC) System" uses a liquid methanol-water solution as its fuel, which eliminates the need for a converter and a pressurized (fuel) tank and thus makes it possible to create a lightweight system for a small vehicle requiring power in the 1 kW range without compromising on power output characteristics.
Based on survey data gathered from licensed public-road use of our "FC06 PROTO," a prototype mounting the Yamaha DMFC system, the advanced fuel cell motorcycle model "FC-me" has now been created with improved performance in areas like reliability and running distance. By optimizing the control parameters for the fuel cell system, Yamaha's engineers have achieved an energy conversion rate for the FC-me that 1.5 times that of the FC06 PROTO, while re-evaluation of the body components has made possible a light machine weight of just 69 kg. A contract has been signed with Shizuoka Prefecture to put this model in practical use on a lease basis as of September 16 of this year.
| | |
| --- | --- |
| | MAXAM 3000 (Special exhibition model: prototype) |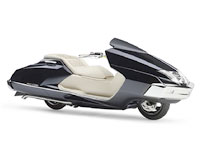 Developing on the base of the popular urban tandem cruiser "MAXAM," this is Yamaha's proposal for a new type of big cruiser with the design concept of a "weekend leisure cruiser." Building on the MAXAM's "low & long" body design, this model boasts a completely new "pick-up" styling that includes focus on important things like storage space in its under-seat compartment. In addition to the big added stretch of overhang front and rear, touches like abundant use of chrome parts and a genuine leather seat bring a sense of true quality such as never seen before in a big scooter. (The 3000 in the model name is for its 3,000mm length)
| | |
| --- | --- |
| | XT250X (Special exhibition model: prototype) |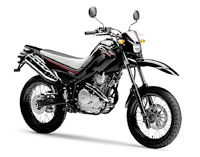 This is a 250cc model proposing a "Stylish, light Motard." It mounts a reliable air-cooled engine with excellent response on a sharp-looking body. In addition to 17 inch tires, this model has the same flasher lights as the YZF-R series supersport models and the same LED tail light as the R6, this model boasts a refined, sporty look. It is characterized overall by its light handling and stylish body.
| | |
| --- | --- |
| | VOX (Special exhibition model: prototype) |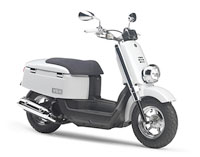 This model boasts the first fuel injection system ever on a Yamaha 50cc scooter. It fits into today's street fashion with its box-like body, flat sides and abundant trunk space. Higher handle bars for more comfortable riding position, a body with clean lines and a good sense of size, its long wheel base and fat tires, this model has the look of spacious ease and a ride that is comfortable and enjoyable.
| | |
| --- | --- |
| | Passol-L (Special exhibition model: planned for production) |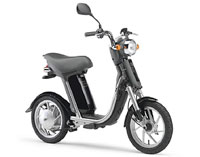 This is a second generation model inheriting the "Light, Smart, Clean and Silent" concept of the "Passol" (50cc class) released by Yamaha in November of 2002 (limited regional release, followed by nationwide release in May 2003) as the first EV (electric vehicle) running solely on electric power. Mounting a motor with the same performance as the EC-02 released in May of 2005 and battery with boosted energy concentration, this new model features improved start-up/mid-speed range and hill-climbing power and increased running distance per charge (25~30 km/55 kg rider in normal around-town riding).
| | |
| --- | --- |
| | Japan Premiere - 7 models |
| | |
| --- | --- |
| | YZF-R1 SP (Special exhibition model: export spec) |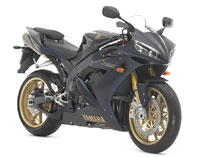 The 2006 model "YZF-R1" was developed to take the existing model's already outstanding basic functions and add even more performance potential through maturation of the engine and chassis with the aim of "offering an even more exciting world of riding." The boosted max. power output and the optimized rigidity balance of the chassis substantially increase the performance and further refine its famed R1 handling.
As a deluxe performance model, the "YZF-R1 SP" version boasts added performance potential for circuit riding with features including (1) a "slipper clutch" that contributes to smoother cornering performance, (2) Ohlins suspensions for more consistent, stable performance and (3) lightweight Marchesini forged aluminum wheels front and rear.
| | |
| --- | --- |
| | YZF-R6 (Special exhibition model: export spec) |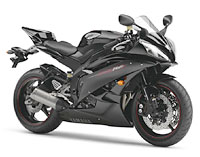 The new 2006 "YZF-R6" has been developed under the concept of an "extreme supersport machine that is fastest on the circuit" and offers outstanding performance to cover everything from circuit riding winding roads, plus unique new styling. It boasts state-of-the-art technologies throughout, including a newly designed super high-revving engine, titanium intake/exhaust valves, electronic control throttle (YCC-T) , fuel injection with twin injectors, a slipper clutch, midship muffler, a Suspension with 2-way compression/rebound damping adjustment function front and rear, and more. It is a new model that combines the stimulating running performance of a 600cc supersport machine with light maneuverability for everyday use.
| | |
| --- | --- |
| | FZ1 (Special exhibition model: export spec) |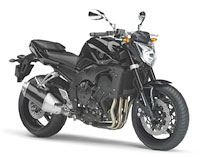 The new "FZ1" is a model developed around the concept of a "Real Emotional Roadster," mounting an engine deriving from the 2005 YZF-R1 engine on new-design lightweight aluminum frame that achieves a roughly 15 kg weight reduction compared to the existing the FZS1000 FAZER. In combination with the optimized engine character, this model offers outstanding running performance on public roads that makes it a new riding experience for the naked bike category that lets the rider enjoy the feeling of being one with the machine.
| | |
| --- | --- |
| | FZ1 Fazer (Special exhibition model: export spec) |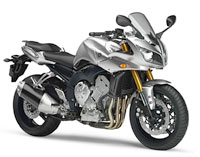 The new "FZ1 Fazer" adds a semi-cowl as standard equipment to the "FZ1" and is designed to be a "1,000cc with a high-level balance of Sports & All-rounder qualities."
| | |
| --- | --- |
| | FJR1300AS (Special exhibition model: export spec) |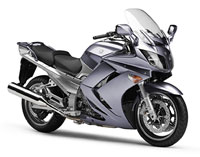 The 2006 model "FJR1300" further develops on the existing FJR1300 qualities of outstanding engine performance and a high level of basic running and handling performance with the concept of creating a "Cross-Europe tourer of the world's highest class." To achieve this, the new model adds advanced technologies throughout, including (1) a good balance of environment-friendliness and running performance, (2) improved comfort and assurance and (3) improved convenience made possible by the latest technologies.
A special feature of the "FJR1300AS" is the YCC-S system that eliminates bothersome clutch operation during gear shifting thanks to a fully automatic system of electronic control. This provides smoother acceleration/deceleration and greater riding comfort by removing the shock of gear changes almost completely.
| | |
| --- | --- |
| | Roadliner S (Special exhibition model: export spec) |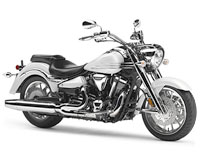 The new model "Roadliner" mounts a newly designed air-cooled, 4-stroke, OHV, V-twin 1,854cc engine on a new-design aluminum double-cradle frame to offer a whole new world of cruiser enjoyment.
The large displacement air-cooled V-twin engine adopts state-of-the-art technologies like a specially designed balancer, EXUP and an oil-cooling system for the head. The result is outstanding acceleration and sense of engine pulse, drivability and environmental performance. Meanwhile, the body design adopts a "Neo Streamline" concept characterized by aerodynamic beauty expressing smooth speed and powerful forward thrust.
| | |
| --- | --- |
| | MT-03 (Special exhibition model: overseas manufactured model) |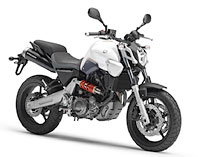 This is a model powered by a liquid-cooled 4-stroke SOHC, single-cylinder, 4-valve, 660cc fuel injection engine on a machine that proposes a "Roadster Motard." Like the V-twin model MT-01 released in 2005 as a European market model, this model was developed with "Kodo" (pulse) as its key concept an featuring an engine with outstanding response and a wide torque band on a new-design body to provide a sharp and exciting ride. It is characterized by its large-capacity air cleaner, and aluminum oil tank hat contributes to concentration of mass, a mono-chamber up-muffler, a new-design diamond frame and a laterally positioned rear shock absorber. This model is manufactured at Yamaha's Italian production base, Yamaha Motor Italia.
| | |
| --- | --- |
| | MT-01 (Special exhibition model: export spec) |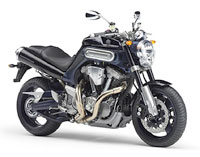 Released in 2005, this model is based on the Kodo = MT-01 concept model introduced in 1999 and was developed around the key words "Soul Beat V-twin Sports" with the latest technologies throughout its design to create "the ultimate hobby machine" for motorcycle lovers. It mounts 1,670cc V-twin engine developed for unmatched sense of pulse and powerful torque as well as exterior styling like no motorcycle before and an unquestionable look of quality.
| | |
| --- | --- |
| | EC-02 (Production model) |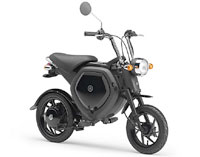 As one aspect of Yamaha's corporate objective of "sustainable development," we are engaged in the development and market release of EVs (electric vehicles) that run solely on electricity as people-friendly vehicles with minimized environmental impact. The "EC-02" released in May of 2005 is Yamaha's second EV, following the Passol. This is a model developed to offer "design and performance that stimulates the spirit of fun in adults" while pursuing the qualities of gentleness, fun and ease of use that only an electric vehicle can provide.
| | |
| --- | --- |
| | YZR-M1 #46, Valentino Rossi's machine (commemorative model: racer) |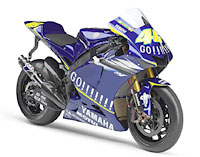 This is the machine that Valentino Rossi rode to the 2004 and 2005 MotoGP championship title.
| | |
| --- | --- |
| | YZ450FM #72, Stefan Everts' machine (commemorative model: racer) |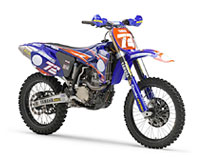 This is the machine that Stefan Everts rode to the 2005 MX1 class title in the World Motocross Championships.
| | |
| --- | --- |
| | 125YA-1 (commemorative model, Yamaha Motor's first motorcycle) |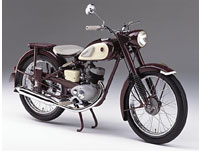 This is Yamaha's first motorcycle, released in 1955. The high-quality finish and refined coloring and outstanding race performances led it to be affectionately called the "Red Dragonfly" by Japanese motorcycle lovers.