New structure brings improved circuit performance with electronic control throttle 2006 Yamaha Sports "YZF-R6"
| | |
| --- | --- |
| | Sept. 29, 2005 |
Yamaha Motor Co., Ltd. (YMC) exhibits a new model for 2006, the Yamaha Sports "YZF-R6," at the Paris Show (Mondial du Deux Roues 2005) from October 1. This model mounts a liquid-cooled, 4-stroke, DOHC in-line 4-cylinder engine on an aluminum frame and adopts the first electronic control throttle (YCC-T) ever on a mass-production motorcycle. It will go on sale in Europe and then in North America in late 2005.

This new "YZF-R6" has been developed under the concept of "the fastest extreme supersport machine on the circuit," and realizes outstanding performance to cover the needs from circuit riding to winding roads, along with new body styling brimming with originality. This machine is packed with state-of-the-art technologies throughout, including a newly designed super high-revving engine, titanium intake/exhaust valves, electronic control throttle, twin-injector fuel injection, slipper clutch, midship muffler, and front and rear suspension with 2-way compression stroke damping force adjustment.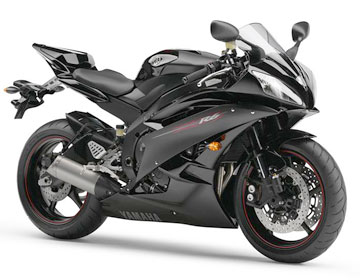 2006 Yamaha Sports "YZF-R6" model
Name:

Yamaha Sports "YZF-R6"

Release date:

After October 2005
(Date to vary with the different European distributors)

Coloring:

Deep Purplish Blue Metallic C
Bluish Cocktail White 1
Black Metallic X

Projected sales:

16,000 units (EU markets for 2006)


Market background and product summary


The design concept for the first model YZF-R6 that debuted at the Intermoto show in 1998 and went on sale in Europe and North America the following year was that of the "fastest and most exciting 600cc model on winding roads," and its actual performance quickly won customer support and set a new standard in the midsize supersport bike category.
Then, when the YZF-R6 was reborn in 2003 in its first full model change, it once again caused a sensation with its exciting engine performance, cornering performance, new styling and a new level of environmental friendliness. For these reasons, the YZF-R6 has gained great popularity and come to represent the 600cc supersport category in Europe and North America, where roughly 90,000 units are sold annually.
However, in recent years this class, stimulated by the entry of many models from various makers, has seen a trend toward models that emphasize even greater potential in circuit riding while at the same time improving basic functions for actual-use riding, and calls have been heard from a wide range of users for the introduction of state-of-the-art technologies. In light of these circumstances, the new "YZF-R6" builds on the previous design concept, and signals its intention to be the "fastest extreme supersports machine on the circuit" and thus staking its claim as the next generation supersports model. Through the lavish adoption of engineering know-how gained from the MotoGP scene and the introduction of the latest technologies, this machine delivers a real taste of outstanding cornering performance that covers the range from circuit riding all the way to secondary road riding.


Main modifications and characteristics


Engine

1) A new super high-revving engine with maximum power output at 14,500 rpm
A newly designed liquid-cooled 4-stroke, DOHC in-line, 4-cylinder 4-valve fuel injection engine has been mounted. It has a shorter stroke than the previous engine with a bore x stroke specification of 67 x 42.5 mm. (Formerly 65.5 x 44.5 mm) The intake/exhaust valve angles have been reduced from 14 to 11.5 degrees on the intake side and 14 to 12.25 degrees on the exhaust side, the combustion chamber has been given a more compact design and fitted with larger diameter 27mm valves for intake and 23mm valves for exhaust (formerly 25 mm/22 mm). With a high compression ratio of 12.8, this engine delivers maximum power output at 14,500 rpm. (Under natural induction, formerly 13,000 rpm) Despite the increased bore, it has been possible to keep the same bore pitch and maintain the same slim engine size thanks to exclusive casting technologies and adoption of a direct plated cylinder.

2) First electronic control throttle on a mass-production motorcycle (YCC-T)
The new feature YCC-T (Yamaha Chip Controlled Throttle) has been adopted - Yamaha's new technology concept G.E.N.I.C.H. realizes a man/machine interface with the latest electronic control technology. To effectively bring out the best performance of the new super high-revving engine, an electronic control throttle (YCC-T) has been equipped that achieves outstanding response across the full rpm range. This feature is being used for the first time on a mass-production motorcycle.
The ECU unit senses the rider's accelerator operation and instantly calculates the optimal throttle valve opening, operating the throttle valve by a motor drive; one feature of the system is that it actively initiates control of the volume of intake air. In order to accommodate the highly sensitive perceptions of the rider, this model's control unit (ECU) features a 3CPU with the equivalent of five times the capacity of the existing model's to ensure high-speed control functions. In particular, optimizing the drive torque curve and intake airflow speed by controlling the opening degree of the throttle valve helps achieve a smoother, better controlled character that wipes away the general image of a super high-revving engine.

3) Fuel injection system with twin injector adopted
In order to ensure excellent fuel supply performance in the high-rpm range, the same type of secondary injector (twin injectors) type system as proven on MotoGP machines has been adopted. The main injector works in all speed ranges, and the secondary injector works in tandem with the main injector in the mid- to high-rpm range to provide excellent power output and drivability.

4) Titanium intake / exhaust valves
Titanium intake and exhaust valves have been adopted to ensure reliability in the super high-revving engine. Characterized by their light weight and excellent fatigue strength, these valves reduce horsepower loss and ensure excellent reliability. Also, the strength of these titanium valves has been utilized to achieve a more compact design for the head assembly. Another weight reduction has been achieved through the adoption of aluminum retainers, which support the valves.

5) New 3-axis layout for best balance with the chassis
With this new engine, the best relative positioning in relation to the frame is achieved in a newly optimized 3-axis layout for the crank, main and drive shafts. Compared to the 2003 and 2004 models, the crankshaft has been raised 3 mm and the main shaft lowered slightly to create a flatter triangle relationship than before. This layout contributes to the creation of a new frame shape with a more linear machine roll axis defined by the line connecting the head pipe, pivot axis, and rear axle.

6) Slipper clutch adopted
To ensure machine stability during downshifting when entering a corner, a slipper clutch has been adopted. This clutch features a mechanism that enables changes in the clutch plate pressure when torque force comes to bear on the crank from the rear wheel side to control the amount of torque being applied as a means of dealing with back torque.

7) Midship muffler and EXUP
To ensure excellent exhaust efficiency, concentration of mass, and aerodynamic characteristics, this model adopts a midship muffler. The design aims to make use of the space behind engine resulting from the shorter front-aft length of the new engine and the long rear arm. It also gives the machine a striking appearance.
EXUP was adopted for the first time on a 600cc sports model to control exhaust pulsation in the exhaust chamber and improve air intake/exhaust efficiency. One EXUP valve is placed at the point where the four exhaust pipes merge to make for a more compact design. The EXUP body is made of lightweight titanium.

8) Other characteristics
Also adopted on this model are: (1) forced air intake; (2) a semi-hydraulic cam chain tensioner; (3) a two-side-intake oil pump and water pump driven off the same shaft; (4) a one-way, single unit compact AC magneto; (5) a close-ratio 6-speed transmission; (6) magnesium head cover and case cover and (7) a 3-way catalytic converter equipped with an oxygen sensor.


Chassis

1) New Deltabox frame
A newly designed Deltabox aluminum frame has been adopted. Engine placement has been optimized thanks to the know-how gained from the MotoGP machine YZR-M1, optimization of the vertical, horizontal and torsional rigidity balance of the frame, including the rear arm, provides linear, sporty handling performance.
Like the frame of the YZF-R1, this new frame is a hybrid type composed of a combination of metal-mold cast parts and pressed parts, and as with the 2005 YZR-M1, the air induction passage is designed in a straight configuration that goes through the head pipe. Also, an efficient design makes use of the inside of the frame as air cleaner space. The fuel tank rail has been designed to lie as close as possible to the machine's roll axis to optimize torsional balance characteristics.

2) Rear arm with truss + box construction
Like the frame, the rear arm is also a hybrid type composed of a combination of metal-mold cast parts and pressed parts, which slightly improve vertical rigidity and achieve a weight reduction of about 1 kg. Also, raising the pivot axis by 20 mm has improved the anti-squat effect. This brings out excellent running performance to reduce changes in movement when turning.

3) Front wheel weight distribution set up at 52.5%
The new frame design, revised dimensions, adoption of a midship muffler and the slimmer tail assembly have increased the front wheel weight distribution by 1% compared to the existing model, bringing it almost to the level of a MotoGP machine at 52.5%. This provides a greater feeling of road hold for the front wheel and brings out outstanding cornering performance.

4) 2-way compression stroke damping adjustment adopted for front and rear suspensions
In order to provide greater freedom in settings, the following have been adopted: (1) initial load adjustment; (2) 2-way compression stroke damping adjustment; and (3) an upside-down front fork with 41mm inner tubes and a compression/rebound stroke damping adjustment function. The newly adopted 2-way compression stroke damping function is a feature that can be adjusted for both high- and low-speed to achieve settings for both the circuit and ordinary roads.
A new type of rear suspension has been adopted to provide the best match with the new frame. The link system for the rear suspension has been changed to a bottom-linked type and the link character has been optimized. Design efforts have been made to contribute to better concentration of mass. As with the front, a 2-way compression stroke damping adjustment mechanism has been equipped on the rear suspension. The damping can be adjusted separately for both high- and low-speed stroke to enable greater choice to accommodate different conditions and uses.

5) Other chassis features
Also adopted on this model are: (1) lightweight aluminum rotor brackets and new front-brake pads; (2) an inner duct for the undercowl; (3) an aluminum rear mudguard stay; (4) a CF aluminum die-cast rear frame; (5) a TZ type aluminum chain puller that makes tire changes easier during races; (6) a forged aluminum side stand and (7) a lap time monitor.


2006 Yamaha Sports "YZF-R6" model main specifications


Overall length x width x height
2,040mm x 700mm x 1,100mm
Seat height
850mm
Wheelbase
1,380mm
Dry weight
161kg (single rider set up)
162kg (tandem set up)
Engine type
Liquid-cooled, 4-stroke, DOHC, 4-valve
Cylinder arrangement
In-line 4-cylinder
Displacement
599cc
Bore x Stroke
67.0mm x 42.5mm
Compression ratio
12.8 : 1
Maximum power
93.4kW (127PS) / 14,500rpm
Maximum torque
66.0N•m (6.7kgf•m) / 12,000rpm
Starting system
Electric
Fuel tank capacity
17.5liters
Fuel supply system
ECU (twin injectors)
Tire size (Front / Rear)
120/70ZR-17M/C 58W / 180/55ZR-17M/C 73W