Yamaha Motor Launches the T135, a New Strategic Moped for ASEAN Countries. The T135 Incorporates Yamaha's Leading-edge Technologies.
| | |
| --- | --- |
| | September 20, 2005 |
In its new three-year medium-term management plan "NEXT50-Phase II," launched in January 2005, Yamaha Motor (the "Company") is focused on maximizing business opportunities in the growing ASEAN motorcycle market. In the effort, the Company plans to aggressively release new four-stroke motorcycle models.
Today the Company is announcing the flagship four-stroke model for the ASEAN region. The new model - known as the T135 - is a sport moped featuring a liquid-cooled, four-stroke 135cc engine, and is scheduled to be marketed throughout the area as a common model in ASEAN countries, starting in October 2005 in Indonesia.


The T135, which was designed and developed on the Company's Stylish, Sporty, Innovative concept for ASEAN models, is the first model in the region to incorporate a liquid-cooled, four-stroke engine. In addition, it features a suite of leading-edge Yamaha technologies, such as lighter forged-aluminum pistons for lower vibration and the all-aluminum DiASil cylinder produced using proprietary Yamaha aluminum die-casting technology. Together, these technologies deliver higher riding performance for the T135 than any conventional 125cc class moped.

The Company is projecting aggregate sales of 500,000 units for the T135 in the region during the first year after its release in each ASEAN country. Marketing will begin in Indonesia in October 2005, followed by Thailand, Malaysia, Vietnam, the Philippines and other ASEAN countries.


From 2005 through 2007, Yamaha Motor is implementing its new medium-term management plan "NEXT50-Phase II," in which the Company specifies its management issues, business strategies and numerical targets. The new plan is designed to build on the profitable structure the Company established in the previous medium-term management plan. With the new plan, the Company is pursuing a strategy that balances value, profitability and growth, and thus seeks to make Yamaha an exclusive brand in the global marketplace.


In the growing ASEAN motorcycle market, the Company's business strategy focuses on aggressive product launches centered on new four-stroke models, and measures to raise the brand image, enhance the sales network and expand production capacity. Marketing the flagship T135 embodies the Company's aggressive four-stroke release strategy and jump-starts the drive for growth in the ASEAN market, centered on Indonesia, Thailand and Vietnam.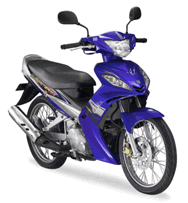 Yamaha Motor T135 Sport Moped (specially designed for the Indonesian market)