Low price model with higher speed
| | |
| --- | --- |
| | July 21, 2005 |
Yamaha Motor Co., Ltd.'s in-house company IM Company (Location: Hamamatsu City, Shizuoka Pref.; President: Tsuneji Togami) has fully remodeled its SCARA type YK series industrial robot models YK500X/YK600X, and developed two new models, the YK500XG and YK600XG. These products will be release from September 1, 2005.
Yamaha SCARA robots are horizontal-multi-joint robots with compact mounting surfaces. They are developed under the concepts of high-precision,high-speed and low price to respond to diversifying user needs including faster work speed and space saving at production facilities.
The YK500XG/YK600XG are variation models, which have inherited the characteristics of previous Yamaha SCARA robots with improved speed performance and price reduction. There are high expectations for these products as the ones that will expand the market for SCARA robots in future.
Yamaha SCARA Robot YK500XG/YK600XG

| | |
| --- | --- |
| Name: | Yamaha SCARA Robots YK500XG/YK600XG |
| Release date: | September 1, 2005 |
| Sales plan for initial year: | YK500XG/YK600XG Total of 400 units |


Product Outline


The YK500XG/YK600XG are industrial robots, which assemble electronic or machine parts and transfer/move/convey them automatically at high speed. Their robotic arms have pivot shafts with two axes, the X-axis and Y-axis, and also have a vertical axis (Z-axis) and a rotation axis (R-axis) on the tip. In using these robots, the users attach a tool that is best suited for a specific job, such as a hand, to the tip. YK500XG/YK600XG are models with higher level improvements to the features of the existing YK500X/YK600X. They are improved in terms of user friendliness, which includes higher speed, reduced cycle time, high durability and maintenance free features, while maintaining the existing characteristics such as compact for much freer system designing, light weight and high precision. At the same time a low price has been realized.
Also, for the main body, we newly adopted extruded aluminum parts, where we used to use steel or cast aluminum, to reduce cost and achieve simple design which gives the image of superb functionality.



Product Features


(1) Compactness, light weight and space-saving

-

Extruded aluminum body parts have been adopted and body weight reduced by 20%. Also, motors with shorter length have been adopted out of consideration for the possibility of height limitations at installment position. By minimizing the base height, this new model has the lowest height among the similar class products. The installment area is also small at 200mm X 178mm which enhances system design flexibility.

(2) High Precision

-

A position setting precision of ±0.02mm for the X and Y axes is achieved, which maintains a comparable precision to the existing models. Application can be used to assemble parts from small ones to relatively large ones with high precision.

(3) High rigidity, high speed

-

For the arms, for which we have traditionally used cast aluminum parts, we newly adopted extruded aluminum parts while maintaining a high level of rigidity. At the same time, we newly adopted a direct joint system for both the Z and R axes instead of the traditional belt-driven torque transmission system. By doing this, we have been able to maintain a transportable mass of 10kg while improving maximum speed by about 45% for the X and Y axes combination, 35% for the Z axis and 95% for the R axis. Standard cycle time has been improved about 20% when compared to the existing models.

(4) Usability

-

An absolute type resolver is adopted for the position detector. Return-to-origin-less functionality is included as standard, so the return-to-origin motion has become unnecessary and time loss for the start-up has been reduced to a minimum.

-

A total of 20 user wires and pipes of φ6 x 3 are provided as standard equipment to make as compact a piping and wiring layout as possible.

-

The combination of flexibility, which is one of the unique characteristics of SCARA robots, and a special designated controller has made programming of complicated motions easy.

(5) Maintenance free

-

The Z and R axes are directly linked with the motor and decelerator so that there are no drive belts and belt tension readjustment is now unnecessary. Also, long-lasting grease has been adopted as the deceleration grease to make grease exchange unnecessary.

(6) Low price

-

By reviewing the entire structure design, it has been possible to omit about 20 parts to reduce costs, which in turn made it possible to reduce the standard price by 100 thousand yen compared to the previous models.


Main Applications


These products can be used in a wide variety of production areas, such as for handy type IT products like mobile phones, digital household appliances, especially electric and electronics parts for flat type displays, car electronics and OA equipment as well as auto parts. Also, in future, these machines are expected to be used in other areas such as machine assembly for biotechnology, pharmaceutical and medical equipment and medical testing procedures.



Specifications


Model Type

YK500XG

YK600XG

Axes specification

Arm length

200mm

300mm

Rotation scope

±130°

Arm length

300mm

Rotation scope

±145°

Stroke

200/300mm

Rotation scope

±180°

Motor

400W

200W

200W

200W

Max. Speed

7.1m/s

8.5m/s

2.3m/s

1700°/s

Repeatable Positioning Accuracy *1

X-Y axes

±0.02mm

Z-axis

±0.01mm

R-axis

±0.005°

Max Transportable Mass

10kg

Standard cycle time (at 2.0kg transportable mass) *2

0.4s

0.4s

R-axis Permissible Inertia Moment *3

1.2kgfcms2

User wiring

0.2sq × 20

User piping

φ6 × 3

Motion Limit Setting

1. soft limit 2. mechanical limit (XYZ axes)

Robot Cable

3.5m, option: 5m, 10m

Controller

RCX142

Main body mass

30kg

31kg

*1: Under constant ambient temperature
*2: When reciprocating 300mm horizontally and 25mm vertically with rough positioning
*3: There is a limitation in acceleration coefficient
[Reference]
- What is a SCARA robot (horizontal-multi-joint type robot)?
SCARA stands for Selective Compliance Assembly Robot Arm and the robot, which has compliance (softness) only in the horizontal direction (x-y direction) but has high rigidity vertically, has been developed mainly to automate assembly jobs.
Today, SCARA robots are used in various production areas because they are also effective for conveying works (pick & place) due to their fast operating speed. The SCARA is also attractive as it requires only a small installation space but has a wide motion range, and flexible layout possibility around the robot is also one of its characteristics.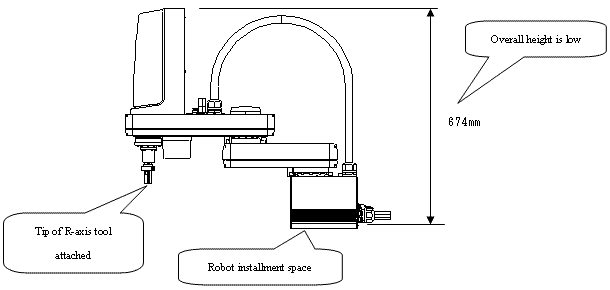 - Standard Cycle Time Measurement Motion Pattern