50cc fun-riding model that fits children New 2006 North American Model "TT-R50E" introduced a US Dealer Show
| | |
| --- | --- |
| | June 13, 2005 |
On June 12, 2005, Yamaha Motor Co., Ltd. (YMC) unveiled and exhibited the 2006 model "TT-R50E" for the North American market at Yamaha's US Dealer Meeting in Las Vegas, Nevada. This model will be released in the US and other markets.

The "TT-R50E" mounts a 4-stroke 50cc engine with 3-speed transmission and automatic centrifugal clutch on a chassis with the look of Yamaha's YZ motocrossers. It is a model that can be easily handled by children who are learning the fun of motorcycles and joy of riding. The body size is just right for early elementary school children and the major machine characteristics are an engine character that provides enjoyable acceleration feeling in the mid-to high-speed range and authentic exterior design.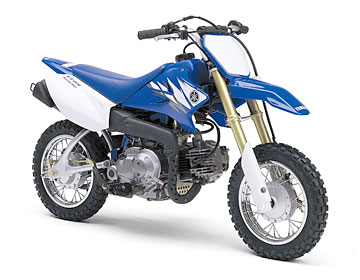 2006 North America Model Yamaha "TT-R50E"
| | |
| --- | --- |
| Name: | Yamaha "TT-R50E" |
| Release date: | August 2005 |
| Coloring: | Deep Purplish Blue Solid E (Blue) |
| Sales plan: | 15,000 units (North America, 2006 annual) |


Product Summary


In North America, more families are enjoying free-time fun riding and the Yamaha PW50 (50cc automatic) has been widely accepted as the "best first bike" for lower age children who are riding a motorcycle for the first time.
In recent years, the users and markets are asking for larger size and "the fun of gear changing," and they are looking forward to new entry-level models that have more authentic functionality to their ride as motorcycles.
The "TT-R50E" has been developed with the theme of creating the "Best bike for learning" with more features to enable the experience of real motorcycle riding. Compared to the PW50, the TT-R50E has a more spacious body, 3-speed transmission with automatic centrifugal clutch and foot-operated rear brake to make this a model that offers much of the real fun of motorcycle riding. This has become the entry level model for children worthy of being called "My best teacher, TT-R."


Main Features


1) 4-stroke SOHC engine with lively mid- to high-speed acceleration
An air-cooled 4-stroke SOHC single-cylinder 49cc engine has been created by bore-stroke settings of 36mm X 48.6mm, concerted development efforts in the areas of intake efficiency, combustion efficiency and reduction of horsepower loss. The engine is characterized especially by its good torque characteristics in the mid- to low-speed range, which gives this model great drivability for fun riding. A VM (Villiers Monoblock) type carburetor with a 11mm diameter has been adopted. The VM type carburetor is the key to this model?fs great acceleration feeling especially from the mid-speed range.

2) Easy-to-use 3-speed transmission with automatic centrifugal clutch
The transmission is a 3-speed return type with automatic centrifugal clutch that eliminates the need for clutch work, making this an ideal easy-to-ride first bike. This lets riders enjoy both automatic riding and gear changing.

3) Backbone type frame adopted
The frame is a backbone type using lightweight, high-rigidity large-diameter (43 mm) steel pipe. This provides excellent balance with the engine mounted at just 10 degrees above horizontal.

4) Monocross suspension adopted
This model adopts a Monocross suspension that provides plenty of wheel travel while also allowing a machine design with better concentration of mass. The truss type rear arm made of steel pipe is combined with the shock absorber unit to enable 71 mm of wheel travel. The upside-down front fork with 96 mm of wheel travel combines with the 135 mm of minimum ground clearance to provide excellent cushioning feeling.

5) Easy-to-use front and rear brakes
Dust-resistant 80 mm drum brakes are adopted on both the front and rear wheels to ensure strong stopping power. Also, optimization of the front brake lever ratio makes the brakes easy to operate even for children with weaker gripping power. The rear brake is operated by the right foot pedal like a regular motorcycle.

6) New just-fit body size
The new body has been designed to just fit children of under 40 kg in the 4 ~ 7 year-old age group. The seat height is 555 mm, the wheelbase is 925 mm and the machine weight is 54 kg. The machine is also designed with a low center of gravity that makes it easier for children to handle on their own. To fit the palm size of children for an easy grip, the handlebars are made of pipe with a diameter of 19 mm (same size as existing PW models), and the new grip rubbers have the same pattern as the YZ models. (Reference: Rider weight limit: 40 kg. PW50 is up to 25 kg, PW80 up to 40 kg.)

7) Other features
Other features adopted are 1) electric starter with independent main switch, 2) a silencer design reminiscent of the YZ models, 3) originally developed 2.50-10 size front and rear tires with superb off-road performance and 4) a 3-liter plastic resin fuel tank in the YZ style.


2006 North America Model Yamaha "TT-R50E" Technical Specifications


| | |
| --- | --- |
| Overall length x width x height | 1,305mm x 595mm x 775mm |
| Seat height | 555mm |
| Wheelbase | 925mm |
| Dry weight | 54.0kg |
| Engine type | Air-cooled, 4-stroke, SOHC |
| Cylinder arrangement | Single cylinder |
| Displacement | 49cc |
| Bore x Stroke | 36mm ~ 48.6mm |
| Compression ratio | 9.5 : 1 |
| Maximum power | - |
| Maximum torque | - |
| Starting system | Electric (Kick) |
| Fuel tank capacity | 3L |
| Carburetion | VM Carburetor |
| Tire size (Front / Rear) | 2.50-10 / 2.50-10 |


Yamaha "TT-R50E" Feature Map