High Thrusting Force and Long Stroke Made Possible by Flat-type Linear Motor: YAMAHA MF TYPE LINEAR SINGLE-AXIS ROBOTS PHASER SERIES Released
| | |
| --- | --- |
| | March 23, 2005 |
Yamaha Motor Co., Ltd's in-house company, IM Company (Location: Hamamatsu City, Shizuoka Prefecture; President, Tsuneji Togami) is to newly release two high-thrusting-force models of the single-axis, linear-motored robot, PHASER Series. MF50 is capable of carrying 50 kg and MF100, 100 kg, and will go on sale on April 1 and May 1, 2005, respectively.
The new models use a flat-type linear motor, enabling a high-speed, long-distance carrying of heavy work-pieces, which was difficult with conventional driving methods like the ball-screw specification. In addition, adopting Yamaha's own linear scale as the position detector realized a low cost.
With these new additions to our existing product line-up of MR type PHASER series models can now handle payloads from small to large, answering to varied demands of the users. Combining MF and MR type models has allowed the system to handle versatile, high-speed, high-precision carriage that wasn't possible with conventional models alone.
Yamaha MF type PHASER Series models will be exhibited at 2005 FINETECH JAPAN to be held from April 20 through 22, 2005 at Tokyo Big Sight (Koto Ward, Tokyo.)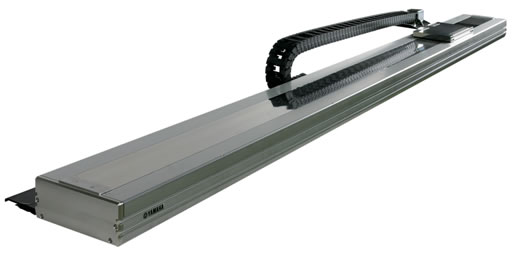 Yamaha MF type Linear Single-axis Robots PHASER Series
| | |
| --- | --- |
| Name | Yamaha linear single-axis robots, PHASER series MF50/ MF100 |
| Release Date | MF50 on April 1, 2005; MF100 on May 1, 2005 |
| Price | Open price |
| The first year sales plan | MF type 1000 units in total |



Market Background and Product Summary


As the size of flat-panel monitors like the LCD becomes larger, manufacturers are vigorously investing in facilities to enhance the production capacity. To accommodate such productions, large-sized robots with a wide range of movement are high in demand. Furthermore, few commercially-available robots can handle high payloads, and some manufacturers had to custom-design their robots. In such trends, the market demand is increasing for reasonably-priced robots with versatile application.
Yamaha single-axis robot PHASER series has always enjoyed a good reputation for its high-speed, high-precision operation made possible with the linear motor at the low cost of ball screw specification models. By adopting the linear motor with core, MF type can handle a much larger carrying weight of 50 kg max. with MF50 and 100kg max. with MF100. The new models have also realized the maximum stroke of 4000 mm, the longest operation range in Yamaha single-axis robots. As no dangerous speeds are involved as in the case of the ball screw model, the maximum speed of 2500 mm/sec is maintained even when moving over a long stroke.


Features



| | | |
| --- | --- | --- |
| | (1) | Large payloads handling performance |

| | |
| --- | --- |
| · | High carrying weight of 50kg (MF50) and 100kg (MF100) made possible. |
| · | By using the roller guide of the machine tool level, MF100 has high durability and long life to compensate for a heavy load. |

| | | |
| --- | --- | --- |
| | (2) | Long stroke |


| | | |
| --- | --- | --- |
| | (3) | High speed, high precision |

| | |
| --- | --- |
| · | Maximum speed of 2500 mm/sec, with no dangerous speeds involved as in conventional ball screw specifications. |
| · | Yamaha's original magnet-type linear scale eliminates disturbances such as mechanical backlash, delays and errors in detection/control systems. High positioning accuracy of ±5µm is made possible by the full closed control. |

| | | |
| --- | --- | --- |
| | (4) | Coping with environmental conditions |

| | |
| --- | --- |
| · | More freedom in selecting where the robot is installed, made possible by using dirt resistant magnetic scale and highly durable stainless shutter. |

| | | |
| --- | --- | --- |
| | (5) | Simple operation |

| | |
| --- | --- |
| · | By combining the PHASER series with the SRCP controller, which is exclusively designed for the series, operation can be started right after purchase without complicated parameter setting. Operation can be controlled by programming operation, inputting the pulse train, and other methods. |
| · | A multiple-axis controller allows the MF type models to be used in conjunction with other single-axis robots. |


Applications


| | |
| --- | --- |
| · | As a carrying axis of production facility for large-sized, heavy work-pieces like flat panel display components. |
| · | A long-distance carriage between production processes at varied facility. |
| · | As a driving axis for specialized machines for testing, coating, etc. |
| · | As a driving axis for other various machines at general production facility. |


Robot Basic Specifications


Model

MF50

MF100

Motor

Flat-type linear motor with core

Max. speed(mm/sec)

2500(*1)

Max. carrying weight(kg)

50

100

Repeated positioning accuracy(µm)

±5

Guide structure

Linear guide

Stroke(mm)

1000 - 4000

Total length(mm)

Stroke length +400

Width(mm)

210

Height(mm)

100

Note (*1): Depending on the operation conditions, it may not be possible to use the unit at the maximum speed.

· PHASER series is not available in vertical modes (with brakes.)