Construction of a New Parts Distribution Center Achieving Improved Customer Service
| | |
| --- | --- |
| | January. 18 2005 |
In order to help create value that differentiates Yamaha, in line with the basic strategy of its new medium-term management plan "NEXT50-Phase II", Yamaha Motor (the Company) will transfer its parts distribution center from the head office to Kuno Industrial Park, located in Fukuroi City, Shizuoka Prefecture, Japan. Construction of the new parts distribution facility will begin in February, 2005, with operation scheduled for May 2006.

The Company's Parts Operations deals with some 300,000 items, ranging from repair parts for motorcycles, outboard motors and power products (such as all-terrain vehicles and snowmobiles) to oil and accessories. The distribution system, based in the head office (Iwata, Shizuoka Prefecture), supplies parts to about 15,000 dealers in Japan through regional distribution centers in Hokkaido, Saitama and Shiga Prefecture. It also distributes parts to the parts distribution centers in Europe, the United States and Asia, as well as to distributors and dealers around the world. Presently, the head office parts center handles a total of about 15,000 order lines per day for distributors in Japan and overseas.

The new parts distribution center, to be known as the "Global Distribution Center," will integrate the four parts distribution centers in Japan, while overseas, it will function as a core base for the global SCM (Supply Chain Management) system, controlling six parts distribution centers. The Global Distribution Center will be a two-story building, resting on a 67,390m2 site. The building area is 37,2750m2, with a total floor space of 57,600m2. The new center will become the Company's largest parts distribution facility, capable of handling about 40,000 order lines per day.

It is designed to optimize the entire supply chain operation, from parts procurement to customer delivery. The center will be able to receive frequent deliveries, and will employ a new picking system, capable of flexible response to fluctuations in order volume, as well as improved packaging and packing methods.
With the completion of the Global Distribution Center, the Company will enhance its part supply service in Japan, realizing substantial productivity improvements and distribution cost reduction.

The center also allows Yamaha Motor to expedite its medium-to-long term global SCM project. In the project, the Global Distribution Center oversees six Area Management Centers, creating a global distribution network and optimizing parts inventory planning worldwide. When fully implemented, the global SCM project will further enhance customer service, by enabling the Company to quickly meet worldwide customer needs for availability, delivery time and other logistics information.



Outline of the New Parts Distribution Center


Name:
Global Distribution Center
Location:
Kuno Industrial Park, Fukuroi City, Shizuoka Prefecture, Japan
Capital investment:
4.4 billion yen
Building site:
67,390m2
Building area:
37,250m2
Total floor space:
57,600m2
Commencement of operation:
May, 2006
Business:
Procurement and distribution of repair parts and accessories in Japan and overseas
Business size:
1) Number of items handled: 300,000
2) Number of order lines: 40,000/day
3) Number of shipment destinations: 4,000/day
Employees:
320 (140 employees in the office and 180 employees in the Center)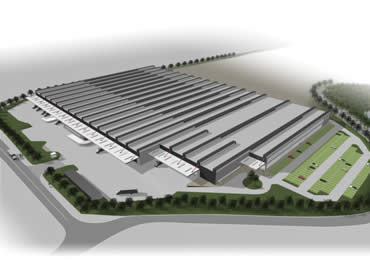 Image of Global Distribution Center