2004 MotoGP World Championship Valentino Rossi (Italy) rides YZR-M1 to victory and the series title
| | |
| --- | --- |
| | October 18 2004 |
In the 15th round of the 2004 MotoGP held at Australia's Phillip Island on October 17, Valentino Rossi (25, Italy, Gauloises Fortuna Yamaha team) rode his YZR-M1 to his eighth win of the series and clinched the season title with one round remaining. This win gave Yamaha its first riders title in the premier class since Wayne Rainey in 1992 and its eleventh overall. Also, this eighth win for Rossi is the most ever for a Yamaha rider in one season in this class.
In the 27-lap race, Rossi got off to a slower than usual start that left him trailing the leader, Sete Gibernau (Honda), by 1.195 seconds, but riding hard in determined pursuit he caught up to his rival on the 7th lap. Finally on lap 19, Rossi slipped past Gibernau into the lead by taking the inside on the first corner. But, Gibernau came back to take the lead again on lap 23. Determined to win the championship in style, Rossi fought back and managed to squeeze past his rival with an unbelievable move just before the finish and held on for a slim victory margin of just 0.097 seconds.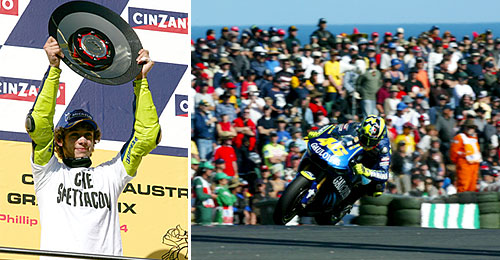 Rossi wins the season title at round 15
Valentino Rossi's comment:
"Today was a fantastic finish to a fantastic championship. This track is great and today there was a hard battle up until the last lap. In some parts I was faster than Gibernau and some other places slower. I was sure of my feeling on the bike though. I made a bit of a bad start but wanted to stick with Sete. I managed to pass him early on in the race but he came back, and then at the end it became a great battle again. The last lap was a lot of fun for everybody watching it. I want to say thanks to everyone who has worked so hard, to Yamaha and all my team. It was fantastic, thank you. I think this year has been my best championship winning year."
Valentino Rossi Profile
Name
:
Valentino Rossi
Nationality
:
Italy
Birth
:
Feb. 16, 1979 (25)
Team
:
Gauloises Fortuna Yamaha Team
Race Career
1996
:
9th in World GP 125cc class
1997
:
Champion of World GP 125cc class
1998
:
2nd in World GP 250cc class
1999
:
Champion of World GP 250cc class
2000
:
2nd in World GP 500cc class
2001
:
Champion of World GP 500cc class
2002
:
Champion of MotoGP class
2003
:
Champion of MotoGP class
2004
:
Champion of MotoGP class
Comment by YMC President Toru Hasegawa:
It gives me great pleasure to announce to Yamaha customers, fans and dealers worldwide that after a 12-year void Yamaha has finally won back the Motorcycle Grand Prix rider's championship title in what is now the MotoGP World Championship. I would also like to take this opportunity to extend my congratulations and heartfelt thanks to Valentino Rossi, to all the YZR-M1 development and Team staff who have worked night and day on this project, to our technical partners and to our sponsors who have supported us in the challenge towards this great victory.
As Yamaha Motor Company prepares to celebrate the 50th anniversary of its founding next year, we dedicate ourselves to continuing the challenge of achieving even higher goals - such as winning the MotoGP World Manufacturers Championship title. By doing so, we hope that we can continue to bring you all that special blend of excitement and deep felt satisfaction that we at Yamaha call "Kando", while helping to promote the awareness and popularity of motorcycling worldwide.
We will commit ourselves and will work hard so that the day will come soon when I can once again share with you the Kando of announcing another Yamaha victory in this way.
Comment by YMC Technical Development Div. Chief Masao Furusawa:
Starting from the 2nd position on the grid, Rossi ran a magnificent race to win the round and clinch the season title with one round remaining. We had a difficult time deciding on the tires for this race, but Rossi and everyone on the team gave 100% all the way. I don't think that anyone could have asked for a more exciting battle than the one we saw in this race between Rossi and Honda's Gibernau. I want to thank Rossi for his exceptional riding and everyone who worked on this project, as well as all the fans who rooted for us. The final round takes place on October 31 in Valencia, Spain. I hope everyone will continue to cheer for our team.
Rossi's 2004 season record
GP
Venue
place
Points
Ranking and lead
#1 African GP (Apr. 18)
Welkom
1st
25
1st+5 points
(over Biaggi)
#2 Spanish GP (May 2)
Juerez
4th
38
3rd-3 points
(behind Gibernau)
#3 French GP (May 16)
Le Man
4th
51
3rd-15 points (↑)
#4 Italian GP (Jun. 6)
Mujiero
1st
76
2nd-10 points (↑)
#5 Catalonian GP (Jun. 13)
Catalonia
1st
101
2nd-5 points (↑)
#6 Dutch TT (Jun. 26)
Assen
1st
126
1st±0 points (↑)
#7 Rio GP (Jul. 4)
Nelson Pique
retire
126
1st±0 points (↑)
#8 German GP (Jul. 18)
Sachsenring
4th
139
1st+1 point
(over Biaggi)
#9 British GP (Jul. 25)
Donnington
1st
164
1st+22 points
(over Gibernau)
#10 Czech GP (Aug. 22)
Bruno
2nd
184
1st+17 points (↑)
#11 Portugal GP (Sep. 5)
Estrille
1st
209
1st+29 points (↑)
#12 Japan GP (Sep. 19)
Motegi
2nd
229
1st+39 points (↑)
#13 Qatar GP (Oct. 2)
Losail
retire
229
1st+14 points (↑)
#14 Malaysian GP (Oct. 10)
Sepan
1st
254
1st+30 points (↑)
#15 Australian GP (Oct. 17)
Phillip Island
1st
279
1st+35 points (↑)
clinches title
#16 Valencia GP (Oct. 31)
Valencia
Round 1, African GP (Apr. 18)
This opening round was Rossi's first race on the YZR-M1. Rossi recorded the fastest times on both days of the qualifying to win the pole position. In the race he got the hole shot to take the lead. After battling with Biaggi (Honda) in the middle stages, Rossi went on to win the race by a 2-second margin.

Round 2, Spanish GP (May 2)
Rossi won the pole position, but in the rainy final race he was unable to perform at his best and finished 4th. The two Honda aces Gibernau and Biaggi finished 1-2, leaving Rossi in 3rd place in the point ranking by a close margin.

Round 3, French GP (May 16)
The M1 got a new powered-up engine for this round, but Rossi and his team were unable to get all the settings right before the final race. After running third through the early stages, Rossi was passed by Biaggi. He managed to battle back to 3rd position again only to be passed once again and finish the race in 4th. Gibernau won the race and opened up a 15-point lead over Rossi in the series ranking, where he now stood 3rd behind Biaggi.

Round 4, Italian GP (Jun. 6)
Rossi was leading the race when rain forced the officials to stop the race in the latter stages. With the standings up until that point nullified, the race came down to a 6-lap second heat. Once again rain began to fall hard part way into the race. But when it lightened in the final laps, Rossi was able to pull ahead to score his second win of the season, beating Gibernau by 0.3 seconds. His narrowed the point gap between the two to 10 points with Rossi now in 2nd place.

Round 5, Catalonian GP (Jun. 13)
After finishing 2nd in the qualifying, Rossi took the early lead in the final race. After exchanging the lead several times in the middle stages of the race with Gibernau, Rossi took the lead again with two laps remaining and pulled away to score a second consecutive win and his third of the series. With Gibernau finishing 2nd, the gap between the two in the season ranking was now narrowed to 5 points.

Round 6, Dutch TT (Jun. 26)
Rossi won his third pole position of the season here, and once the race became a head-to-head battle with Gibernau. Rossi stayed in second position waiting for his chance to move. Finally, half way into the last lap he made an inside move to take the lead. Exiting a curve, however, Rossi's machine shook badly for a moment and nearly threw him off. Gibernau was right on his tail at the time and was unable to avoid hitting the back of Rossi's machine. But they held on and were able to finish the race with Rossi scoring his 4th win of the series and the two rivals now standing even in the season ranking with 126 points each.

Round 7, Rio GP (Jul. 4)
While running in 4th position on the 13th lap of this race, Rossi crashed and was forced to retire. But his rival Gibernau also crashed out of the race at the same corner, thus leaving their season point standings unchanged.

Round 8, German GP (Jul. 18)
In the first half of the race Rossi ran on the tail of the leader, Biaggi (Honda). After taking the lead at one point, however, Rossi's rear tire began to slip and he gradually dropped to 4th position at the finish to win 13 series points. Gibernau crashed out of the race on lap eight and Biaggi went on to the win. This gave Rossi the series lead with 139 points, just one point ahead of Biaggi.

Round 9, British GP (Jul. 27)
?Rossi won his fifth round of the series here. When his rival Gibernau finished 3rd, Rossi moved ahead to a 22-point lead in the season ranking. Starting from the pole position, Rossi was the first rider through the first corner. Though he would give up the lead momentarily to Capirossi (Ducati) and Gibernau, Rossi recovered it quickly and built up a 2-second lead in the middle stages and stretch it to four seconds by the time he took the checkered.

Round 10, Czech GP (Aug. 22)
In a close battle with rivals Gibernau and Biaggi, Rossi finished the race second. By winning the race, Gibernau narrowed Rossi's lead in the season ranking to 17 points.

Round 11, Portugal GP (Sep. 5)
In this race Rossi would run away to a lead of more than five seconds over second place to win his 6th victory of the series. Starting from 2nd position on the grid, Rossi quickly took the lead on the second corner of the opening lap and began to pull away from the pack. He kept increasing his lead all the way to the checkered. With Gibernau finishing 4th, Rossi's season ranking lead grew to 29 points.

Round 12, Japan GP (Sep. 19)
After leading the race for the first five laps, Rossi was overtaken by Japan's Makoto Tamada (Honda), who went on to win with Rossi finishing 2nd. With Gibernau unable to finish better than 6th, Rossi's season ranking lead grew again to 39 points.

Round 13, Qatar GP (Oct. 2)
After finishing 8th in the qualifying, Rossi was penalized for a rule violation when his team's staff cleaned the place on the grid he would be starting from the next day and leaving what was judged to be a mark. As a result, Rossi had to start the race from the very back last line of the grid. Still, he managed to work up to 8th position by the end of lap one and 4th position by the 4th lap. But his desperate charge ended in a crash on the 6th lap that caused him to no-point for the second time in the season. Gibernau won the race and narrowed the season point gap to just 14.

Round 14, Malaysian GP (Oct. 10)
For the seventh time in the season, Rossi started the race from the pole position. By the end of lap one he was running in second position behind A. Barros (Honda). After passing Barros on lap four, Rossi began to widen his lead. Biaggi would eventually emerge in second position but Rossi had by then built a 3.6 second lead that he rode on to victory. With Gibernau finishing 7th, Rossi's season ranking lead grew to 30 points. This meant that a 2nd place finish at the next round in Australia would clinch him the season title with one round still remainng.

Round 15, Australian GP (Oct. 17)
In this round Rossi won his eigth race of the season to clinch the series championship. Although Gibernau led the race through the middle stages, Rossi would engage him in a head-to-head battle in the final stages with the lead changing hands several times. Finally, Rossi squeaked to victory by a 0.097 second margin.