Yamaha ASV Displayed at World Congress on ITS Nagoya, Aichi 2004 Research prototype mounting advanced safety technologies
| | |
| --- | --- |
| | October 18 2004 |
Yamaha Motor Co., Ltd. (YMC) will display its "Yamaha ASV*" research vehicle at the 11th World Congress on ITS (Intelligent Transport Systems) to be held at the Nagoya International Exposition Center (Port Messe) in Nagoya, Japan from Oct. 19 to 24.
The Yamaha ASV to be displayed takes as its base vehicle the Grand Majesty 250 cc scooter and mounts on it various systems aimed at providing the rider with both "security and pleasure" while also adding an "new ways to enjoy the riding experience." At the display booth, this vehicle will be displayed along with demonstration corners designed to offer visitors hands-on experience of the new technologies and systems. (* ASV stands for Advanced Safety Vehicle)
Display booth image

The "Yamaha ASV"
special exhibition model


The systems of the "Yamaha ASV" research prototype display model


1) An HMI System for Motorcycles (display)
Introduced here is a multi-display meter system with the capability to display a wide range of information from information about the conditions of the vehicle, traffic environment information, vehicle running history and personalized rider-designated information.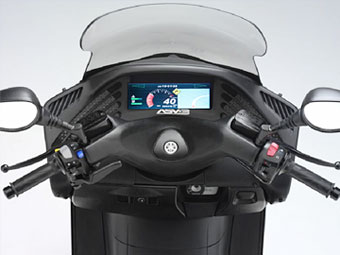 The multi-display meter system
2) An HMI System for Motorcycles (sound)
Introduced here is a "Bluetooth" short-range wireless communications system capable of providing a wide variety of voice-communication functions. Using a specially outfitted helmet with built-in speaker and microphone, this system proposes new functions such as road information receptions and "intercom" type communication between rider and tandem passenger.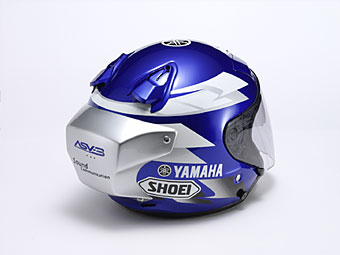 The helmet for the HMI system for motorcycles (sound)
3) Night Lighting System for Motorcycles
When a motorcycle is leaned into a curve, a corresponding lean in the headlight axis that causes a change in the field of illumination toward the inside of the curve. This system adds special cornering lights that are activated automatically when the turn signal is applied or the bike reaches specific angles of lean in order to improve visibility in situations like nighttime turning at intersections.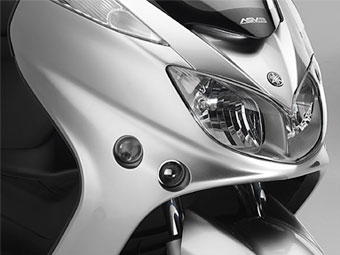 The cornering lights
4) Rear View Assistance System for Motorcycles
Introduced here is a system that provides an image of the rear-view mirror blind spots on the main meter display to aid the rider in recognition of possible vehicle presence. When the turn signal is applied, a CCD camera on the indicated side automatically provides an image of the rear-view field not covered by the mirror.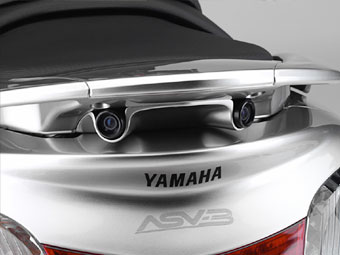 The CCD cameras positioned on the tail of the bike


At the World Congress of ITS


| | | |
| --- | --- | --- |
| | | |
| Cutting ribbon for the opening ceremony | | At the Yamaha booth (1) |
At the Yamaha booth (2)

At the demonstration corner for "Bluetooth" communication system
Cooperation:Yamaha Corporation