Yamaha service technicians brought together from 19 countries (20 competitors and 18 distributor representatives) Yamaha Motorcycle Service Technicians World Competition "Yamaha World Technician GP 2003"
| | |
| --- | --- |
| | October 08, 2003 |
The Yamaha World Technician Grand Prix 2003 competition for Yamaha motorcycle service technicians (dealership and sales outlet mechanics) from around the world was held on October 3 at the Yamaha Motor Co., Ltd. (YMC) headquarters in Iwata City, Shizuoka Prefecture. The scale of the preliminaries for this second Technician GP, with 4,831 contenders from 20 countries, far outstripped those that were held in April, 2002, for the first GP (2,911 participants from 14 countries—2002 figures). Elimination rounds were held in the various countries and regions, culminating in the selection of 20 finalists from 19 countries who would come to Japan accompanied by 18 Yamaha distributor representatives to test their technical service skills.
This competition was organized as one element of the "Global Service Education" plan that Yamaha Motor has been promoting worldwide since 2000 with the first actual competitions starting in 2001. Its aim is to realize increased customer satisfaction by providing a uniformly high level of quality service that goes beyond borders and areas as well as increasing the consciousness of individuals as members of the Yamaha group.
Under the motto "Challenge 21 – Aim to Be No. 1 in Service," 20 competitors and 18 distributor representatives gathered from 19 countries, Australia, Belgium, Bolivia, Brazil, Canada, Colombia, France, Germany, Indonesia, Malaysia, Mexico, the Netherlands, the Philippines, Pakistan, South Korea, Taiwan, Thailand, Vietnam and the host country, Japan.
The competition was judged on total points from tests of the technicians' skills in four areas: 1) a written exam covering motorcycle engineering, 2) a practical technical skills test, 3) a measurement skills test and 4) a customer reception skills test. The overall champion was Mr. Richard Hair (Inskip Motorcycles / Australia), second place went to Mr. Liu Shih Jung (Hon Guo Motors / Taiwan), with third place honors shared by Mr. Jean Claude Durand (Moto Parushions / France) and Mr. Pharuehat Singto (Pairo Sales & Service / Thailand).
The next World GP will be held two years from now in 2005, the year that marks YMC's 50th anniversary. With increased participation mainly from Europe and Asia, the scale of the competition will greatly exceed this year's with some 5,700 Yamaha service technicians from 38 countries taking part. After preliminary rounds in each area and country, plans call for some 25 finalists to vie for the world title.


Yamaha Technical Academy


The system for the education of service personnel is the Yamaha Technical Academy (YTA) and it is designed so that customers will be able to receive a uniformly high level of quality service from well-trained service personnel at Yamaha dealerships no matter where they are located throughout the world. In specific terms, it provides worldwide-unified educational texts, curriculum, qualification and accreditation systems that will serve as the base for providing a high level of service with the aim of establishing a global "Yamaha Standard."
The education of service personnel is conducted through four types of activities: 1) the establishment of a network of educational bases the main distributorships in each country, 2) conducting training at YMC headquarters of the instructors who will teach at each of these educational bases, 3) instructors from each country receive training from instructors in neighboring countries and in turn give instruction to dealer service personnel in their own country and, 4) the holding of the World Technician GP (regional and world competitions).

The Yamaha Technical Academy (YTA) is at the center of this service education system that at present in 2003 divides the world into six regions with two principal educational bases at Yamaha Motor Corp., USA (YMUS) and Yamaha Motor Europe N.V. (YMENV) to establish a total of thirteen educational bases in the worldwide education network. The six regions and thirteen bases are: 1) Asia (YMT, YMKI, T.T.C. China, YMI), 2) Europe (YMENV, MBK, YMES), 3) Central and South America (YMDB, INCOLMOTOS), 4) North America (YMUS, YMMEX), 5) Oceania (YMA), 6) Japan (YMMC).


Competition Summary


The content of this year's competition included 1) a "Written Exam" covering motorcycle engineering, Yamaha products and market knowledge (50 min.), 2) a "Technical Skill Competition" in which competitors make repairs on an actual motorcycle and perform an overall inspection (50 min.), 3) a "Measurement Skills Competition" to determine measurement and judgment skills in five areas such as cylinder bore, valve clearance, ignition coil resistance, etc. (25 min.), and 4) a "Customer Reception Skills Competition" that simulates the reception of a customer at the shop (10 min.). Based on the total points from these four tests the champion, runner-up and 3rd place winners were chosen.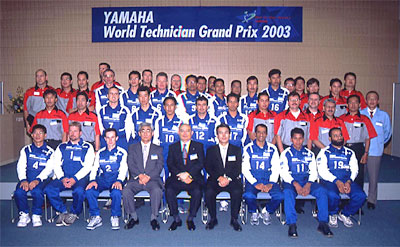 YMC's President Hasegawa surrounded by the 20 finalists and distributor
representatives from 19 countries.
"Technical Skill Competition" in which competitors make repairs on actual motorcycles and perform an overall check. All four parts of the competition were watched closely by MotoGP rider Norick Abe together with President Hasegawa and others.

The "Written Exam" covered motorcycle engineering,
Yamaha products and market knowledge.
Five minutes were spent checking each of five areas in the "Measurement Skills Competition."

"Customer Reception Skills Competition" simulates
the reception of a customer at the shop.


Comments from the finishers


Grand Prix
Richard Hair (Inskip Motorcycles / Australia)

"It was a great feeling to win this year's World Technician GP. Although I didn't do anything special to prepare for the competition, I feel that being able to put up a result like this is thanks to the accumulated experience I've had during the 22 years I've been a motorcycle service technician. It's been a great experience, coming to Japan for the first time. It makes me proud to be chosen as the top Yamaha service technician. Coincidentally, today happens to be my birthday. It's my best birthday ever."
2nd
Mr. Liu Shih Jung (Hon Guo Motors / Taiwan)

"Following the third-place finish by the representative from Taiwan in the first Tech GP, it makes me incredibly happy to put up this second-place result. I spent six or seven hours a day during the ten days before the competition practicing what I thought would be covered in the tests. I felt I was able to improve my service skills and learned a lot from interacting with the representatives from countries around the world."
3rd
Mr. Jean Claude Durand (Moto Parushions / France)

"I'm very pleased with this third-place result. I was able to put to full use the experience I've gained over the last two years as a Yamaha dealer. Since this summer I've put in two or three hours every day in addition to my work to train for the competition. I believe I've gained three things. I've got an understanding of the size and scale of the Yamaha organization. I was able to deepen my friendships with the other competitors. And lastly, I was able to pick up a little English."
3rd
Mr. Pharuehat Singto (Pairo Sales & Service / Thailand).

"I never imagined that I'd be able to win a prize so I'm really pleased. I'm so happy I'm speechless."
« Norick Prize »

The competition this time took place under the watchful eye of Norifumi Abe, the MotoGP racer popularly known as Norick. He was also present at the closing ceremony to give the winners their prizes and made a unique comment in his remarks to the competitors, telling them, "You are all wizards!" In addition, a special "Norick Prize" was given to two competitors – caps and jackets he had autographed and handed to them in person.