New Big Single offering a great marriageof ease of use in city riding and high-speed cruising performance New 2004 European market model Yamaha "XT660R" debuts at Milano Show
| | |
| --- | --- |
| | September 09, 2003 |
Yamaha Motor Co., Ltd. (YMC) announces the debut of the new remake of the Yamaha Trail "XT660R" in its 2004 European market model at the 60th Milano Show (bicycles and motorcycles) opening on September 16 2003. Mounting a newly developed liquid-cooled 4-stroke, SOHC single-cylinder, 4-valve, 660cc engine with fuel injection on a diamond-type frame, this model offers an excellent combination of enjoyable ease of use in around-town riding plus outstanding high-speed cruising performance.

The new XT660R was conceived and developed around the central themes of "Dreams, Fun and Daily Life." This "Dreams" means the dreams that you can chase in long-range on- and off-road riding. It also means the embodiment of the dream of an entirely new kind of styling that is different from any motocrosser. The "Fun" means the fun of running performance that far exceeds that of the existing XT600E. As for the "Daily Life," it refers to the kind of functionality people want for city riding plus an attractive sticker price. In the design of this new model, Yamaha's engineers brought their most advanced technologies to realize the next evolution of the basic XT performance character while also achieving entirely new styling.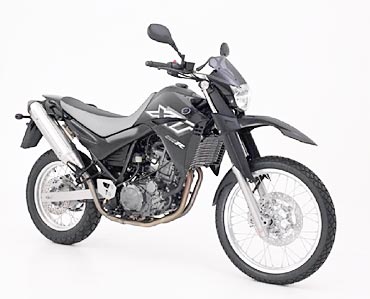 2004 European market model Yamaha Trail "XT660R"
Name:

Yamaha "XT660R"

Release:

March 2004
(Date to vary with the different European distributors)

Coloring:

Deep Purplish Blue Solid E
Yamaha Black


Market Background and Product Summary


Demand in the European on- off-road bike market is at an annual level of 100,000 ~ 110,000 units, with 600cc class models used mainly for city riding making up about 70% of the total. The other 30% is made up of larger displacement models used primarily for touring. The Yamaha XT600E, introduced in 1990, has been the category leader thanks to its ease of use in around-town riding, its freedom of riding position and enjoyable running performance. In 10 years the XT600E has sold a record 92,000 units in the European market, making it the standard of the 600cc on-off category. The XT600E has remained especially popular in the southern European countries thanks to the sense of security it brings when riding on cobblestone streets and its ease of use on crowded streets. The reasons most customers give for the XT600E's popularity are the proven reliability going back to the initial XT500 introduced in 1976, its versatility and the fact that it is a bike you can use for many years, plus its affordable price.

Elements defining the European market in recent years have been a rapid expansion of the expressway systems, while at the same time there are numerous cities and towns where congested traffic conditions are expected to continue with no relief in sight. This has brought a reappraisal of the merits of motorcycles capable of both high-speed cruising and good maneuverability of the kind desired in city riding. Meanwhile, the market has seen an influx of new models by other makers and an increased longing among some users for highly individualistic models, as well as an increased environmental consciousness. All this has led to strong calls for new styles of 600cc on-off models.
The model Yamaha developed to carry on the concepts established by the XT tradition while answering these new market needs is the "XT660R." The aims Yamaha set for this next-generation XT included, (1) running performance that makes around-town riding even more enjoyable, (2) high-speed cruising capability for the greater assurance that lets riders enjoy expressway cruising, (3) innovative new styling and (4) environment-friendly performance. These design aims were then summarized in the key words "The New Legend Crossover Trail 660" and development focused was on the themes of "Dreams, Fun and Daily Life."


Main Features


| | |
| --- | --- |
| | Engine |
1) New 660cc liquid-cooled engine
In order to ensure excellent performance in a wide range of uses from around-town to high-speed cruising, a new-design liquid-cooled 4-stroke, SOHC single-cylinder, 660cc forward-inclined 4-valve engine with fuel injection (FI) is adopted. With a bore x stroke expanded to 100mm x 84mm from the 95mm x 84mm of the existing XT600E and a compact combustion chamber and high compression ratio of 10.0: 1, this engine delivers maximum power output of 35.3kW (48PS)/6,000 rpm and a maximum torque of 58.4N-m (5.95kgf-m)/5,250 rpm.

2) First Fuel Injection system ever on a Yamaha "big single" model
The XT660R adopts the first fuel injection system ever on a Yamaha "big single" model. Data for 10 sensing parameters are gathered by sensors including a crank sensor, and intake pressure sensor render fuel injection sensor is processed by the super-compact 26-pin ECU to render optimum fuel injection volume and timing under all running conditions. The injector is a long nozzle, high-dynamic-range type with 12 outlets. This 12-outlet nozzle produces fine fuel droplets that contributing to outstanding drivability and environmental-friendly emissions. Another reason behind the outstanding drivability and low emissions is the adoption of a pulsation damper that controls fluctuations in pressure to ensure stable fuel supply. The fuel injection system has also been made simpler and more compact by the elimination of the air pressure sensor and adoption of a return-less type fuel supply system requiring less tubing.

3) Roller type rocker arm for optimum valve lift
The new engine adopts the first roller type rocker arm valve-lift mechanism ever on a Yamaha sports bike. One of the characteristics of the rocker arm type mechanism is the capacity to get a valve lift that is larger than the cam lift depending on the lever ratio. However, there is a structural problem in that increasing the lever ratio to get the desired valve lift also puts additional stress on the slipper assembly. With the XT660R's roller type rocker arm, the slipper is given a needle roller bearing that gives the slipper a constant revolving motion that reduces the friction resistance with the cam. This gives the mechanism excellent reliability. Furthermore, it enables a high valve lift of 9.8mm for the intake and 9.0mm for the exhaust valves (compared to 8.4mm on the existing model) and shortens the valve overlap. The result is a truly enjoyable power feeling in the low to middle speed range and excellent emissions qualities.

4) Lightweight, highly heat-resistant forged piston, direct-plated cylinder
For the new, larger piston to fit the 100mm bore, a forged piston was adopted for its greater heat tolerance and potential for lightweight design. As for the cylinder, a low-pressure cast aluminum cylinder body was adopted a direct plating is applied (ceramic composite plating) that a steel sleeve or cylinder liner unnecessary. Since this eliminates the different heat transfer rates that result from the use of a liner, cooling characteristics are improved and oil deterioration is lessened. This combines with the effect of the cross-flow type radiator to provide excellent cooling performance and reliability. The combination of the lightweight forged piston, compact design head assembly and liner-less cylinder design all contribute to a lower center of gravity for the engine which in turn becomes an important factor contributing to this model's excellent running stability.

5) New positioning of the three axes and compact crank case
To accommodate the larger bore engine, the gears of the three axes (crank, main and drive) have been increased in size for greater reliability. And, while the distance between the crank and drive axes has been increased by 9mm, the removal of the kick axis and other optimized design features have enabled a crankcase design that is 30mm shorter in the longitudinal direction than that of the existing model.

6) Optimized flywheel mass
The mass of the flywheel has been set about 20% less than the XT600E to optimize performance. This combines with the optimized intake/exhaust system designs, the lightweight forged aluminum piston and the roller type rocker arm to produce a light but outstanding engine feeling, especially in the low to middle speed range.

7) Dual exhaust for outstanding torque character and unique exterior styling
Adoption of a left-right symmetrical dual muffler (made of SUS material) that draws two separate exhaust pipes from the two exhaust ports and feeds them into the up-muffler (silencer) instead of combining them into one at the head, helps bring out excellent torque characteristics in the low to middle speed range. The 100mm diameter, 500mm long silencer is covered by a highly heat-resistant nylon protector featuring a metallic-looking finish. This gives the exterior styling a distinctive accent point. Meanwhile, a connecting pipe is provided to cancel out the slight pulse difference between the left and right exhaust pipes to help ensure excellent drivability. This system is also characterized by its pleasing exhaust sound, the optimized sizes and pipe lengths of the exhaust system components and the optimized expansion chamber design.

8) Other features
Other features of the new model include (1) advanced technologies adopted in the transmission (total of 17 items) and (2) an air induction system and honeycomb type catalyzer for cleaner emissions (clears the EU-2 standards).
| | |
| --- | --- |
| | Chassis |
1) New-design frame provides excellent straight-line running stability
In order to endure excellent running stability in high-speed riding, a new-design diamond frame using high-tensile steel and designed for an optimum balance of longitudinal, lateral and torsional rigidity. Also, a twin pipe fuel tank rail design is adopted (28mm diameter, 1.5mm gauge pipe left and right) to ensure the ideal rigidity balance. With regard to the lateral rigidity that is so important to straight-line running stability, a rigidity value several times higher than that of the existing XT600E and 60% higher than the XTZ660 Tenere has been achieved. The engine mounts include one at the head and four on the crankcase in a design that makes positive use of the engine as a structural member contributing to chassis rigidity.

2) Front and rear suspensions with excellent cushioning performance
The front suspension employs an upright fork with 43mm diameter inner tubes (vs. 41mm on the XT600E) and the same generous 225mm stroke as the XT600E. The fork bracket has also been redesigned to accommodate the larger diameter fork. Optimum materials have been chosen for the upper and under components, with the upper made of die-cast aluminum and the under of forged aluminum. This combines with the optimized dimensions, including 25mm fork offset and 30mm axle side offset to help achieve excellent running stability and neutral steering character.

3) Bottom link type rear suspension with 5-step adjustment mechanism
For the rear suspension, a large-size bottom link type with 14mm diameter rod and a large 40mm diameter cylinder is adopted. The shock absorber is given a forward lean to help lower the center of gravity and ensure an abundant 200mm of wheel travel. Combined with the lightweight steel rear arm, this ensures excellent cushioning performance. A 5-step cam type preload adjustment mechanism is provided to enable adjustments to fit riding conditions and/or rider preferences.

4) Front disc brake with floating mount
The 298mm front disc brake has been given a floating mount, known for its improved judder resistance qualities due to the reduced effect of pad heat on the disc. What's more, this brake features an asymmetrical two-pot Brembo caliper with sintered pads known for their good initial touch characteristics and abrasion resistance. Also, the combination with the optimized master cylinder spec, lever ratio and hose expansion rate helps achieve the kind of linear braking performance you want for use in high-speed conditions. Meanwhile, the rear wheel features a large-diameter 245mm disc and pin-slide type Brembo caliper.

5) 15-liter fuel tank finished in "Matte Black 2"
This model adopts a fuel tank with a design that is flattened on the bottom for excellent space efficiency that helps achieve a large 15-liter capacity despite the in-tank mounting of the fuel pump to accommodate the new fuel injection system. Also, the fuel tank is given a "Matte Black 2" finish for a smart, cosmopolitan look. The same "Matte Black 2" is used on the tank cap and frame to give the machine an overall impression of metallic quality.

6) New shape front hub and straight-spoke wheel
To help achieve light, agile handling, lightweight aluminum rims are adopted. These are mounted with front 90/90-21 and rear 130/80-17 size tires. The front hub has been given a new shape that enables considerable reduction in metal thickness for reduced weight while also achieving high rigidity. What's more, the ends of the spokes (hub side) are processed in a way that creates a so-called "straight spoke" for superior tensile strength qualities. This combines with the new larger front axle, on which the diameter of the inner hollow has been increased from 15mm to 17mm, to achieve a handling feeling with better rigidity and greater stability at high speeds.

7) Comfortable upright riding position
Despite the large impression of its exterior, the fuel tank shape is slim with good knee grip qualities. This combines with the optimized handlebar, hip, and footrest positions to help create an upright riding position with a good sense of rider-machine unity. Greater comfort has also been achieved with the adoption of a new type of seat cover that offers superior sense of fit and grip qualities. It features a design that provides both seating comfort and ease of leg reach to the ground while also adding pleasing modulation to the exterior design.

8) Digital display liquid-crystal speedometer
A digital display meter panel is adopted. With a simplified design that eliminates the tachometer, it has been possible to include additional features like twin tripmeters, a clock and a self-diagnosis function that anticipates fuel injection system malfunction. The tripmeters have a six-digit display (mode switchover from odometer) for greater convenience in long-distance cruising and keeping track of oil-change distance, etc.

9) Front-back two-piece fender, body design that emphasizes modulation
The front end features "bikini" cowling with a clear windshield and a multi-reflector type headlight with H4 bulb. Also, the rubber boots have been removed from the front fork in favor of plastic resin protectors. Furthermore, the fender is a two-piece type that enables an up-fender design for the portion in front of the fork and a down-fender design for the rear half. This kind of sculptural combination gives a fresh, cosmopolitan impression to the front-end styling. In addition, the air scoop outlet has been designed to create a more efficient flow of hot air away from the radiator with a shape that provides a distinctive accent to the design of the side view.

10) Other convenient features for everyday use
Other features that riders will appreciate include (1) an immobilizer anti-theft function, (2) a key-lock seat compartment and space beneath the seat for a U-lock, (3) a handlebar turning angle of 44 degrees for greater maneuverability in around-town use and (4) a minimum ground clearance of 210mm that combines with the generous suspension stroke to ensure the ability to ride through all kinds of on- and off-road conditions.


2004 European Model Yamaha "XT660R" Technical Specification


Overall length x width x height
Seat height
Wheelbase
Dry weight
Engine type
Cylinder arrangement
Displacement
Bore x Stroke
Compression ratio
Maximum power
Maximum torque
Starting system
Fuel tank capacity
Fuel supply system
Tire size (Front / Rear)

2,240mm x 845mm x 1,230mm
865mm
1,505mm
165kg
Liquid-cooled, 4-stroke, SOHC, 4-valve
Single cylinder
660 cm
100mm x 84mm
10.0 : 1
35.3kW (48 PS) / 6,000rpm
58.4N-m (5.95 kgf-m) / 5,250rpm
Electric
15liters
Electronic control fuel injection
90/90-21MC 54S / 130/80-17MC 65S