Reborn with fuel injection and radialtires front and rear New 2004 European market model Yamaha Sports Commuter"TMAX" debuts at Milano Show
| | |
| --- | --- |
| | September 09, 2003 |
Yamaha Motor Co., Ltd. (YMC) proudly announces the debut of the new remake of the Yamaha Sports Commuter "TMAX" in its 2004 European market model at the 60th Milano Show opening on September 16 2003. While maintaining the same basic model concept that has made the TMAX so popular as a "high-speed sport commuter," the new 2004 model features boosted performance with the adoption of (1) increased engine power output, (2) a fuel injection system, (3) larger 41mm front fork, (4) radial tires front and rear with a larger rear tire size and (5) double front disc brakes. Other functions like an immobilizer with illuminated key hole and a new-design meter panel also add to the product value of this new model.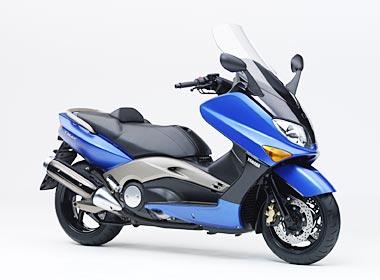 2004 European market model Yamaha Sports Commuter "TMAX"
Name:

Yamaha "TMAX"

Release:

December 2003
(Date to vary with the different European distributors)

Coloring:

Silver 3
Dark Grayish Blue Metallic E
Matte Blue Metallic 2
Black Metallic X


Market Background and Product Summary


With its release on the European market in the autumn of 2000, the TMAX brought a fresh wave of innovation to the European motorcycle market with its combination of "fun motorcycle-like ride" and "comfort as a commuter" thanks to sports bike type handling stability and impressive styling. Today, the TMAX is ridden and loved by a wide age group of users who praise its "high-speed stability and plenty of passing power" and its "handling of a sports bike that you can enjoy in anything from around-town riding to touring on winding secondary roads." While maintaining the same basic model concept of the original TMAX, the new 2004 model features new technologies that (1) boost basic performance, (2) improve handling stability, (3) improve convenience and (4) refine exterior quality. The result is a more mature model with true TMAX individuality that offers a high-level marriage of boosted performance, handling stability, riding comfort, convenience and environmental friendliness.


Main Changes and Features


| | |
| --- | --- |
| | Boosted basic performance with adoption of fuel injection, etc. |
In order to bring out even higher levels of performance and environment-friendliness, this new model adopts a fuel injection system featuring an especially fine atomizing injector. This fuel injection system is characterized by (1) return-less type fuel line layout, (2) idling stoichiometric control that enables lean running even in idle (removal of air induction system), (3) elimination of the cam sensor, (4) elimination of the air pressure sensor and (5) adoption of a compact 26-pin ECU. What's more, an optimized system design has enabled a significant reduction in size. The result is a system that provides excellent response.
Furthermore, in order to achieve the ideal balance with the new fuel injection system, the specs of the pistons and connecting rods have been changed and the compression ratio altered from the existing 10.1: 1 to 10.9: 1. To accommodate the engine's boosted performance, the V-belt spec has also been changed to ensure greater reliability. The combined effect of these improvements is even sportier running performance characterized by improved high-speed performance and better low- to mid-speed power development.
With the new fuel injection system and new muffler with catalytic converter, this new 2004 model achieves environment-friendly performance that clears EU-2 emissions standards.
| | |
| --- | --- |
| | Features like radial tires front and rear improve handling stability |
To accommodate the boosted engine performance, the inner tubes of the front fork have been increased in size from 38mm diameter to 41mm. This further brings out the performance potential of the sport-bike-type telescopic front fork that is one of the defining features of the TMAX. What's more, a new double-disc front brake is adopted for even more stopping power.
Radial tires have also been adopted for front and rear. The front retains the existing size of 120/70R-14 while the rear tire size is increased from 150/70-14 to 160/60R-15 for another improvement in handling stability.
| | |
| --- | --- |
| | Other convenient features |
Other features include (1) a theft-prevention immobilizer, (2) a parking brake (built into rear caliper assembly), (3) a new-design inner panel and (4) a new double-seat shape and cover material.


2004 European Model Yamaha "TMAX"
Technical Specification


Overall length x width x height
Seat height
Wheelbase
Dry weight
Engine type
Cylinder arrangement
Displacement
Bore x Stroke
Compression ratio
Maximum power
Maximum torque
Starting system
Fuel tank capacity
Fuel supply system
Tire size(Front / Rear)

2,235mm x 775mm x 1,410mm
795mm
1,575mm
205kg
Liquid-cooled, 4-stroke, DOHC, 4-valve
Parallel twin
499cc
66.0mm x 73.0mm
10.9 : 1
32.6kW(44.4PS)/7,500rpm
47.6N-m (4.9kgf-m)/6,250rpm
Electric
14liters
Electronic control fuel injection
120/70R-14MC / 160/60R-15MC