Release of the Yamaha NOUVO To Build New Demand in the ASEAN Markets Featuring a new 115cc engine and combining the comfort of a scooter with the ride of a moped
| | |
| --- | --- |
| | April 24, 2002 |
Yamaha Motor Co., Ltd. (YMC) has recently developed the "NOUVO," a model that mounts a newly designed air-cooled OHC single-cylinder 115cc automatic transmission engine on a newly designed frame to create a new genre of commuter that combines the comfort of a scooter with the ride of a moped. Beginning in April 2002, this new model will be released in succession in Malaysia, Indonesia, Thailand and other ASEAN countries with the aim of developing new demand in the ASEAN market.
The NOUVO represents the first new product for the ASEAN market under YMC's New Mid-term Management Plan (3-year plan adopted April 3, 2002).

Featuring an easy to use new-design automatic transmission engine, a new frame designed to ensure outstanding ride and handling characteristics, a helmet compartment and large 16-inch wheels front and rear, the NOUVO is designed and engineered to answer the needs of the ASEAN market in all aspects of its design. The name NOUVO is derived from the French word nouveau (new) and is intended to express the idea of a new type of vehicle or a vehicle of the future. As for its manufacture, the NOUVO will be produced under a system based on division of factory roles and mutual supply of parts in the ASEAN countries.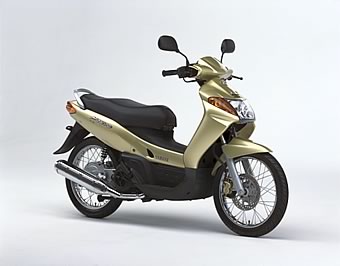 Yamaha "NOUVO"
| | |
| --- | --- |
| Name: | Yamaha "NOUVO" |
| Release date: | Beginning April 2002 |
| | (successive releases by country) |
| Coloring: | Dull Greenish Yellow Metallic 1 |
| | Lavender Silver |
| | Vivid Red Cocktail 7 |
| | (All Malaysian colors) |


Market Background and Product Summary


The annual motorcycle demand in Southeast Asia, which stood at about 2.2 million units in 1999, has grown strongly in recent years to reach a level of about 3.4 million in 2001. Predictions say that it will continue to grow to about 4.3 million units in 2003. The main demand centers in the 100~125cc moped (underbone frame) category models, which are used for commuting, business and a variety of other uses.
And, it is expected that models of this category will continue to lead the market in the future. There is also a strong trend toward 4-stroke models, and high expectations are heard for next-generation commuter models that have refreshing new styling, high quality and are easy to ride.

In light of these market conditions, the NOUVO was developed as a next-generation commuter that took as its product concept the "basic ASEAN commuter" and included a full range of features to meet the real user needs revealed by our thorough market research in the region. In specific terms, the main aim was to use a range of innovative technologies throughout the design to create a model that was a high-level fusion of the best features of a moped, including its reassuring ride, maneuverability and economy, with the best features of a scooter, which include convenience, comfort and stylishness.
Based on this concept, Yamaha engineers and designers went about the work of fine-tuning the design and styling to create a new-genre commuter with the quality and looks to become the first motorcycle born in the ASEAN market and destined for the world market.

In 2005, Yamaha Motor Company will celebrate the 50th anniversary of the company's founding. In order to further strengthen our corporate structure and lay a solid foundation for our next half-century, YMC has adopted a new 3-year Mid-term Management Plan (April 2002 ~ March 2005) bearing the name "NEXT 50." This plan takes as its framework (1) strengthening the profitability of our existing businesses, (2) building a solid foundation for our motorcycle business in China, India and the ASEAN countries, (3) promoting a growth strategy and (4) strengthening our financial structure. The NOUVO is the first new product to be released toward the realization of the second goal of building a solid foundation in the ASEAN motorcycle market.


Main Features


Based on the development concept mentioned above, new technologies were developed to create a new type of commuter powered by an automatic-transmission engine that would (1) have the same level of ride as a moped, (2) have the same level of comfort as a scooter and (3) have fresh, individualistic styling.
| | |
| --- | --- |
| | An easy to use OHC 115cc engine with CVT |
The engine adopted on this model is new air-cooled 4-stroke, OHC 2-valve single-cylinder engine characterized by its strong torque in the mid- to low-speed range. This is coupled with a Continuous Variable Transmission [CVT]. The engine features a 50 x 57.9mm bore x stroke and a compression ratio of 8.8:1 that puts out a max. power output of 6.54kW/8,000rpm and a max. torque of 8.63N-m/7,000 rpm. These performance specs ensure a comfortable ride and lively performance in stop-and-go urban traffic conditions.
A long-life type V-belt has been adopted along with a cooling system that directs a constant flow of cool air into the V-belt chamber to ensure stable performance. What's more, the cooling-air intake duct for this system is positioned higher than the wheel hubs to keep out water and dust from the road even at times when the roads may be flooded.
| | |
| --- | --- |
| | Large-capacity air cleaner, BS type carburetor and high-performance muffler |
A large-capacity 2.2 liter air cleaner is adopted. At the same time, a unique design placing the cleaner in front of the engine is used to achieve a slimmer body design and lower seat height.
Also, the adoption of a BS type carburetor with its good response characteristics has given this model excellent starting performance and combustion efficiency. The adoption of a large-capacity muffler produces outstanding exhaust efficiency plus a quieter exhaust sound. With a diameter of 100mm and a length of 490mm, the silencer gives a pleasing exhaust sound while also adding a distinctive look to the exterior.
| | |
| --- | --- |
| | 16-inch wheels front and rear plus front disc brake |

To ensure good running performance even on poor road surfaces, 16-inch wheels have been adopted front and rear (70/90-16 front, 80/90-16 rear). Also, a special tire pattern has been chosen based on extensive studies of conditions of use in the ASEAN region. These combine to provide outstanding handling characteristics and running stability. The front wheel mounts a 220mm diameter disc brake, while the rear mounts a 130mm diameter drum brake with non-asbestos shoe.
| | |
| --- | --- |
| | Helmet storage compartment with seat opener function and easy, natural riding position |

Designing the body with an eye for optimal use of space has produced a low 755mm seat height despite the 16-inch wheels, as well as a room for a helmet compartment under the seat. And, for added convenience, a mechanism has been adopted that enables the seat to be unlocked from the main switch.

The riding position has been set to enable a natural riding posture that means less fatigue when riding around town or out into the suburbs. Also, a seat cushion material that reduces fatigue on longer rides has been chosen. On the rear seat, the grabbar has been shaped in a way that gives rear support for the tandem rider for greater riding comfort.
| | |
| --- | --- |
| | New-design frame with moped-level rigidity for outstanding ride |
In order to achieve a moped-like ride and good handling performance, a new specially designed frame with the same or higher level of rigidity as a moped has been adopted. What's more, optimizing the balance of the caster, trail and fork offset specs produces great straight-line stability and nimble handling. A minimum ground clearance of 135mm has also been achieved.
| | |
| --- | --- |
| | Sporty design with features like multi-reflector headlights |

In order to achieve a high-level fusion of the reassuring ride and maneuverability of a moped with the convenience and stylishness of a scooter, the exterior body design is characterized by a sporty sense of compactness. Especially, the twin 25W/25W multi-reflector type headlights and the unique design of the front end create the image of an entirely new type of commuter.
| | |
| --- | --- |
| | Other features |

Other features include (1) an exceptionally easy to read meter panel, (2) a large step board for increased freedom of riding position and (3) an integrated-design leg shield with excellent mud-guard effect.


Yamaha "NOUVO" Technical Specifications


Type / Engine designation

AT115 / 5LW1

Overall length x width x height
Seat height
Wheelbase
Minimum ground clearance
Dry weight / Curb weight

1,935mm x 675mm x 1,070mm
755mm
1,280mm
135mm
96kg / 101kg

Fuel consumption(paved flat road)

----

Engine type
Cylinder arrangement
Displacement
Bore x Stroke
Compression ratio

Air-cooled, 4-stroke, SOHC, 2-valve
Single cylinder
113.7cc
50mm x 57.9mm
8.8:1

Maximum power
Maximum torque

6.54kW (8.9 PS)/8,000rpm
8.63N-m (0.88kgf-m)/7,000rpm

Starting system
Lubrication
Engine oil capacity
Fuel tank capacity
Carburetion
Ignition system

Electric & Kick
Wet sump
0.8liter
4.9liter
BS25 x 1
DC-CDI

Primary / Secondary reduction ratios
Clutch type
Transmission type
Gear ratios
Frame type
Caster / Trail
Tire size(Front / Rear)
Brake type(Front / Rear)
Suspension type(Front / Rear)
Headlight

3.133 / 3.583
Dry, centrifugal
Stepless, V-belt
2.369 ~ 0.820
Steel tube, Underbone
25°/112mm
70/90-16 / 80/90-16
Hydraulic, Single disc / Drum
Telescopic / Unit swing
12V 25W / 25W x 2


Yamaha "NOUVO" Feature Map