Yamaha Booth for the 41st Tokyo International Boat Show
| | |
| --- | --- |
| | January 31, 2002 |
Yamaha Motor Co., Ltd. (YMC) will display its Marine products at the 41st Tokyo International Boat Show to be held from Feb. 8 to 11, 2002, at the Tokyo Big Sight (Koto Ward, Tokyo).
The products to be displayed range widely, from product hardware centering around new models to introductions of software aspects of YMC's Marine business, such as promotional and
educational activities. In this way, the Yamaha booth will provide a comprehensive presentation of the joys of marine leisure and YMC's approach to its Marine business.


Outline of the Yamaha Booth
- Theme:

"Touching Your Heart" The sea is great. Good times with Yamaha.

- Display contents:

-

A "Theme Zone" will display two new Yamaha concept models

-

On display will be 6 (FRP) boats and one aluminum boat, two special exhibition model boats, 6 Marine Jets (personal watercraft) and 10 outboard motors

-

Also on display will be a cutaway model of the world's first 4-stroke engine ever designed specifically for a personal watercraft, the "MR-1."

-

Promotional activities including license schools, Yamaha's boat rental system and marine schools will be introduced.

- Press Briefing:

A press briefing will be held at the Yamaha booth on Friday Feb. 8 (Fri.) from 11:10 to 11:40 AM.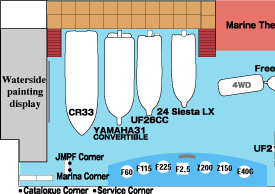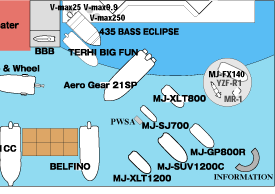 Layout of the Yamaha Booth
Details of the Display Contents
1. Concept Models (2)
| | |
| --- | --- |
| -Free & Wheel | This concept boat has a built-in trailer function that enables it to be towed by a car on the roads, lowered into the water from an access ramp and then used like a regular boat on the water. In the year since it was first shown at the last Tokyo Boat Show, various improvements have been added for even greater product maturation. |
| -BBB | This is an entirely new type of sport craft that Yamaha proposes for fun in the surf under the concept of "Light & Easy." Driven by a jet impeller, this easy to operate craft offers an exciting ride to let you "surf" along the waves and water. |
2. Pleasure Boats (9)
| | |
| --- | --- |
| - Belfino (New) | This multipurpose model features innovative new styling and a sense of spacious volume, including a completely enclosed toilet compartment despite the small 20-ft class length. The new hull design provides both enjoyable running performance and greater stability at rest. |
| -UF-26CC(New) | This new model is a fashionable, full-fledged sport fishing boat featuring a large center console and T-top roof. It mounts a 225 hp Yamaha 4-stroke outboard. |
| -UF-21CC(New) | This smaller-class center console type model is characterized by its spacious deck layout for easier use in fishing. Another appealing feature is its affordable price. |
| -Yamaha 31 Convertible (New) | This convertible model offers abundant on-board living comfort for chasing the big catch offshore or for long-distance cruising. A new hull design ensures both good wave-cutting strength and high-speed cruising performance. |
| -Aero Gear 21SP | This is a towing boat especially designed for wakeboarding. Built-in water tanks allow you to adjust the shape of the boat's wake for optimum wave shape for the wakeboarder. (Color variation model - Black) |
| -24 Siesta LX | This is a full-volume multipurpose cruiser designed especially with families in mind. (Variation model) |
| -435 BASS ECLIPSE | This is the flagship model of the aluminum bass boat series VMAX by QUINTREX produced in Australia. It is highly reputed for its wide, easy-fishing deck layout and sturdy construction. |
| -CR-33 (Special exhibition model) | This full-volume motor cruiser is designed for those who want to cruise in comfort at an easy pace. |
| -TERHI BIG FUN (Special exhibition model) | This is a small-class open boat built in Finland. It is made of ABS resin material for sound ease of use. |
3. Marine Jets (6)
| | |
| --- | --- |
| -MJ-FX 140(New) | This is the world's first personal watercraft powered by a 4-stroke engine. It combines environmental friendliness and quietness with high performance and good fuel economy and has already won awards from prestigious U.S. magazines. |
| -MJ-XLT800(New) | This is a mid-class 3-seater with excellent overall balance. It adopts Yamaha's proven tilt steering, YPVS, YSSS and QSTS. |
| -MJ-GP800R (2001 model) | This is a 2-seater runabout with excellent overall balance. YPVS gives it sharp acceleration. Other features include YSSS, QSTS and YAS. (Japanese market only) - MJ-SUV 1200C ... This 4-passenger model has plenty of storage space to handle all the gear you need for cruising and camping over night. |
| -MJ-SUV 1200C | This 4-passenger model has plenty of storage space to handle all the gear you need for cruising and camping over night. |
| -MJ-SUV 1200 | This is the luxury flagship model of the 3-passenger class. It boasts the latest Yamaha personal watercraft technologies, achieving a high-level balance of performance and environmental friendliness. |
| -MJ-SJ700 | This is the market standard among standing type models. It features an engine with outstanding response and a light body for sprite handling. |
* YSSS: Yamaha Sound Suppression System (employs functions like a resonator to reduce intake/exhaust noise) / YPVS: Yamaha Power Valve System (achieves both high- speed power and strong low- to mid-speed torque) / AS: Yamaha Adjustable Sponsons (sponsons are adjustable to desired settings) / QSTS: Quick Shift Trim System (trim adjustments are easily made with a trigger mechanism),
4. Outboard Motors (four 4-strokes, six 2-strokes)
[4-Strokes]
Four models of the Yamaha 4-stroke outboard series acclaimed for their environmental friendliness, quietness, outstanding fuel economy and compactness are on display. They range from 2.5 hp to the world-largest 225 hp.
-F225A
-F60 A
-F115 A
-F2.5 A
(Special exhibition model)
[2-Strokes]
A leading export model representing the Yamaha outboards used and loved in over 180 countries around the world.
-E40G
5. Marine Software (Information about Yamaha marine schools, Reception)
| | |
| --- | --- |
| - Boat License Schools | In addition to introducing Yamaha's rental boat club, events and the |
| - Yamaha SRV Rental Boat Club | various Yamaha marine schools, on-site Internet hook ups can be used to |
| - Marine Seminar for Dads | access our Boat License Schools for renewals and course registrations. |
| - Marine Events | |
| - Marine Schools | |
6. Marine Accessories
| | |
| --- | --- |
| - Boat accessories | A variety of marine accessories and fishing gear are on display. |
| - Maine Jet (personal watercraft) accessories | And, for sale are items like the easy to wear, inflatable life |
| - Navigational equipment | jacket "Life Raft Jacket" and "MegaBass Yamaha" saltwater |
| - Marine sports accessories | lures. |
| - Fishing gear | |
| - Apparel, etc. | |

New Ideas from the Yamaha Booth
The fun possibilities of "Free & Wheel",
The "Free & Wheel" is Yamaha's unique idea of a motor boat and trailer in one. With this boat-trailer craft Yamaha proposes a whole new world of carefree boating that lets you go where you want and use your boat as you want. It makes possible new kinds of enjoyment like "drive and cruise" or "drive and fish" outings, for example.
With an ordinary trailer, loading and unloading the boat is always a hassle, and once it is off you have to take up two parking spaces with your car and trailer. With the "Free & Wheel" only your car is left on land, so you only need one space. This is an important feature given the limited space at Japan's marinas.
Of particular interest are the fold-up wheel assemblies and the new mechanism adopted for the hitch member (the device for attaching the boat to the car) that retracts into the front deck. The use of thermal plasticity makes the body completely recyclable, and the injected foam material in the hull achieves increased flotation and heightened rigidity.
The boat can be used for a wide range of recreation, from fishing, hunting and cruising to wakeboarding, bird watching or just partying on the water. No matter what your interest is, this entirely new type of craft expands your world of recreation and adds a new dimension to those weekends drives.

A new way to enjoy the sea and surf, "BBB"
Designed and built under the concept of "Light & Easy," the "BBB" is a personal craft that offers an entirely new way to enjoy the surf.
BBB stands for Body Balanced Board. And, as the name suggests, it is a vehicle that demands a good amount of athletic ability to truly master, which also means an equal amount of satisfaction when you do learn to really ride it. Another attractive feature is that, like a surfboard, it requires no special transport or storage effort or expense. Its futuristic design is also a pleasure to see.
"Touch & Try" Virtual Marine Jet Experience
The Maine Jet display area at this year's Yamaha Booth is designed around the theme of "Touch & Try." You can touch and mount all the craft on display. One area also presents virtual images to truly simulate the feeling of speed riding a Marine Jet, and gives the visitor a "firsthand" experience.
Also, be sure to check out our Marine Theater with its impressive 150-inch screen and reclining seats. Constantly playing films give visitors an experience of various types of marine recreation.
Reference Outline of the 41st Tokyo International Boat Show
- Dates
:
Feb. 8 (Fri.) ~11 (Mon. and holiday), 2002
- Venue
:
Tokyo Big Sight (East Halls 1~3) 3-21-1
Ariake, Koto-ku, Tokyo-to Tel: 03-5530-1111
- Venue
:
Tokyo Big Sight (East Halls 1~3)
3-21-1 Ariake, Koto-ku, Tokyo-to Tel: 03-5530-1111
- Hours
:
10:00~17:00 (12:00 to 17:00 on the 8th)
Be aware that on the 8th there will be a press hour from 10:00 to 11:40 and the Opening
Ceremony will take place at 11:50.
- Outline
:
The show theme is "Ocean Dreams."
Exhibiting companies -142
Motorboats on display - 131 from 39 makers
Sailboats displayed - 11 from 9 makers
Personal Watercraft displayed -28 from 5 makers
Marine engines displayed - 64 from 11 makers
* Source: Japan Boating Industry Association materials