Yamaha Sports "TDM900" Debuts at Paris Show Mounting a variable intake duct and fuel injection 900cc engine on an aluminum frame
| | |
| --- | --- |
| | September. 27, 2001 |
Yamaha Motor Co., Ltd. introduces the new 2002 European model Yamaha Sports "TDM900" at the Paris Show, opening on Sept. 27. Mounting a liquid-cooled 4-stroke, DOHC, 5-valve, parallel twin 900cc engine with fuel injection on an aluminum frame, this new model achieves the kind of performance that puts you completely in control to take on those winding mountain roads at will.

The new "TDM900" represents the first full model change in 11 years for the "TDM850," which was released in 1991 and became a long-seller in the European sports tourer market. This "TDM850" immediately became a popular model in Europe for its spirited, sporty riding performance that could handle a wide range of changing road surface conditions from winding mountain roads to cobblestoned streets in town, its easy riding position and individualistic styling. After a partial model change in 1996 (new engine character), its popularity has continued to this day.

Now, the full model change for 2002 includes (1) increased engine displacement, (2) adoption of fuel injection, (3) adoption of an aluminum frame and (4) reduction of body weight, to achieve even more dynamic performance on winding roads in a model that offers a whole new world of motorcycling as the "3rd Generation "TDM."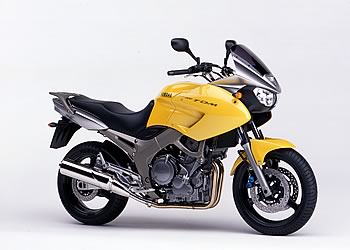 Yamaha Sports "TDM900" (2002 European market model)
Name:

Yamaha Sports "TDM900"

Coloring:

Silver 3
Reddish Yellow Cocktail Silver 3
Very Dark Metallic Blue

Sales plan:

10,000 units (annual European total)


Project Summary


Released in 1991 with the model concept of "King of the mountain roads," the 1st-generation "TDM850" immediately became a popular model in Europe for its spirited, sporty riding performance that could handle a wide range of changing road surface conditions from winding mountain roads to cobblestoned streets in town, its high line of vision, easy riding position and individualistic styling.
This "TDM850" then evolved into the 2nd-generation version in 1996 with the change in engine crank interval from 360 to 270 degrees. The rich feeling of pulse, dynamic running performance and wide torque band of this new engine, together with the bike's neutral handling stability and unique styling won this model continued support motorcycle fans and established its strong presence as one of the standard models in the sports category that truly answered the description of a sports "all-rounder."
(Since its debut some 62,000 units have been sold in the European market through the year 2000.)

While fully inheriting the original basic concept of the 1st-generation "TDM850," the new "TDM900" has been designed and developed with the latest Yamaha technologies to achieve the aim of realizing an entirely new TDM world. With the main development concept of "primarily using weight-reduction technologies to achieve a quality of handling that touches the soul," new technologies and know-how have been adopted in the engine, the chassis and all sorts of detail components, while at the same time re-designing the exterior styling in a way that proposes an entirely new type of Yamaha design.
In specific terms, while maintaining the existing TDM850 character defined by (1) multi-purpose riding potential, (2) upright riding position and (3) unique styling, the new model achieves a high-level balance of the elements of (1) a character that lets the rider take any route he or she pleases, regardless of the type of road surface, (2) riding performance on mountain roads that approaches even that of the YZF-R1, (3) potential to take the lead in touring, even with a pack of liter machines and (4) the best running performance you could ask for in around-town riding.


Main Characteristics and Features


| | |
| --- | --- |
| | Engine |
1) New 897cc engine with forged aluminum pistons and plated cylinders
The power unit on the new "TDM900" takes as its base the liquid-cooled 4-stroke, DOHC, 5-valve, parallel twin 897cc engine with dual-axis balancer from the existing TDM850 and increased the bore from the previous 89.5 mm to 92 mm. In addition to the new 897cc displacement, the engine adopts new features like forged aluminum pistons, plated cylinders and carburized conrods as well as optimizing the exhaust-side cam profiles and other measures to achieve outstanding performance characteristics. Peak power output is achieved at 7,500 rpm and maximum torque at 6,000 rpm. To accommodate this new character, the inertial mass of the crank has been optimized by means of a nine percent increase (Crank / AMC combined value).

2) Fuel injection adopted
In order to achieve both outstanding drivability and cleaner exhaust characteristics, the new power unit adopts fuel injection (FI). This system is a further evolved version of the compact-design type used on the FJR1300 and it is one of the principle factors contributing to the new model's outstanding performance characteristics. The injector positioned on the 38mm throttle body is a 4-hole, 2-jet low-pressure type that provides independent sequential injection for the two cylinders. Achieving ideal atomization for the 5-valve combustion chamber, this system contributes to the new model's outstanding drivability.

3) Variable intake duct contributes to outstanding drivability in the low rpm range
In order to effectively bring out the full potential of the FI system, a new large-capacity air cleaner box (7.5 liters) is adopted, and a variable intake air duct system has been adopted for the first time on a Yamaha. In this system, the intake air duct area is adjusted in accordance with engine rpm, reaching its fullest opening when rpm exceeds 4,000. Below 4,000 rpm the duct area closes down to about one-third the maximum area to supply the ideal amount of air intake. This system helps achieve outstanding engine character by reducing to a minimum the changes in power development characteristics that result from sudden changes in the passage area at times of rapid throttle opening.

4) Large-capacity 120mm diameter silencer made with SUS material
The exhaust system adopts a new-design lightweight muffler that uses SUS material in both the exhaust pipe and silencer portion. The line from the exhaust pipe into the silencer has been made straighter and a connecting exhaust pipe added in the center to obtain good exhaust pulse characteristics. A large-capacity type silencer is adopted to achieve a pleasing sense of pulse and the kind of pure, crisp exhaust sound that only a twin can offer.

5) Other engine related features
Other engine features include (1) a new-spec compact radiator in which the fan and its exterior ring have been made a single-unit design (five percent increase in cooling performance compared to existing model), (2) a new-design 6-speed transmission (formerly 5-speed), (3) a lightweight steel tank with walls just 0.8mm thick (formerly 2-piece type aluminum die-cast) and (4) Yamaha's air induction system and a 3-way catalyzer for cleaner emissions. (Designed to comply with EU-2 emissions regulations, this system achieves reductions of 7 percent for CO, 15 percent for hydrocarbons and 11 percent for NOx.)
| | |
| --- | --- |
| | Chassis |
6) Newly designed lightweight aluminum diamond type frame
This model adopts a newly designed diamond type frame made of lightweight aluminum. The head pipe for this frame is made of metal-mold cast aluminum, while the tank rail is extruded alloy and the bracket rear arm is made of hollow cast aluminum. Making optimum use of the various types of aluminum in this way helps achieve both an excellent rigidity balance and light weight for outstanding running performance. (The frame itself is 6 kg lighter than that of the existing model.)
In particular, the aluminum alloy used in the tank rail is of the high-strength A7000 class, and the individual parts are designed with thicknesses varying between 2mm and 8mm in different sections of the same part in order to achieve an outstanding balance of strength and rigidity.
What's more, the frame has a "matte titanium" finish with a slight gold-color content to give a sense of quality that stresses the performance of this machine.
It should also be noted that the aluminum rear arm is made as a separate unit for greater ease of serviceability.

7) Rigid engine mount for 40 percent boost in torsional rigidity
The engine is mounted on the frame with a three-point rigid system that makes even more effective use of the engine as a structural member in the frame. In combination with the new frame this produces a highly rigid frame with a 40 percent increase in torsional rigidity, a 5 percent increase in lateral rigidity and 8 percent increase in longitudinal rigidity. (The existing model has four rigid mounts, one at the head and three on the case side / The new model has three rigid mounts, one at the head and two on the case side.)

8) 30-degree forward inclined cylinders
The mounting angle for the engine (cylinders) has been changed from a 40-degree incline to 30 degrees. At the same time, the crankshaft has been moved 34mm closer to the axle of the front wheel than on the existing model. This combines with other dimension changes (fork offset 35mm to 30mm, fork pitch 110mm to 120mm) to increase the weight distribution ratio on the front wheel to 49.8 percent (formerly 47 percent). This optimizes inertial moment for the steering assembly and gives a greater sense of front end ground contact and an even greater sense of being able to enjoy quick, nimble turning with a minimum of banking.
The more rigid body also gives a natural handling feeling with a greater degree of tolerance to weight shifting in cornering, etc., when carrying a tandem rider or luggage.

9) R1 type rear suspension long-design aluminum rear arm with segmented cross-section structure
This model newly adopts a YZF-R1 type piggy back type rear suspension. And its connection to the rear arm is a new linked type. Optimization of the spring rate provides a good progressive cushioning effect. (This makes possible a more generous range of damper effect and enables the elimination of the existing one-touch initial-load setting switch.)
The rear arm is a lightweight, long-arm design made of extruded aluminum with a segmented cross-section structure. (The existing model is steel / the new arm is 570mm long, or 40mm longer than the existing model.)

10) Other chassis related features
The chassis also features (1) YZF-R series type new-design wheels front and rear that incorporate "optimized plate thickness" technology, (2) MOSX64 type opposed-piston one-piece front brake caliper, (3) new relaxed-posture riding position and new seat shape (4) new wider type rigid footrest that enables more linear step work and reduces fatigue, (5) new wider type of footrest that enables more linear step work and reduces fatigue, (6) easy-to-read three-way meter panel and (7) multi-reflector headlight.

11) New styling to define the 3rd-generation TDM
The body design is characterized by a wild impression we call a new-adge form conveying a sense of lightness and sharpness. The main design themes included (1) showing the new engine with tight compactness, (2) a harmonious silhouette when the rider on seated on the bike, and (3) a sense of forward movement that doesn't rely on downforce aerodynamics. This new design goes one step beyond existing supersport design with a front view that conveys a sense of massiveness while from the side view the frame and the various exterior parts fuse together to express a dynamic "Y" shape. As for the rear end, a sense of lightness has been worked into the shapes to emphasize an image of sharpness.


2002 model Yamaha "TDM900" Technical Specifications (Italian spec)


Overall length x width x height
Seat height
Wheelbase
Dry weight
Engine type
Cylinder arrangement
Displacement
Bore x stroke
Compression ratio
Maximum power
Maximum torque
Starting system
Fuel tank capacity
Carburetion
Tire size (front-rear)

2,180mm x 800mm x 1,290mm
825mm
1.485mm
190kg
Liquid-cooled, 4-stroke DOHC 5-valve
Parallel twin
897cc
92.0 x 67.5mm
10.4:1
63.4kW (86.2 hp) @ 7,500rpm
88.8 Nm (9.1kgf-m) @ 6,000rpm
Electric
20 liter
Electronic control fuel injection
120/70 ZR18 - 160/60 ZR17