Offering real riding excitement in a pure big-twin cruiser Yamaha "Road Star Warrior" ('02 North American market model) Introduced at US Dealer Meeting
| | |
| --- | --- |
| | June 13, 2001 |
On June 12, 2001, Yamaha Motor Co., Ltd. (YMC) introduces the all-new North American market 2002 model "Road Star Warrior" at the US Dealer Meeting to be held in Las Vegas, Nevada. Mounting an air-cooled, fuel injection V-twin 1670cc OHV engine on the first aluminum double cradle frame ever on a production cruiser, this model represents Yamaha's proposal for an entirely new type of "performance cruiser." Plans call for it to go on sale in the U.S. and Canadian markets as a 2002 model.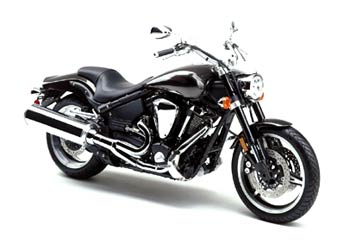 The Yamaha "Road Star Warrior"
Name:

Yamaha "Road Star Warrior

Coloring:

-Dark Gray Metallic A
-Dark Violet Metallic A
-Vivid Red Cocktail 7

Projected sales:

6,000 units (annual / US, Canada total)


Project Aim


Aided by the strong economy, motorcycle demand in the U.S. market reached about 620,000 units in 2000, with cruisers (American style models) being a dominant category constituting about 40% of total demand. (Yamaha's "XV1600 Road Star" boasted strong sales of about 10,000 units in its three variations, including the "Silverado" with heightened touring functions and the "Midnight Star" with its black body and chrome parts giving an attractive customized impression.) Uses for models in this category have shown increasing diversification, from around-town riding to mid- to long-distance touring using expressways.
Especially in recent years riders are increasingly enjoying spirited riding through the gentle curves of the open roads outside the cities, as well as in-town riding, where they like to enjoy a feeling of powerful start-up acceleration. These uses have led to increasingly prominent calls from the users for cruisers with the kind of performance that lets you feel real acceleration punch with one twist of the throttle and the performance to let you enjoy the feeling of powering through gentle curves at a fast clip.
The "Road Star Warrior" is a model that was conceived and developed around the concept of a "V-twin Performance Cruiser" that answered these kinds of needs while also maintaining the best qualities of the "XV1600 Road Star." Adopting state-of -the-art technologies throughout, this is a V-twin cruiser that lets you truly experience the joy and excitement of the open road. It is especially characterized by the combination of elements designed to bring out the pure excitement of riding built around the basic XV1600 Road Star components of (1) an air-cooled engine that gives the direct feeling of presence of a simple power source and (2) a belt drive that gives visual expression to the transfer of power from the engine to the rear wheel.


Main Characteristics and Features


| | |
| --- | --- |
| | Engine |
1) A 1670cc air-cooled OHV engine with satisfying mid- to high-speed power
Taking the air-cooled, 48-degree V-twin engine with four valves per cylinder and 2-plug ceramic-coated cylinders that won such a solid reputation on the XV1600 Road Star as the basic power unit, we made major improvements to the various components that resulted in a new 1,670cc engine with a dramatic 40% boost in power output. (Compared to the Road Star, this engine was bored out an extra 2mm, giving it a 97 x 113 mm bore x stroke.)
Improvements including a new-design for the squish area of the combustion chamber, a cam profile better fitted to the high-speed engine spec, a shorter rocker arm and roughly 30% reduced arm ratio for greater head assembly rigidity that means reduced power loss, plus a shorter exhaust port and 30% increased fin surface area for better heat dissipation, all of which contributes to sharper response in the mid-speed range and an extended power band in the high-speed range, as well as greater overall reliability.

2) Cross-positioned independent injector type fuel injection
The intake system on this model features 40mm diameter down-draft type twin-bore fuel injection. What's more, the throttle body is a cross-positioned type and the injectors are designed as independent units that are separate from the throttle body to enable them to fit in the limited space of the cylinder V bank. This achieves both efficient use of space and improved performance. (The Road Star has a side draft type single carburetor.)

3) Large capacity 7.5 liter air cleaner with innovative "sub-intake"
The air cleaner consists of the main air cleaner box (4.0 liters) positioned in the cylinder V and a sub-air cleaner (3.5 liters) located on the underside of the fuel tank, and these are connected by means of a duct to achieve a large air cleaner capacity of 7.5 liters. In addition to the main intake duct, an innovative design that adds an air intake duct to the sub-box under the tank helps achieve efficient fresh air intake for outstanding charging efficiency that is an important factor in this engine's high performance.

4) Performance boosting 2-into-1 muffler, large 160mm diameter, 570mm long silencer
The exhaust system adopts a 2-into-1 muffler that has been designed to achieve excellence balance between the front and rear cylinders with an exhaust pipe configuration featuring a roughly equal length for the arms of the "V" formed by the pipe sections (38.1mm diameter) coming from the front and rear cylinders. Also, the silencer is a large-capacity type 160mm in diameter and 570mm long, offering not only excellent exhaust efficiency and pleasingly sharp exhaust sound with low-frequency pulse, but also giving an impressive exterior look. At the same time, it provides plenty of banking clearance for enjoying dynamic cornering.
| | |
| --- | --- |
| | Chassis |
1) First aluminum double cradle frame ever on a production cruiser
In order to build a body that was light in weight with a low center of gravity for good handling stability, this model adopts the world's first aluminum double-cradle frame ever on a production cruiser. The frame structure makes generous use of cast parts (with some tube parts) to achieve the optimum rigidity balance. In addition, the adoption of components like a lightweight aluminum rear arm and a forged aluminum seat rail help achieve a dramatic total weight reduction of over 30 kg compared to the XV1600 Road Star. This reduction becomes an important factor in this model's outstanding handling stability.
Also, to give a more direct running feeling and sense of pulse that only a big V-twin can provide, a rigid engine mount system has been adopted.

2) Upside-down front fork and optimized rear suspension cushioning
For the front assembly, an upside-down front fork that provides both outstanding rigidity balance and cushioning performance was adopted. This gives the Road Star Warrior both the new look and suspension performance befitting its "performance cruiser" concept.
Also, the cushioning characteristics of the rear suspension were optimized to give a ride with a good feeling of rigidity.
Furthermore, the adoption of new-design lightweight cast wheels front and rear has helped reduce unsprung weight.

3) Front brake with MOS brake caliper
A compact, high rigidity MOS type opposed-piston one-piece brake caliper has been adopted on the front brake. This MOS caliper is the same type used on the YZF-R1.
As for the rear brake, the same system used on the XJR1300 has been adopted for outstanding braking power, operability and a wider range of controllability.

4) Radial tires front and rear plus new cast wheels
Wide-size radial tires are adopted front and rear. The rear tire is the widest used on any Yamaha production motorcycle at 200/50 ZR 17M/C. It not only contributes to this model's running performance but also serves as an impressive focal point in the exterior styling. Also adopted is an all-new cast wheel designed on the basis of a new method for optimizing plate thickness first introduced on the YZF series models. In combination with the generous banking angle and weight mass concentration, this ensures satisfying cornering performance.

5) New styling and exterior appointments that accentuate "flow lines"
And all-new styling image has been achieved based on the concept of expressing power and "flow lines" that give a feeling of movement. The engine assembly was designed to express elements including the dynamism of the transmission of power, accentuating the presence of the power plant and the large-radius tires it drives. As for the chassis, design stress was placed on the dynamism of the body flow, expression of the power flow and a strong sense of presence and visual expression of the light weight of the chassis overall. The extra-thin fuel tank is also an element contributing to the expression of the flow lines.

6) Other features
Other features that give this model its distinctive character include (1) a belt drive that enables visual enjoyment of the transmission of power to the rear wheel, (2) a riding position that embodies attitude and a sense of aggressiveness, (3) a bar type liquid crystal tachometer for visual enjoyment of the rush of power, (4) an analog speedometer and indicator lamps that convey a sense of authenticity. (5) a new-design multi-reflector type headlight and (6) the first LED type taillight ever on a production cruiser.


2002 Model Yamaha Road Star Warrior Technical Specifications (North American Spec)


Overall length x width x height
Seat height
Wheelbase
Dry weight
Type
Cylinder arrangement
Displacement
Bore x stroke
Compression ratio
Maximum power (ps/rpm)
Maximum torque (kgf-m/rpm)
Starting System
Fuel tank capacity
Fuel supply
Tire size (front-rear)

2,390 x 953 x 1,120 mm
715 mm
1,670 mm
275 kg
Air Cooled 4-Stroke OHV 4-Valve
V-twin
1670 cc
97 x 113 mm
8.3:1
NA/4,500 rpm
NA/3,750 rpm
Electric starter
15 liters
Electronically controlled fuel injection
120/70 ZR-18 / 200/50 ZR-17 MC