New "Chair Ski" model developed for 2002 Winter Paralympics in Salt Lake City
| | |
| --- | --- |
| | March 08, 2001 |
Yamaha Motor Co., Ltd. (YMC) announces that the "S Project" team in which it is participating has succeeded in the development of a new model "chair ski" for use by Alpine ski competitors in the upcoming 2002 Winter Paralympics which are scheduled to take place in Salt Lake City, Utah, USA.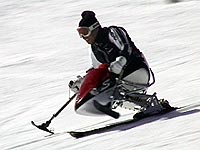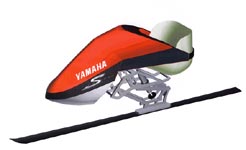 The "S Project" is a team that was put together to support the efforts of Japan's physically challenged competitors who will compete in the Alpine ski events of the 2002 Paralympics in Salt Lake City, in hopes of continuing the impressive performances they gave in the 1998 Winter Paralympics in Nagano, Japan, where five male and two female competitors brought home a total of two Gold Medals, two Silvers and one Bronze. Consisting of eight organizations and companies (*1), with the Yokohama Municipal Rehabilitation Center as the organizational hub and YMC playing the leading role in equipment development, the participants in "S Project" are dedicated to the advancement of sports for the physically challenged and performing research and development efforts in their respective fields on a volunteer basis.

To develop the new model, the chair ski model used in the Nagano Paralympics was subjected to thorough reviews of all the major performance components based on studies of actual athlete movements with the goal of achieving even faster, smoother skiing potential. These studies resulted in extensive revisions to the suspension parts and the frame structure.
At the same time, attention was focused on aerodynamics, and YMC's vast know-how in the development of aerodynamic parts for our motorcycle and snowmobiles race machines was put to full use in the development of an "aero-shell" made of FRP to reduce air drag in the high-speed downhill events. This aero-shell will be adopted on the chair ski models used in the Super-G and Giant Slalom events where the fastest speeds are obtained. Tests indicate that this shell will result in reductions of air resistance of between 5 and 20% compared to the Nagano Paralympic models. It is also expected that the aero-shell will also help keep the competitors warmer and serve a protective role in the case of falls.

The new chair ski model made its official debut at the 2001 Japan Paralympic Ski Competition held from March 9 at the Arai Mountain & Snow Park in Niigata Prefecture.

| | |
| --- | --- |
| (Note 1.) | The organizations/companies participating in "S Project": Yokohama Municipal General Rehabilitation Center, Kanagawa Prefecture General Rehabilitation Center, Kayaba Industries Co., Ltd., Kawamura Artificial Limb Co., Ltd., Tomo Co., Ltd., Nisshin Medical Equipment Co., Ltd., Yamaha Corporation, Yamaha Motor Co., Ltd. (YMC) |