Yamaha Golf Car production tops 800,000 mark in 25th year
| | |
| --- | --- |
| | February 23, 2001 |
On February 23, 2001, Yamaha Motor Co., Ltd. celebrated the line-off of its 800,000th Yamaha Golf Car. This momentous milestone comes in the 25th year since Yamaha began golf car production in 1975 with its "YG292", a 2-passenger, 4-bag model powered by an air-cooled 2-stroke engine.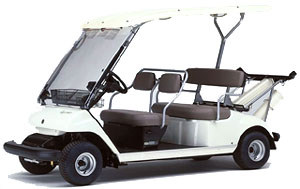 New model "Turf Liner Electric G17-E"
On this same day, the first units of the new 5-passenger electric golf car with electromagnetic guidance system, "Turf Liner Electric G17-E," came off the assembly line. This new model scheduled for release this spring, is the world's first 72-volt DC electric motor that provides powerful performance equal and even superior to gasoline models as well as being exhaust-free and having very quiet running performance. All these qualities are expected to make this model the new standard in the industry.

Yamaha golf cars are presently manufactured at two factories, the Kakegawa factory of YMC's associated company SOQI, Inc. (location: Kakegawa City, Shizuoka Pref., Representative: Katsuhiko Sakuramoto) in Japan, and the Atlanta factory of Yamaha Motor Manufacturing Corporation of America (YMMC) in the USA. In 2000, the Kakegawa factory produced 8,000 golf car units, while YMMC built and shipped about 40,000.

There are presently about 2,300 golf courses in Japan and the total number of golf cars owned by them is about 154,000, and the annual market demand for new units is estimated at 14,000. By constantly responding to the needs of the golf industry and supplying a wide range of models including 2-passenger types, standing caddie types, 4- and 5-passenger types, electromagnetic guidance system models and electric powered models, Yamaha has succeeded in maintaining a domestic market share of about 57%.
It happens that this year represents the 100th anniversary of the introduction of golf to Japan, which dates to the construction of the first 4-hole course in the Rokko hills above the city of Kobe in 1901.
Meanwhile, the USA is golfer's paradise with about 16,000 courses nationwide and, despite the tradition of amateur golfers using caddies and the fact that golf cars are prohibited on the PGA tour, almost all these courses have golf cars. The total number of cars in operation nationwide is estimated at about 800,000.
At the YMMC factory that began operation in 1988, production was on a 100% CKD basis at first, but now the local parts procurement ratio stands at about 65%. Of the roughly 40,000 golf car units manufactured at YMMC's Atlanta factory in 2000, about 90% were shipped within the North American market, with the remaining 10% being exported to destinations including Australia, Southeast Asia and Europe.