A full-fledged wakeboard towing boat Yamaha "Aero Gear 21" Special exhibition model for the Tokyo Intl. Boat Show
| | |
| --- | --- |
| | February 09, 2001 |
Yamaha Motor Co., Ltd. has developed a full-fledged towing boat outfitted with water ballast compartments for creating a well-shaped wake named the Yamaha "Aero Gear 21," which will be displayed as a special exhibition model at the 40th Tokyo International Boat Show (Feb. 9 to 12 at the Tokyo Big Sight).
In recent years wakeboarding has become popular especially among young people, and the present wakeboarding population in Japan is said to be about 300,000.(*) In Japan competitions using specially designed towing boats are now becoming popular too.
* Source: Japan Wakeboard Association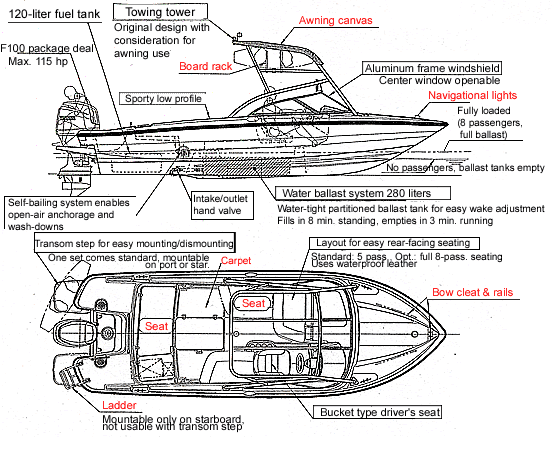 Red letter shows optional parts
Diagram of the "Aero Gear 21"


Features of the "Aero Gear 21"


| | |
| --- | --- |
| - | A "V" type hull design that creates a well shaped wake and also provides good wave-cutting performance |
| - | Sharp sporty styling |
| - | 280-liter water ballast tanks to make the boat's waterline adjustable |
| - | Large, comfortable cockpit capable of carrying 8 passengers |
| - | Self-bailing system makes open-air storage possible |
| - | Comes in two specs; the "Aero Gear 21-SP" featuring must items like a towing tower, swimmers platform that is easy to get on and off, bucket type driver's seat and a wide field of vision rear-view mirror plus the standard "Aero Gear 21" to which the owner can add the options of choice |
| - | Comes as a package with the clean-running, fuel efficient Yamaha F100 4-stroke outboard. F115 can also be mounted. |
- Specifications of the Yamaha "Aero Gear 21"
| | |
| --- | --- |
| Length: | 6.68 m |
| Width: | 2.30 m |
| Package outboard: | 4-stroke F100 |
| Max. rated horsepower: | 115 ps |
| Capacity: | 8 people |
| Fuel tank capacity: | 120 liters |
| License: | Class 5 |
Web Sites Of The 40th Tokyo International Boat Show by Yamaha Motor
http://www.yamaha-motor.co.jp/boatshow2001

(Japanese only)