Expanding Production Capacity in the U.S.
| | |
| --- | --- |
| | November 17, 2000 |
On Nov. 16, 2000 (local time), a ground-breaking ceremony was held at Yamaha Motor Manufacturing Corporation of America (YMMC) (President: Keisuke Yoshida; Location: Newnan, Georgia) to celebrate the start of construction on a new expansion of the company's manufacturing facilities aimed at increasing production capacity for Yamaha products in the U.S.A. YMMC is a U.S. subsidiary of Yamaha Motor Co., Ltd. (YMC) that presently engages in the manufacture of Yamaha brand golf cars, ATVs and Water Vehicles.
Attending the ceremony were some 200 guests including such dignitaries as Congressman Mac Collins, Newnan City Mayor Keith Brady, Coweta County Commissioner Leigh Schlumper, Senior Managing Director Hironori Ogura of YMC, President Shohei Kato of Yamaha Motor Corp. U.S.A. (YMUS), and representatives of associate businesses, local government and the construction industry.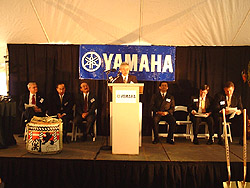 This expansion project for YMMC's production facilities involves the construction of a new factory building with about 20,900 sq. m. floor space on a part of the present company grounds. The construction cost will total US$36 million (approx. 3.9 billion yen) and the contractor is Catamount Constructors, Inc. with head offices also in Atlanta, Georgia.
The new facility will be built as a multi-purpose factory for ATV and golf car manufacturing. With the planned completion of the building at the end of 2001 and the following installation of the manufacturing facilities, actual production is scheduled to begin in June of 2002. Also, in conjunction with the construction of the new factory facility, a new "Distribution Center" (approx. 13,900 sq. m.) will be constructed on a plot adjacent to the factory grounds with the aim of greatly improving distribution and production efficiency by providing rapid and functional receiving and supply to the assembly lines of the manufacturing parts that come in from some 140 outside suppliers.
After beginning the manufacture of Yamaha golf cars in 1988, Water Vehicles in 1989 and most recently ATVs in 1998, YMMC has continued to expand its production of Yamaha products for which the U.S.A. is the largest market. With the continuing strong U.S. economy, recent years have seen an especially dramatic growth in demand for ATVs for both recreation and utility use. With the present expansion project, YMMC's production capacity for ATVs will increase from the present 60,000 units (annual) to about 100,000 units by 2003.

This expansion of production capacity in the U.S. is part of YMC's present mid-term management plan aimed at strengthening the production base for ATVs, which are now one of the company's major businesses, in a way that better enables rapid response to changing market conditions and is not affected by fluctuations in foreign exchange rates.


Reference


Profile of Yamaha Motor Manufacturing Corporation of America (YMMC)
Name:

:

Yamaha Motor Manufacturing Corporation of America (YMMC)

Location:

:

Newnan, Georgia

President:

:

Keisuke Yoshida

Founded:

:

Oct. 6, 1986

Capital:

:

US$86,500,000 (9.34 billion yen)

Investment ratios:

:

| | |
| --- | --- |
| YMC. | 11.9% |
| YMUS (100%-owned YMC subsidiary) | 88.1% |

Sales:

:

US$474,700,000 (51.27 billion yen) / FY ending Mar. 2000

Grounds:

:

960,000 sq.m.

Facility floor space:

:

46,512 sq.m. (present),
67,412 sq.m. (after expansion)

Employees:

:

822

Business contents:

:

Manufacture and shipment of golf cars, Water Vehicles, ATVs

Annual production:

:

| | |
| --- | --- |
| Golf cars: | approx. 40,000 units |
| Water Vehicles: | approx. 41,000 units |
| ATVs: | approx. 60,000 units |

* Figures calculated at exchange rate of 108 yen to the US$