World's highest horsepower 4-stroke outboard Yamaha "F225A" developed
| | |
| --- | --- |
| | July 17, 2000 |
Yamaha Motor Co., Ltd. has recently succeeded in the development of the world's first 225 horsepower 4-stroke outboard motor, the Yamaha "F225A." This new model will be released worldwide beginning in the 2001 season.
Adopting a Yamaha-exclusive "in-bank exhaust system" technology for more compact design, the "F225A" is a 4-stroke outboard motor that boasts a big 225 horsepower while remaining amazingly lightweight and compact, almost the same as a 2-stroke outboard of the same class. Furthermore, the adoption of electronic fuel injection not only boosts performance but also heightens the qualities of better fuel economy, cleaner exhaust and quiet running you hope for from a 4-stroke. The "F225A" also clears the emissions standards of the U.S. Environmental Protection Agency (EPA) and the self-imposed standards of the Japan Boating Industry Association for the year 2006 by large margins.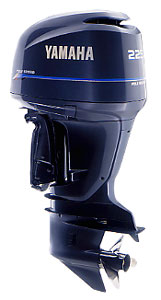 Yamaha "F225A"


Market Background and Product Summary


In the U.S.A. "collective volume" emission regulations have been applied to outboard motors by the EPA since the 1998 models, while in Europe marine engine-specific emissions regulations are about to be implemented. In Japan as well, the Japan Boating Industry Association has adopted voluntary regulations from the year 2000. In light of this worldwide trend toward greater concern for environmental issues, 4-stroke outboards, with their inherent advantages in achieving cleaner emissions and lower fuel consumption, are appearing on the market in increasing numbers.
Because of how they are used, outboard motors are expected to be lightweight, compact and deliver high performance. In markets like the U.S., demand is growing especially for big-horsepower 4-stroke outboards, but until now it has been difficult to develop models that are lightweight and compact.
The newly developed "F225A" is the world's highest horsepower 4-stroke outboard that adopts new technologies to answer the call from the market for models that combine light weight and compactness with high performance.


Features of the Yamaha "F225A"


| | |
| --- | --- |
| | Newly developed engine and "in-bank exhaust system" |
In order to build an outboard that is lightweight and compact, you need a small-displacement engine that achieves high combustion efficiency and high power output. In addition to the new engine unit specially developed for this model, the "F225A" also features a new "in-bank exhaust system" developed exclusively by Yamaha Motor to achieve greater compactness and lighter weight in combination with the 60-degree V6 DOHC power unit.
| | |
| --- | --- |
| | What is the "in-bank exhaust system" |
It is a new system adopted for the first time in the world on a 4-stroke V-type outboard motor and features a phenomenal engineering design that reverses the conventional intake and exhaust system layouts seen on an automobile engine.
| | |
| --- | --- |
| | Exceptional fuel economy and clean exhaust |
This model adopts a Yamaha 4-stroke fuel injection system in which precise readings from the various sensors are fed to the Engine Control Unit's (ECU) microcomputer to enable high-precision control of fuel injection and ignition timing to achieve optimum combustion conditions at all times. As a result, the F225A achieves much better fuel economy than a conventional outboard of the same class.
As for exhaust emissions, the combination of this high level of combustion efficiency and a Yamaha "blow-by gas reburn function *," this engine's emissions are well under EPA emissions standards and the self imposed standards of the Japan Boating Industry Association emissions standards.
At YMC we adopted a new set of environmental policies and goals named the "Year 2010 Environmental Action Plan - Eco-Cite Yamaha" in September, 1999. This new F225A is an embodiment of this corporate commitment to the environment.

*Blow-by gas reburn function: There are cases where some unburned gas blows through the gaps between the piston and the cylinder wall. This system functions to completely burn this unburned gas.
| | |
| --- | --- |
| | Outstanding running performance |
The 24-valve DOHC engine adopts our Yamaha-original fuel injection system along with a "long intake system" that boosts torque in the middle to low speed range. All this means high combustion efficiency across the entire rpm range for speed and acceleration that can hold its own against the 2-strokes. Throttle response during acceleration and deceleration is also excellent.
| | |
| --- | --- |
| | Exceptional quietness |
The F225A runs with exceptional quietness across the entire rpm range. Especially during idling, the idling speed controller and special idling noise reduction system make the inherently quiet 4-stoke engine even quieter.
| | |
| --- | --- |
| | Self-diagnosis system and fail-safe function |
A "self-diagnosis system" is adopted which displays a running history of the engine's use and performance on the screen of a personal computer. Meanwhile, there is also a fail-safe function that keeps the engine running at reduced speed should any failure occur in some part of the motor's systems or sensors.


Reference


| | |
| --- | --- |
| | The Yamaha 4-stroke Outboard Motor Lineup (13 models) |
-------------F4------------ F40
-------------F6-------------F50
-------------F8-------------F80
-----------F9.9-----------F100
-----------F15 -----------F115
-----------F25----------- F225
-----------F30
| | |
| --- | --- |
| | Yamaha Motor's marine engine operations |
Yamaha outboards are exported to over 180 countries around the world, where they consistently enjoy a high reputation in each market.
At Yamaha Motor we have continued to expand our 4-stroke lineup and build more advanced 2-strokes with features like our exclusive High Pressure Direct Injection (HPDI) system. While continuing to improve on the merits of 4-strokes with their inherent fuel economy and quietness, and 2-strokes with their simple structure and powerful performance and acceleration, we are dedicated to developing and supplying both 2-stroke and 4-stroke products with Yamaha's highly acclaimed durability and reliability that meet the needs of the users and each market in order to offer excitement that enriches the lives of people around the world.