Yamaha Outboard Motors Top SixMillion Mark
| | |
| --- | --- |
| | June 15, 2000 |
Yamaha Motor Co., Ltd. topped the six million mark in outboard motor production on June 15, 2000. This milestone comes in the fortieth year since Yamaha introduced its first outboard motor, the P7 (7 hp), back in 1960, the five million mark was reached in March 1996, and the production of one million motors since that time brings the total to six million. .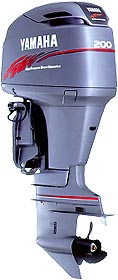 2-stroke outboard model
"Z200N"
Yamaha outboard motors are manufactured by Yamaha Motor Group companies Sanshin Industries Co., Ltd. (Hamamatsu-shi, Shizuoka-ken, President: Susumu Doi) and MBK Industrie (Saint Quentin, France, President: Teruyuki Ando), producing some 250,000 units annually. At present, Yamaha has a full line-up of 2-stroke outboard models ranging from 2 horsepower up to 250 and 4-stroke models from 11 to 115 horsepower that we supply to over 180 countries and regions around the world where they contribute to the modernization of fishing industries and the spread of marine leisure.

Outboard motors are engines that are placed at the rear of boats to provide propulsion; they must be lightweight, compact and high-power. At Yamaha we have used our small engine technology to develop, manufacture and market products that match the needs of the market, while at the same time creating a worldwide service network, all to meet the needs of our customers.

Worldwide outboard motor demand is steady at around 800,000 units a year, and slight increases from developed countries are projected for the future. In addition to the 2-stroke outboard motors that we produce, expansion of the 4-stroke motor line-up and 2-stroke motors installed with our own HPDI Direct Injection System that amply address environmental issues will bring about expanded business centering on the U.S. market. We will continue to respond to the needs of our customers by further development of both 2- and 4-stroke motors.


Profile of Sanshin Industries Co., Ltd.


| | | |
| --- | --- | --- |
| Name | : | Sanshin Industries Co., Ltd. |
| Location | : | 1400 Nippashi-cho, Hamamatsu-shi, Shizuoka-ken |
| Representative | : | President and Representative Director Susumu Doi |
| Established | : | February 1960 |
| Capital | : | 664,590,000 yen |
| Employees | : | 1,250 |
| Factory area | : | 85,000 square meters |
| Principal activities | : | Development and manufacture of outboard motors, diesel engines, stern drive engines and Water Vehicles |
| Sales volume | : | 81,100,000,000 yen (March 1999) |