Four-stroke F4 Outboard Motor ProductionBegins in Europe
| | |
| --- | --- |
| | June 06, 2000 |
Yamaha Motor Co., Ltd.'s European production and marketing subsidiary MBK Industrie (Saint Quentin, France, President: Teruyuki Ando) started production of the F4, a 4-horsepower, 4-stroke outboard motor, on June 6, 2000. Production of the F4, which had been manufactured domestically by Sanshin Industries Co., Ltd. (Hamamatsu-shi, Shizuoka Prefecture, President: Susumu Doi), was transferred to MBK Industrie and production has begun.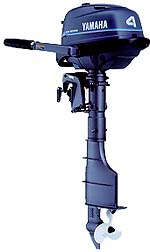 Yamaha 4-stroke outboard motor F4
Overall demand in the European outboard motor market has steadied at the 200,000-unit level with the firming of the economy, and the bulk of demand is in the under 25-horsepower range used as auxiliary units for leisure craft and yachts. Remarkable increases in the sales of 4-strokes are being seen in this area known for its awareness of environmental protection. At Yamaha, we always seek to encourage production in the areas of greatest demand, and this transfer of production to Europe is one step in the process.

Along with the production of two-wheeled vehicles such as bicycles, mopeds and scooters, MBK began manufacturing 2-stroke, 6- and 8-horsepower outboard motors in 1996, totaling some 13,000 units every year. The move of the 4-stroke F4 production, in order to adapt to the increasing popularity of 4-stroke motors in the principal market Europe, will see 15,000 units produced this year and total production at the 28,000-unit level. This marks the first time the 4-stroke outboard motor has been produced at other than the Sanshin Industries factory. Yamaha Kumamoto Products Co., Ltd. (Yatsushiro-shi, Kumamoto Prefecture, President: Shinya Sato) is also planning to start production of small- and medium-sized, 2-stroke outboard motors this autumn, giving Yamaha a system of three factories for the manufacture of outboard motors, Sanshin Industries, Yamaha Kumamoto Products and MBK Industrie.

Worldwide outboard motor demand is steady at around 800,000 units a year, and slight increases from developed countries are projected for the future. With current annual Yamaha production of outboard motors at around 250,000 units, expansion of the 4-stroke motor line-up and 2-stroke motors installed with our own HPDI Direct Injection System that amply address environmental issues will bring about expanded business centering on the U.S. market. By continuing to develop products that correspond to market needs and even greater production efficiency, Yamaha aims to raise the level of customer satisfaction to new heights in the future.


Profile of MBK


Name

:

M.B.K. Industrie

Location

:

Saint Quentin, France

President

:

Teruyuki Ando

Established

:

January 1, 1994

Capital

:

265,000,000 FFR (approximately 4.2 billion yen) *1

Investment ratio

:

| | |
| --- | --- |
| YMENV *2 | 56.9% |
| Yamaha Motor Co., Ltd. | 43.1% |

Total area

:

370,000 square meters (approx.)

Factory area

:

131,400 square meters (approx.)

Employees

:

1,400 (approx.)

Principal activities

:

Manufacture and sales of bicycles, two-wheeled vehicles and outboard motors

Production scale

:

| | | |
| --- | --- | --- |
| Production figures for 1998 | Bicycles | 3,600 units |
| | Two-wheeled vehicles | 183,000 units |
| | Outboard motors | 13,000 units |
| | Sales volume | 30 billion yen *1 |

(all figures approximate)

*1 1FFR = 16 yen
*2 YEMNV = Yamaha Motor Europe N.V., Yamaha Motor's European Headquarters, engaged in the import and sale of Yamaha products, in addition to European marketing, product development and financing