Construction begins on specialpool "Swin 21" for the "9th World Swimming Championships Fukuoka 2001"
| | |
| --- | --- |
| | April 18, 2000 |
On April 13, 2000, Yamaha Motor Co., Ltd. (YMC) began production on the FRP (fiberglass reinforced plastics) competition pool "Swin 21" which will be the main pool for the "9th FINA (Federation Internationale De Nation Amateur) World Swimming Championships Fukuoka 2001" to be held in the year 2001 (Venue: Marine Messe Fukuoka, Hakata Ward, Fukuoka City).

This pool will represent the first special-facility 50-meter competition pool constructed of FRP ever to be used as the main pool for the world championships. And, its choice is a clear statement of the trust that has been placed in Yamaha's FRP pool products and technologies. FRP pools are characterized by the fact that mass manufacturing techniques enable pool sections to be made in standardized units that make for faster installation, easier maintenance and lower cost.

The pools on which production has begun include the international specification main pool (L: 50 m; W: 25 m; D: 3 m) for swimming races and synchronized swimming for the "9th World Swimming Championships Fukuoka 2001" to be located in the Marine Messe Fukuoka and another warm-up pool (L: 50 m; W: 20 m; D: 2 m) to be constructed outside the main facility.

As the event date approaches, pool-side facilities for the main pool and warm-up pool will be constructed so that the pools can be installed in a two-week period before the start of the practice period and after the championships are concluded both pools completely removed from the facility within one week's time.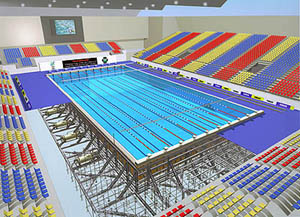 Production/installation schedule
| | |
| --- | --- |
| Apr. 13, 2000 | Pool production begins |
| Mar. 2001 | Pool production completed |
| June 27, 2001 | Main pool installation begins |
| July 10, 2001 | Main pool installation completed |
| July 17~29 | 9th World Swimming Championships held |
| July 30, 2001 | Pool removal begins |
| Aug. 5, 2001 | Pool removal completed |


Reference
Products of YMC's Pool Operations


| | |
| --- | --- |
| - | Plus Ceramic Pool |
| | There is an increasing demand today for tile surface pools with the feeling of high-quality for facilities like hotels and fitness clubs. However, it was believed until recently that FRP pools could not be covered with tile. YMC solved this problem by developing its own special adhesive and upgraded FRP that enables tile surfacing. The resulting line of high quality tiled FRP pools are called our "Plus Ceramic Pools." |
| - | Pool Renewal |
| | By applying FRP panels over the aged and deteriorating surface of a concrete pool it is possible to convert it into a new FRP pool at low cost. YMC sees this as market of promising business potential for the future. |
| - | Emergency Water Supply System |
| | YMC has developed and marketed an emergence water supply system that can be installed as an integrated part of a pool. This system can be sold in a set with a new pool installation or retro-fitted on existing pools. It provides emergency water during times of need such as fires or natural disasters. |
| - | Pool-Side Facilities |
| | YMC has created products that serve a variety of essential functions in the pool environment such as "high performance shower units," "course-rope storage boxes" that double as pool-side benches and "pool-side shelters" that provide essential areas of pool-side shade. We also market our compact "Yamaha Pool-side-in Filtering System" that makes effective use of space in a swimming pool facility. In October of 1999 we also released our "Underwater Monitoring System" that performs swimmer filming and observation functions. |
| - | Wastewater Treatment System |
| | YMC has developed and released a new type of high performance wastewater treatment device called the "PVA Gel Fluidized Bed Wastewater Treatment System" that is microbe-activated in a compact, easy to manage and maintain system. This product is targeted primarily at users in the food industry. |

Production Factory
Yamaha Motor Co., Ltd, Arai Factory Arai-machi, Hamana-gun, Shizuoka-ken, Japan.