PAS Unit-mounted Bicycle "Keirin PAS" Developed as Electro-hybrid Pacer Cycle for Bicycle Races
| | |
| --- | --- |
| | May 19, 1999 |
Yamaha Motor Co., Ltd. has employed its P.A.S. (Power Assist System) technology from its PAS series electro-hybrid bicycles to develop the new "Keirin PAS," a cycle intended for use as a pacer vehicle in bicycle races that combines human power and electric power for the capability of riding at speeds of up to 60 km/hr.

This new model was developed at the request of the Bicycling Association of Japan (BAJ), an organization dedicated to the promotion of bicycle racing in Japan. It is scheduled to be used officially for the first time in round one of the 1999 World Cup to be held in Mexico from May 21 to 23 and thereafter in a schedule of bicycle races extending throughout the calendar year.
This model represents the world's first electro-hybrid bicycle developed especially as a pacer cycle for bicycle races.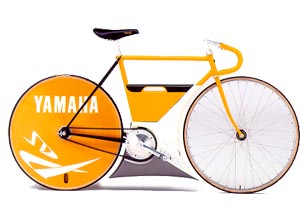 The electro-hybrid bicycle "Keirin PAS" for use as a bicycle-race pacer cycle


Outline of the electro-hybrid bicycle "Keirin PAS" for use as a bicycle-race pacer cycle


The Yamaha PAS series bicycles have won popularity among many users for their light pedaling and environment friendliness. Yamaha Motor Co., Ltd. is presently involved in the research and development of numerous products utilizing the unique qualities of our P.A.S (Power Assist System) that supplements human power with an electric power assist. Recognizing the potential of this technology, the Bicycling Association of Japan (BAJ), commissioned Yamaha Motor to develop an electro-hybrid bicycle for use as a bicycle-race pacer vehicle, which resulted in the development of this model.

Until now, the role of race pacer has been performed primarily by gasoline engine-powered "DERNYS" motorcycles. However, the BAJ and other organizations including the Japan Bicycle Promotion Institute and the Japan Cycling Federation began studying the possibilities of developing a pacer vehicle that would be more suitable for bicycle races as a means of promoting and improving the image of the Japanese-born sport of "Keirin" (professional bicycle racing). As a result of these studies it was decided to take advantage of the new technology of electro-hybrid bicycles, and in recognition of the success and technical excellence of Yamaha's PAS series, an official R&D commission was submitted to YMC in March of 1997.

One of the principle features that distinguishes this new model from the PAS series production models is that instead of one electric motor, the new model's power unit mounts two motors. Also, whereas the mini-computer on the production models is set to cut off the electric power assist when bicycle speed reaches 24 km/hr, the new model is set to provide power assist up to 60 km/hr. While the power assist ratio on production PAS models is set at 1:1 at speeds from 0 to 15 km/hr (with diminishing ratio from 15 to 24 km/hr), the new Keirin model is set to provide a 1:2 assist ratio up to a speed of 60 km/hr, thus enabling riding with only one-third the normal human pedaling power necessary. As a result, it is possible for a person of ordinary physical strength and no special training to ride at the speeds necessary to pace a world-class bicycle (Keirin) race.

Furthermore, in order to make this a practical world-class pacer, attention has been given to various aspects of the design and engineering of this model, including the chassis layout designed to ensure sufficient stability necessary for track riding, a battery recharger that can be used in the various countries of the world, the battery with its shortened charging time and optimized shape and optimization of the switch location. (Frame is made by BRIDGESTONE CYCLE CO., LTD.)

The advantages of using this new Keirin model include reduced physical demand on the rider of the pacer cycle while ensuring a high level of riding stable. What's more, this cycle does not give off exhaust gas that can affect the cyclists in the race. It also eliminates any engine noise, which is incongruous with the nature of bicycle racing, as well as offering the potential for smoother running of races and an improved image.

This model has already been used experimentally in domestic amateur competitions over the last two years and has gained a good reputation. And, through the authority of the Japan Bicycle Promotion Institute, it has been recommended to the international bicycle racing authority Union of Cyclists International (UCI), with the result that it has been approved for use in the first five rounds of the 1999 World Cup, including the opening event in Mexico on May 21, and the World Championship Series. Furthermore, Keirin style bicycle racing will be included as an official Olympic competition for the first time in the Sydney Olympics next year, where plans call for this new model to be used as pacer cycle in the Keirin races pending successful use in this year's World Cup and World Championship Series.

From now on, Yamaha will continue to conduct research and development efforts utilizing the various unique characteristics of the P.A.S. power unit, as with this new model, with the aim of creating an expanding line of new products that are both people-friendly and environment-friendly.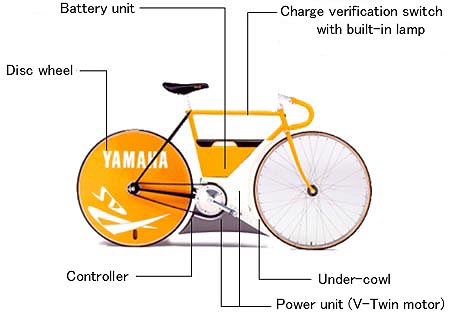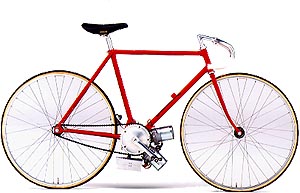 Specifications for the electro-hybrid bicycle "Keirin PAS" for use as a bicycle-race pacer cycle


Dimensions

Frame

Kuromori 530mm

Overall length

1694mm

Overall width

460mm

Saddle height

940mm

Wheelbase

1022mm

Bank angle

35

Tire size
Front

Tubular 700C

Rear

Tubular 700C

Wheel
Front

Spoke

Rear

Spoke

Crank pedal

165mm

Handlebars

All-rounder

Drive mechanism

Chain

Gear mechanism

None

Brakes
Front

Caliper type

Rear

Caliper type

Weight

25.0kg

Electric power-assist system

Power assist system

Control relative to pedal force

Controller

PWM control

Performance

Max. speed for 1 : 2 assist ratio

60km/h

Cruising distance per charge

5km

Power unit

Type

DC brush-type

Rated power output

300W × 2

Battery

Type

Nickel-cadmium battery

Voltage/Amps

1.2V×30(36V)/5Ah

Simple charge indicator

Recharger

Type

Switching regulator type

Electric source used

AC100V~230V

Charging time

Approx. 2.5 hr. (full charge minus waiting time)

Waiting time approx. 1.5 hr at 20-degree C room temperature


Plans for the use of the electro-hybrid bicycle "Keirin PAS" as a bicycle-race pacer cycle


●1999 World Cup
| | | |
| --- | --- | --- |
| Round 1 | May 21 to 23 | Mexico City / Mexico |
| Round 2 | May 28 to 30 | Frisco, Texas, U.S.A. |
| Round 3 | June 18 to 20 | Valencia, Spain |
| Round 4 | August 27 to 29 | Fiorenzuoula d'Arda, Italy |
| Round 5 | September 3 to 5 | Cali, Colombia |
●1999 World Championship Series
October 20 to 24 Berlin, Germany

●2000 World Cup
Dates undecided Location undecided

●2000 World Championship Series
Dates undecided Manchester, England

●2000 Sydney Olympics
September 16 to 21 (planned) Sydney, Australia