YAMAHA MOTOR CO., LTD., IM OPERATIONS Total Shipments in Industrial Robots Reach 50,000 Mark
| | |
| --- | --- |
| | April 20, 1999 |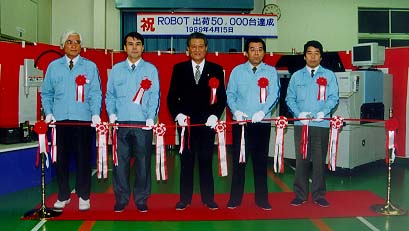 On April 15 at IM Operations in Yamaha Motor Co, Ltd., the total shipments of industrial robots, which include robots and surface mounters, reached the 50,000 mark. We made this accomplishment in the period of 15 years, since the SCARA robots "YK7000" were first shipped in February 1984. A modular high-speed mounter "YV100X", which was newly released this past March, was the robot to reach the mark.

In 1976, Yamaha Motor Co. Ltd. developed a Cartesian robot for Yamaha's own engine assembly lines in order to save labor and improve the precision in manufacturing process. After the SCARA robot "CAME" was introduced to our motorcycle manufacturing lines in 1979, we completed the development of the SCARA robot "YK7000" targeted for other manufacturers in October 1983. In the following February, IM Operations was established and the domestic and international sales operations began.

Our product line includes various types of robots; SCARA, Cartesian, and single-axis robots to support the automation and labor saving at manufacturing plants, Surface Mounters that maximize Yamaha's robot-control technology, and a monorail 3D transport system, just to name a few. Since IM Technical Center was established in Soude Plant in November 1991, manufacturing, sales, and technology have been integrated into our business operation, allowing us to quickly respond to every aspect of the market from development to after-sale service of the products. Our sales exceeded \20 billion in 1997 and each of our products has been recognized as a top-level brand in each area.
| | |
| --- | --- |
| | Comments from Mr. Takehiko Hasegawa, President |
I am truly delighted to see that our shipments reached the 50,000 mark. The success of IM Operations lies in our effort to maximize our robot-control technologies, to be keen to the changes in the market and to utilize the technologies and findings into merchandizing. We have worked aggressively to improve user-friendliness, speed, and compactness of our products and to respond to the market needs in all aspects of manufacturing, sales, and technology without a boundary, which is another big reason behind the success.
With all the knowledge and technology we have accumulated in the past, we will continue to supply the market with the products that satisfy our customers' needs and expectations. Even more, it is my hope to create "KANDO", a Japanese word for the feeling of deep satisfaction and intense excitement, by constantly exceeding our customers' expectations in the area of industrial robots.


Reference


Changes in the number of industrial robots shipped out
| | | |
| --- | --- | --- |
| February | 1984 | Manufacturing of industrial robots began. |
| March | 1990 | The number of robots reached the 3,000 mark |
| March | 1992 | The number of robots reached the 10,000 mark |
| August | 1996 | The number of robots reached the 30,000 mark |
| April | 1999 | The number of robots reached the 50,000 mark |