Dinghy sailing completion to bring over 100 sailors to Karatsu in Kyushu - 24th All Japan SeaHopper Class Championship Regatta - 8th All Japan SeaHopper SR Class Championship Regatta
| | |
| --- | --- |
| | October 01, 1998 |
Over the three days from November 1 to 3, the Japan SeaHopper Class Association with sponsorship from the Japan Yachting Association will hold 24th All Japan SeaHopper Class Championship Regatta and the 8th All Japan SeaHopper SR Class Championship Regatta at the Saga Prefecture Yacht Harbor in Karatsu City, Saga Prefecture in Kyushu.

This regatta is a big event that draws more than 100 sailors from all across Japan once a year to compete for the title of No. 1 in Japan in the popular SeaHopper single-handed sailing dinghy (4.24 m) class.
Loved by competitive sailors throughout the country for its exceptional sailing performance, the SeaHopper has become Japan's most popular sailing dinghy class boat with cumulative sales of over 13,000 units since its release by Yamaha Motor in 1975. With a slightly smaller sail area and relative ease of handling, the SeaHopper SR has rapidly become the class of choice for many high school and women's sailing teams. Because both of these models are designated as official classes in Japan's "Kokutai" National Sports Festival, prefectural yachting federations and high school yachting teams throughout the country have adopted SeaHoppers as one of their principal classes.
Among the staff of the hosting Saga Prefecture Yacht Harbor are Atlanta Olympic Silver Medalists Y. Shige and A. Kinoshita and many of their students are among the applicants for this year's competition.

With returning competitors like last year's SeaHopper class champion Junichiro Kutomi (Kagawa Pref.), SeaHopper SR champion Maiko Sato (Fukuoka Pref.) and the other top finishers in the regional competitions sponsored by the Japan SeaHopper Class Association, this year's regatta is expected to be one of the most competitive ever.

On competition days press boats will be prepared by the organizers to enable members of the press to cover and photograph the sailing competition at close quarters.


Summary of the Competition


Event name:

24th All Japan SeaHopper Class Championship Regatta
8th All Japan SeaHopper SR Class Championship Regatta

Dates:

Nov. 1 (Sun.) ~ 3 (Tues.), 1998

Venue:

Saga Prefecture Yacht Harbor
3-1-8 Futago, Karatsu-shi, Saga Pref. TEL: 0955-73-7041

Organizer:

Japan Yachting Association

Operation:

Japan SeaHopper Class Association, Saga Prefecture Yachting Federation

Sponsors:

Saga Prefecture, Saga Prefecture Board of Education, Saga Amateu
r Sports Association, Karatsu City, Karatsu City
Board of Education, Karatsu City Amateur Sports
Association, Karatsu City Tourist Association, YSA Karatsu
Fleet, Boat Yamaha Club (All planned sponsors)

Qualifications for Entry:

1) (1)1998 membership in the Japan Yachting Association or Japan SeaHopper Class Association.
(2) Holders of the Japan Yachting Association Beginner's Badge Test qualification
(3) Those who have qualified for entry in this event through one of the regional competitions or those who have received a recommendation for entry from the Japan SeaHopper Association
(SR is an open class)
2) Winners of the 23rd All Japan Regatta (1997)
3) Winners of the 1998 Eastern Japan or Western Japan Regatta

Competition format:

Circumnavigation of four designated markers. Points awarded in order of finish, winners decided on the basis of total points for all races.


Race course samples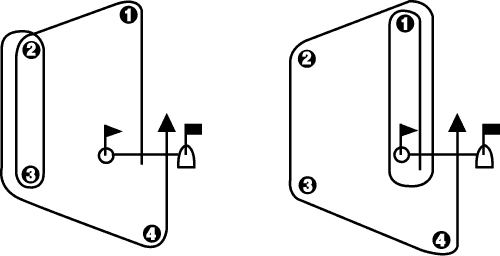 Race Schecule


Date

Time

Event schedule

Nov. 1 (Sun.)

9:00~10:30
11:00~11:30
13:00~
continues
18:00~

Reception,
Opening Ceremony, Skippers Conference
Start of 1st race
Start of 2nd race
Party

Nov. 2 (Mon.)

9:30~
continues
continues

Start of 3rd race
Start of 4th race
Start of 5th race

Nov. 3 (Tues.)

9:30~
continues
14:30~

Start of 6th race
Start of 7th race
Closing Ceremony