Multi-purpose P.A.S. system unit "X05" developed in answer to broadening OEM demand
| | |
| --- | --- |
| | September 29, 1998 |
Yamaha Motor Co., Ltd. has recently succeeded in the development of a new P.A.S. system unit named"X05"Designed to allow a greater amount of flexibility in frame design and mounting position for electro-hybrid bicycles, the"X05"drive unit will go into production beginning in December of this year for supply on an OEM basis to bicyc lemanufactures in Japan and overseas markets.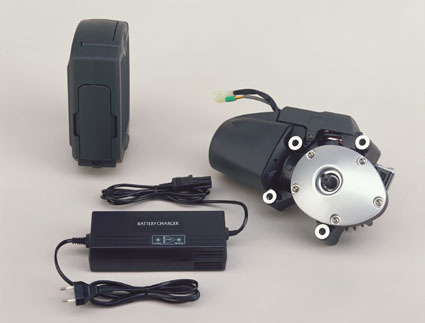 P.A.S. system unit"X05"
(Drive unit assembly (right), battery (upper left) and charger)
Name: P.A.S. system unit"X05"

Inheriting all the product quality, reliability and proven performance of the Yamaha s existing P.A.S. system units, the new"X05"unit achieves even greater lightness and compactness. It is designed to afford greater freedom offrame design and flexibility in mounting possibil ities to meet the highly diversified needs of the bicycle market.
Since the introduction of the Yamaha PAS as the world s first electro-hybridbic in 1993, Yamaha has continued to be the market leader in this category, which is now receiving much attention from the world s bicycle makers as a big-potential growth sector. In answer to this market need, Yamaha began supplying PAS system units on an OEM basis in 1997 and presently supplies them to four domestic Japanese makers and six overseas makers, with expectations for further expansion of OEM sales worldwide in the future. In order to reduce developmental and investment costs for these makers in this growing market to a minimum, Yamaha Motor has taken into consideration a wide range ofrequests from the makers in the development of the highly versatile, multi-purpose new "X05" system unit.

Besides achieving a considerable reduction in weight and size due to a concerted re-analysis of all the primary components, the new"X05"has also beendesigned so that its basic mechanical parts can be mounted in a"naked"state that blends in with the design of the bicycle without the resin-plastic exterior casement that is so costly for makers to develop and manufacture to fittheir own models. These and other factors contribute greatly toward keepingdown the OEM makers total development costs.
With this new system unit as a main model, Yamaha Motor intends to continue answering the OEM needs of bicycle makers around the world.


Main features of the P.A.S. system unit"X05"


| | |
| --- | --- |
| | -Lightweight, Compact |
The new unit is 0.4 kg lighter than the existing unit. Also, optimization ofthe layout of the various components has achieved a rough ly 10% reduction insize (by volume). This means greater flexibilit y in mounting on a wide variety of frame designs.
| | |
| --- | --- |
| | -Coverless Specification |
This spec is designed so that its basic mechanical parts can be mounted in a"naked" state without the resin-plastic exterior casement that is costly formakers to develop and manufacture.
| | |
| --- | --- |
| | -Basic performance maintained |
The basic performance standards of the existing P.A.S. syst em unit that haswon such high acclaim from markets around the world have been maintained onthe new unit. High product reliability has bee n maintained as well.


Main specifications of the "X05" drive unit assembly




Mounting examples for the P.A.S. system unit "X05"