Soaring to a 23.6 km record! Gokuraku Tombo reaches the long dreamed of far shore of Lake Biwa Overall Victory in the 22nd International Birdman Rally in Japan
| | |
| --- | --- |
| | August 01, 1998 |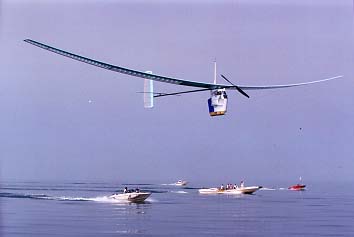 On August 1, the 22nd Japan International Birdman Rally, held at Matsubara Beach in Hikone City on the east shore of Lake Biwa, was the scene of a thrilling man-powered flight by the Gokuraku Tombo of Yamaha's Team Aerocepcy employee club (Rep.: Masato Suzuki). In a breathtaking display of aeronautic performance and endurance, pilot Hironori Nakayama pedaled the Gokuraku Tombo to an overwhelming victory as he more than doubled the previous distance flight record for this annual contest.

At 9:05 on the morning of Aug. 1, the Gokuraku Tombo got a perfect lift-off from the start platform as the eighth starter on the propeller-driven category, climbing slowly into the air above Lake Biwa under clear skies in excellent flight conditions with a 1 to 2 m/sec. northwesterly wind and a temperature of 29 degrees C.
The flight began in a northwest direction with the Gokuraku Tombo's fuselage pointed into the headwind, but after 20 minutes the wind direction began to shift slightly, forcing a change in course to the north. Pilot Nakayama and the Gokuraku Tombo were still making steady progress as they passed to the east of Chikubushima Island at the 17 km point. Just over 23 km into the flight Nakayama reached the northernmost point on the lake, near Nishi-azaimachi, where he lowered the Gokuraku Tombo gently into the water about 20 meters from shore.
The official flight distance of 23,688.24 meters and time of 54 min. 33 sec. demolished the previous event record (9,761.56 m) and gave Yamaha's Team Aerocepcy its 4th overall victory in the Birdman Rally.


Results of the 22nd Birdman Rallly


<Man-powered propeller driven category>
Winner
2nd
3rd
4th
5th
6th

Team Aerocepcy
Nihon University Science and Engineering Dept. team
Team Wings Toyohashi
Osaka Prefectural University Sakai Fusha team
Tokyo Univercity (F-tec)
Tsukuba Toriningen team

23688.24m
4761.08m
2728.20m
1495.47m
1224.12m
938.46m