Challengefor a new Japanese record in man-powered flight
| | |
| --- | --- |
| | April 27, 1998 |
Yamaha Motor Company's voluntary club of employees dedicated to the challenge of man-powered flight, Team Aerocepsy (representative: Masato Suzuki), will attempt to establish a new Japanese distance record for man-powered flight with their craft "Gokuraku Tombo" during the month of May.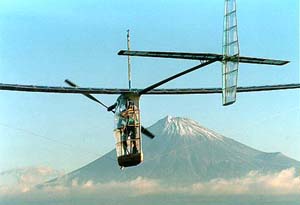 The category of man-powered aircraft in which the Yamaha employee team competes mounts a bicycle body to the aircraft which is pedaled by the pilot to turn a propeller and provide sufficient lift and forward propulsion for flight. Every summer teams from companies and institutions around Japan gather on the shores of Lake Biwa to compete in the popular "Birdman Contest."

The standing Japanese distance record for man-powered flight is the 4,436 meters flown by Yamaha's own Team Aerocepsy in May of 1992, but in the upcoming distance fight attempt the same team is aiming to extend that record dramatically to the range of 12,000 meters.
<Summary of the plan to break the Japanese record>
Record attempt schedule: May 1, 1998
Man-powered flight is greatly affected by weather conditions. In the case of poor weather conditions such as rain or wind that prohibit flight the attempt date will be extended until an appropriate date some time before May 31, 1998.
Record attempt course
Starting on the Douri beach in Asaba-cho, Shizuoka Pref., the flight will follow the shore along Enshu-nada and eventually land near the mouth of the Kikukawa river in Daito-cho, Shizuoka Pref. about 12 kilometers from the start. However, depending on the wind direction on the attempt day, the reverse course may be chosen.
Schedule on the record attempt day

3:00 AM
Gather at the site, transport of the craft and materials
|
Measurement of wind on the beach. If conditions are right for a flight preparations are begun.
4:00 AM
Start of craft assembly
|
4:30 AM
Completion of assembly, waiting for start
|
At the moment of optimal conditions the flight will commence.
7:00 AM
If conditions are still not suitable for a start by this point, the chances of the wind stopping are small and the attempt will be called off for that day. However, if the wind increases in strength sign ificantly prior to this time the day's attempt will be called off at that earlier point.

Distance goal: Approx. 12,000 m(about 40 min. in flight time)
This 12 km distance is equivalent to almost three times the present record.
An official of the Japan Aeronautic Association will be present at the record attempt to ensure official verification by the association in case a record is set.
<For your reference>
| | |
| --- | --- |
| | The present Japanese distance record for man-powered flight |

Team
Team Aerocepsy
Record
4,436.7 m
Date
May 22, 1992
Place
From the Fukude Beach, Iwata-gun, to Samejima Beach, Iwata City, Shizuoka Pref.
About the man-powered aircraft "Gokuraku Tombo"
| | |
| --- | --- |
| | Specifications |
Aircraft
"Gokuraku Tombo"
Wing span
32.0 m
Wing area
28.4 square meters
Overall length
7.0 m
Propeller turning diameter
2.7 m
Aircraft weight
32.0 kg
Pilot weight
67.0 kg
Flying weight
99.0 kg
| | |
| --- | --- |
| | Technical features of the "Gokuraku Tombo" |
Use of carbon fiber for light structural weight and high rigidity Sophisticated aerodynamic design achieves high level of aerodynamic and handling performance
Outfitted with adjustable-pitch high performance propeller designed with the aid of computer analysis which enables minimized power loss based on suitable choice of pitch, etc. ...
| | |
| --- | --- |
| | In addition |
The craft to be used in this record attempt is the same one prepared for last yea's Lake Biwa "Birdman Contest," which was canceled due to the effects of a typhoon. In preparation for this record attempt, some 50 test fights have been conducted at the Fujikawa glider facility in Fuji City, Shizuoka Pref.


About Team Aerocepsy
| | |
| --- | --- |
| | The members |
The team presently has 14 members, all of whom are Yamaha Motor Company employees working in technical/engineering fields, and their average age is 35 years old. The team was started from a group consisting of senior and junior employees, dorm mates and friends. The name aerocepsy means a sense of air flow.
| | |
| --- | --- |
| | Member activities |
All the work for the team activities is done strictly on private time outside the individual members' normal work hours at Yamaha. For this reason, all assembly work and test flights are done either after work hours, on holidays or on paid vacation days.
| | |
| --- | --- |
| | Highlights of the team's record in the "Birdman Contest" |
Holding
Year
Category
Finish
Fight distance
Pilot
10th Birdman Contest
1986
Propeller craft
1st place
512.2
Norihiko Tanaka
10th Birdman Contest
1986
Propeller craft
2nd place
286.1
Masato Suzuki
12th Birdman Contest
1988
Glider
2nd place
214.9
Masato Suzuki
14th Birdman Contest
1990
Propeller craft
3rd place
513.7
Hironori Nakayama
16th Birdman Contest
1992
Propeller craft
1st place
2019.7
Hironori Nakayama
16th Birdman Contest
1992
Glider
1st place
232.0
Katsu Nakamura
19th Birdman Contest
1995
Propeller craft
1st place
8764.0
Hironori Nakayama
20th Birdman Contest
1996
Propeller craft
2nd place
7973.1
Hironori Nakayama
Participation in the Birdman Contest as a team began from the 7th holding (1983).