Star Shop--Superior Service with a Smile 31 mechanics to test their skills in national contest '97 Yamaha Service Mechanic National Contest
| | |
| --- | --- |
| | November 20, 1997 |
Yamaha shop service mechanics from around the country took part November 6 in the "1997 Yamaha Service Mechanic National Contest" at the Yamaha Resort " Tsumagoi" in Kakegawa, Shizuoka Prefecture. A field of 387 from around the nation participated in regional elimination contests, leaving 31 expert mech anics to test their skills in the national contest.
The 20 members in the "Masters Class" and 11 in the "Basic Class" competed for overall score in two categories--a written test and dealing with customer s. Mr. Nobuhiro Torii (YSP Minami Kyoto) won the Masters Class and Mr. Kats uyoshi Ogawa (Speed Shop Iino) won in the Basic Class. The prize winner lis t gives the names of others who were also honored.

Begun eight years ago in 1989 with the aim of increasing user satisfaction, this event strives to improve total service through improvements in technica
l skill and customer relations.

This year's contest highlighted two areas--Trustworthy Technical Ability and Customer Interaction--embodied in the slogan, "Star Shop--Superior Service with a Smile." The object of the contest is to increase demand by improving overall service shop capabilities, in terms of both technical and customer service, and giving the customers the satisfaction they want.

The competition began with a 70-minute written test that covered technical, business, and product knowledge. Following that was a first for the competition this year, a 65-minute session recreating situations in which a customer would bring in an out-of-order vehicle and the serviceman would diagnose the problem and recommend needed repairs. More so than in previous years, the two-hour-fifteen-minute contest dealt with service situations that might actually be encountered in the shop.

The 387 participants in the regional competitions were the highest number on record, and notable for the number of new faces. This was surely one reason for the high level of the competition this year.

* Star Shop = Authorized Yamaha Technical Service Star Shop
| | |
| --- | --- |
| | Master Class winner, Mr. Nobuhiro Torii |
"The time for the technical section was short, if I'd had a little more time, I would have been calmer. The customer service section was basically what I do in the shop, but I was a little nervous when I remembered I was being e valuated."
| | |
| --- | --- |
| | Basic Class winner, Mr. Katsuyoshi Ogawa |
"It was tough, there wasn't enough time. As for the customer interaction section, just being in a different place made me nervous. I wasn't able to do my usual best."
| | |
| --- | --- |
| | About the "Yamaha Service Mechanic Contest" and the "YTS (Yamaha Technical Service Star Shop) System" |
The contest used to be a competition between servicemen at Yamaha dealers and Yamaha sales companies, but was changed in order to improve shop service a long with the implementation of the YTS system and make Yamaha "Number 1 in customer satisfaction." Since 1992, it has been open to two-wheel mechanics working in Star Shops.

The YTS system was started in 1986. It's a progressive system that awards Single, Double, and Three Star certifications to servicemen who attend YTS
tr aining seminars held throughout the country. As of September 1997 there were 1,118 shops with Single Star status, 908 Double Star shops, and 84 Three S tar shops for a total of 2,110 shops with more than 5,800 Yamaha two-wheel m echanics.


Award winners


Master Class
District

Entrant

Shop

Winner
2nd winner
3rd winner
Award for Excellence
Award for Excellence
Award for Excellence
Award for Excellence
Award for Excellence
Award for Excellence
Award for Excellence
Honorable Mention
Honorable Mention
Honorable Mention
Honorable Mention
Honorable Mention
Honorable Mention
Honorable Mention
Honorable Mention
Honorable Mention
Honorable Mention

Kansai
Tokyo
Tokyo
Hokkaido
Tokyo
Tokyo
Chubu
Kansai
Kyushu
Kyushu
Hokkaido
Tohoku
Tohoku
Chubu
Chubu
Kansai
Kansai
Kansai
Chugoku
Shikoku

Nobuhiro Torii
Mikio Sakai
Toshiyuki Kasahara
Tatsunori Fujisawa
Kazuyoshi Takeuchi
Akihiko Sugimoto
Hideyasu Tomizawa
Tomoya Kasamatsu
Masashi Okadome
Jun Furukawa
Shinji Kawaguchi
Shuuetsu Kasukawa
Yuuetsu Furudate
Makoto Awazu
Yuuichi Hasegawa
Kazuya Takatani
Mamoru Yuguchi
Yoshinori Shigeta
Takuji Okumura
Kiyokazu Shintani

YSP Minami Kyoto
YSP Sakura
Kasahara Bicycle
Fujisawa Auto-cycle
Takeuchi Cycle
YOU SHOP Sugimoto
YSP Numazu
YOU SHOP Kasamatsu
YSP Kokubu
Motor Shop Furukawa
YOU SHOP Bokensha
Kasukawa Cycle Shop
YOU SHOP Furudate
Akai Sanrinsha
YSP Hamamatsu-kita
YOU SHOP KAZU
YOU SHOP Nishimura
YSP Osaka-kita
YOU SHOP KUBO
YOU SHOP Shintani
Basic Class
District

Entrant

Shop

Winner
2nd winner
3rd winner
Award for Excellence
Award for Excellence
Award for Excellence
Honorable Mention
Honorable Mention
Honorable Mention
Honorable Mention
Honorable Mention

Tohoku
Kansai
Kansai
Tokyo
Chugoku
Shikoku
Tohoku
Tokyo
Tokyo
Chubu
Kyushu

Katsuyoshi Ogawa
Masayuki Matsumoto
Seiichi Harada
Junya Sugisaki
Masakazu Sakagawa
Masaki Isozaki
Kunihiro Tanaka
Masakazu Sato
Yuuji Sasanuma
Issaku Yaezawa
Hirotsugu Yamazaki

Speed Shop Iino
YOU SHOP Arabiya
K.K. Harada Cycle
YOU SHOP Rainbow
Bike Plaza Yamano
Bike Garage People
Miura Ringyo
YSP Chino
Auto Cycle Numasan
YSP Kariya
Nomachi Motors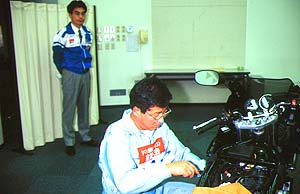 '97 Yamaha Service Mechanic National Contest, A scene from the technical section
'97 Yamaha Service Mechanic National Contest, A scene from the customer interaction section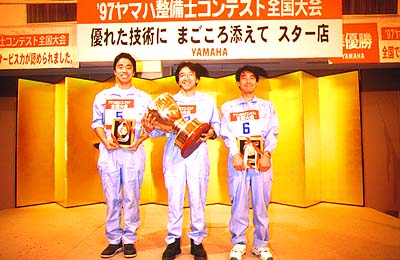 Masters Class Award Winners.
Winner: Mr. Torii
2nd winner, Mr. Sakai (right)
3rd winner, Mr. Kasahara(left)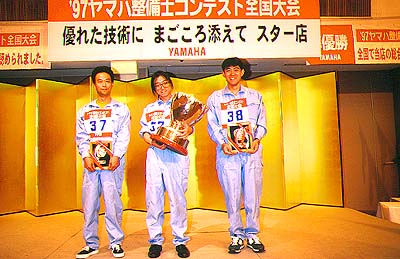 Basic Class Award Winners
Winner: Mr. Ogawa
2nd winner, Mr. Matsumoto (right)
3rd winner, Mr. Harada (left)
Participants selected at nationwide regional contests