EF2200iS
Generator products information is accessible from here.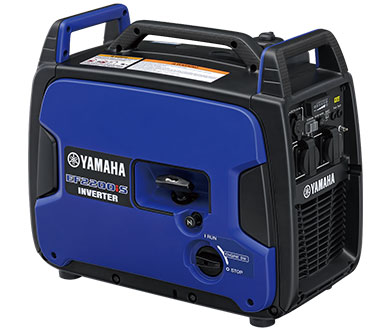 Representative model, spec.
Inverter
A computer-controlled inverter ensures high-quality electricity.

Economy control
Regulates engine rpm accordance with actual electricity load for greater fuel economy and quietness.

Circuit breaker
[Computer controlled]
Automatically cuts off the current when the output voltage exceeds the designated maximum capacity.

4-stroke OHV engine
Compact size, high power, low fuel consumption & low noise level.

Oil warning system
Engine stops automatically when oil level(pressure) has fallen below the prescribed level.

Auto decompressor
Light recoil starting.

DC output capability
Steady supply of 12V power.

Fuel gauge
Fuel level confirmation at a glance.

Tri-Handle
Easy to carry.

Soundproof type

Parallel operation

On all models

On some models
Specification Sheet
Generator
Type
Inverter type
Rated voltage (V)
230
Frequency (Hz)
50
Rated output (kVA)
1.8
Rated output (kVA) in Parallel use
3.6(EU) 3.4(AUS/CHN)
DC output
12V/3A
Engine
Engine
MZ80 : 4-stroke OHV pressure air-cooled
Starting system
Recoil *1
General
L*W*H (mm)
555*300*470
Dry Weight (kg)
25
Fuel tank capacity(full)(l)
4.7
Operating Hours (Hr/ 1/4 load)
10.5 (Economy control system : ON)
Operating Hours (Hr/ rated load)
4.2
Noise Level (db A)(7m)(1/4 load)
57 (Economy control system : ON)
Noise Level (db A)(7m)(rated load)
65
Features
Voltage regulator
Inverter
Circuit breaker system
Computer controlled
Fuel level gauge
◯
Oil level warning system
◯
Pilot lamp
◯
Economy control system
◯
Acces.
Parallel kit
Option
DC charging leads
×
Receptacle
Please read your owner's manual and all labels before operation.
*1 Recoil hand start
Illuminated Multi-Function LED Display
It is equipped with a multifunctional LED indicator with power display and warnings in cases for trouble. In addition, a LED light has been set up under the indicator so that the switches can be checked in dark places.
Display
Activeation
Discription
Start the engine
The current power supply level is displayed by the output indicators.
Acording to the power supply level, the output indicator(s) will come on.
Push the reset botton 3 times within 1 second in no-load running.
The accumulated operation time is displayed by output indicator lights "A" and "B".
The light "A" flashes every 1000 hours
the light "B" flashes every 100 hours
※Hour meter does not function when the generators are in parallel operation.
Over loading
The overload indicator light comes on when electricity over the rated output is required by the connected electrical devices, or when the inverter control unit overheats, or the AC output voltage rises.
Then the AC protector will trip, stopping power generation in order to protect the generator and any connected electric devices.
The oil level falls below the lower level
The oil level warning light come on and then the engine stops automatically.
Unless you refill with oil, the engine will not start again.
Push the boost switch for 3 seconds
Output indicators come on consecutively when the generator is in boost mode.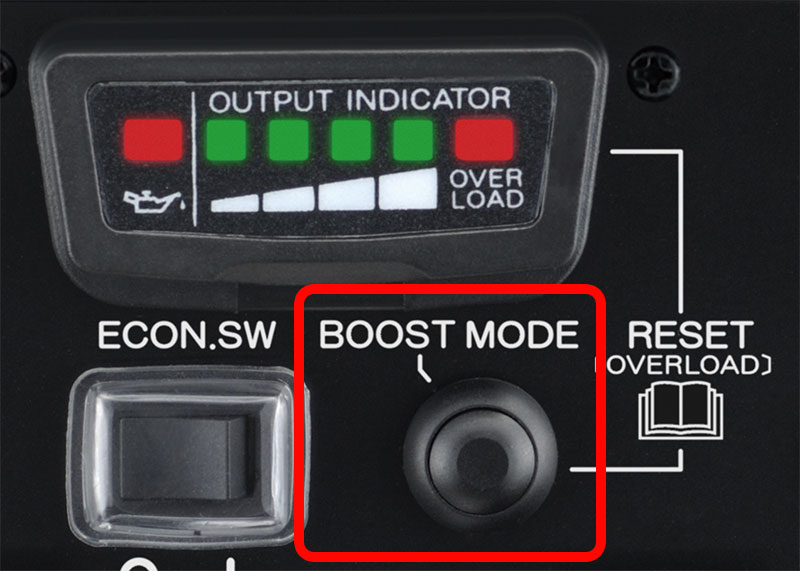 The boost mode switch raises up the number of rotation of the engine temporarily (for approximately 60 seconds). When  using devices that require a large starting current, such as a compressor of a submersible pump or refrigerator, use this switch.
To enter the boost mode, push the boost mode switch for 3 seconds. to exit the boost mode, push the boost mode switch for 3 seconds again. After approximately 60 seconds of the boost mode, the generator will return to the normal mode automatically.
Feature Map