EF2000iS
Generator products information is accessible from here.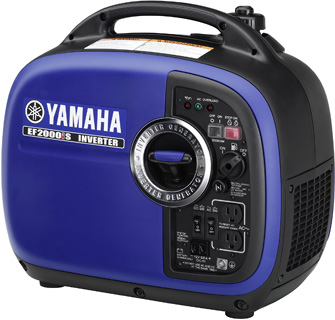 Inverter
A computer-controlled inverter ensures high-quality electricity.

Economy control
Regulates engine rpm accordance with actual electricity load for greater fuel economy and quietness.

Circuit breaker
[Computer controlled]
Automatically cuts off the current when the output voltage exceeds the designated maximum capacity.

4-stroke OHV engine
Compact size, high power, low fuel consumption & low noise level.

Oil warning system
Engine stops automatically when oil level(pressure) has fallen below the prescribed level.

Auto decompressor
Light recoil starting.

DC output capability
Convenient for battery charging.

Fuel gauge
Fuel level confirmation at a glance.

Carrying Handle
Easy to carry.

Soundproof type

Parallel operation

On all models

On some models
Specification Sheet
Generator
Type
Inverter type
Rated voltage (V)
230
Frequency (Hz)
50
Rated output (kVA)
1.6
Max output (kVA)
2.0
Rated output (kVA) in Parallel use
3.0
DC output
12V/8A
Engine
Engine
MZ80 : 4-stroke OHV pressure air-cooled
Starting system
Recoil *1
General
L*W*H (mm)
490*280*445
Dry Weight (kg)
20
Fuel tank capacity(full)(l)
4.2
Operating Hours (Hr/ 1/4 load)
10.5 (Economy control system : ON)
Operating Hours (Hr/ rated load)
4.2 (Economy control system : ON)
Noise Level (db A)(7m)
51.5(1/4 load)-61.0(rated load) (Economy control system : ON)
Features
Voltage regulator
Inverter
Circuit breaker system
Computer controlled
Fuel level gauge
◯
Oil level warning system
◯
Pilot lamp
◯
Economy control system
◯
Voltage fluctuation
Instantaneous
Less than 25%
Setting
Less than 5%
Setting time
Within 2 secs.
Frequency stability
Less than ± 0.1Hz
Waveform distortion
Less than 2.5%
Acces.
Transportation kit
Option
DC charging leads
◯
Receptacle
Please read your owner's manual and all labels before operation.
*1 Recoil hand start
No.1 in Ease of Use.All-in-one Control Panel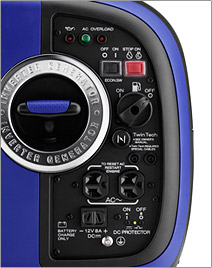 EF2000iS is No.1 in ease of use.
As with the popular EF2400iS, all the starter and control functions are gathered in one place on the front panel. You can do all the operations to start and run your EF2000iS from the same position.
We have positioned the re-coil type starter pull and switch panel for easier access.
Beautiful design to match in any leisure usage.
New retro-modern styled re-coil starter protection ring.
With the new EF2000iS, Yamaha has created a new design identity that fits a handy inverter series.
The aim was to create design that is emotional with reminders of the good old days and new value at the same time.
This is how the new EF2000iS design was born, with a nostalgic round form and functional geometrical design combining to create retro-modern styling.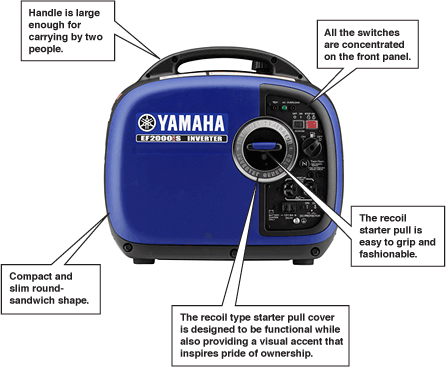 Parallel Use Function for Wider Range of Uses
This model is outfitted with a parallel-use function as standard equipment to enable the use of two generators to accommodate a wider range of uses (widened range of output needs).
You can connect two units of EF2000iS by using the optional terminal unit assy.
Professional users operating a variety of precision devices sometimes need a little more output.
With the EF2000iS you can connect two units to get the added output for a variety work uses.