EF2600FW
Generator products information is accessible from here.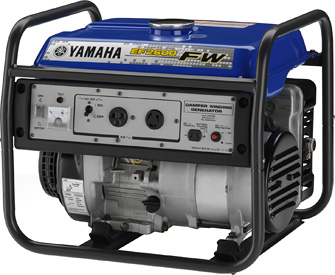 Representative model, spec.
4-stroke OHV engine
Compact size, high power, low fuel consumption & low noise level.

Brushless generator
Maintainance free.

Oil warning system
Engine stops automatically when oil level(pressure) has fallen below the prescribed level.

Circuit breaker
[Electro-thermal]
Easier 'on' & 'off' of AC output with circuit breaker.

Auto decompressor
Light recoil starting.

Fuel gauge
Fuel level confirmation at a glance.

Voltmeter
Voltage confirmation at a glance.

Frame
Easy to carry & solid protection.

On all models

On some models
Specification Sheet
Generator
Type
Brushless AC Generator with damper winding / Single Phase
Rated voltage (V)
220
Frequency (Hz)
50
Rated output (kVA)
2.0
Max output (kVA)
2.3
DC output
12V / 8.3A
Engine
Type
MZ175 : 4-stroke OHV pressure air cooled
Starting system
Recoil *1
General
L*W*H (mm)
510*415*425
Dry Weight (kg)
41
Fuel tank capacity(full)(l)
12.0
Operating hours (Hr)
10.6
Noise Level (db A)(7m)
65.0
Features
Brushless
◯
Voltage regulator
Capacitor
Auto decompressor
◯
Dual voltage
×
Circuit breaker system
AC:Electro magnetic
Fuel level gauge
◯
Oil level warning system
◯
Voltmeter
◯
Pilot lamp
×
Acces.
AC Plug
×
DC charging leads
◯
Receptacle
Please read your owner's manual and all labels before operation.
*1 Recoil hand start
Damper winding adopted for greatly reduced waveform distortion ratio
Adding a damper winding (short-circuit ring) to the alternator's rotor serves to correct the distortions in magnetic flux occurring during electricity generation and makes it possible to greatly reduce waveform distortion ratio by adding a skew to the alternator core. This greatly expands the ange of electric appliances the generator can be used with to include those operating with microcomputer control.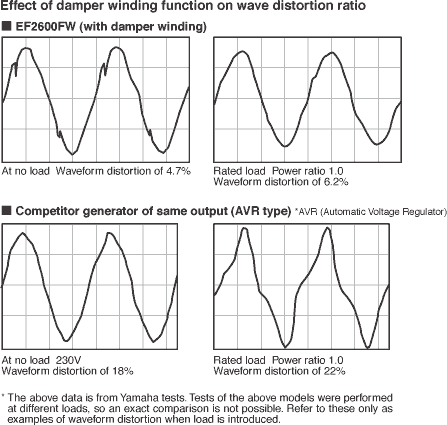 DC output,twist-lock outlet added
A DC outlet has been added to the EF2600FW for uses like charging batteries. Also, a twist-lock type socket has been adopted to prevent disconnecting during moving or running of the generator (ground fitted). These features provide greater functionality and convenience.