EF1000FW
Generator products information is accessible from here.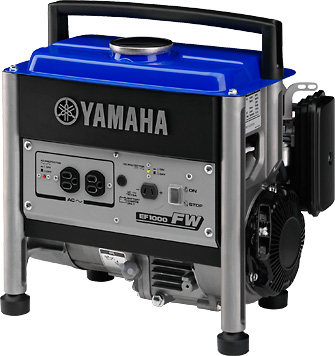 Representative model, spec.
4-stroke OHV engine
Compact size, high power, low fuel consumption & low noise level.

Brushless generator
Maintainance free.

Oil warning system
Engine stops automatically when oil level(pressure) has fallen below the prescribed level.

Circuit breaker
[Electro-magnetic]
Fuseless type to protect the circuit against overcurrent.

Auto decompressor
Light recoil starting.

DC output capability
Convenient for battery charging.

Carrying Handle
Easy to carry.

On all models

On some models
Specification Sheet
Generator
Type
Brushless AC Generator with damper winding / Single Phase
Rated voltage (V)
220
Frequency (Hz)
50
Rated output (kVA)
0.70
DC output
12V/8.0A
Engine
Type
MZ80 : 4-stroke OHV pressure air cooled
Starting system
Recoil *1
General
L*W*H (mm)
401*298*420
Dry Weight (kg)
24.0
Fuel tank capacity(full)(l)
3.6
Operating hours (Hr)
6.9
Noise Level (db A)(7m)
62.0
Features
Brushless
◯
Voltage regulator
Capacitor
Auto decompressor
◯
Circuit breaker system
Electro thermal
Oil level warning system
◯
Voltmeter
×
Pilot lamp
×
Acces.
AC Plug
◯
DC charging leads
◯
Receptacle
Please read your owner's manual and all labels before operation.
*1 Recoil hand start
Improvement in waveform distortion ratio with damper winding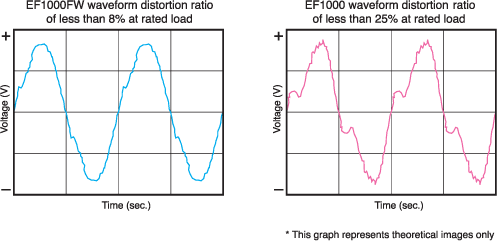 As a model intended for a wide range of uses from commercial and household, we have outfitted the EF1000FW with a variety of features to make it more user-friendly. The handle grip that rises from the two sides of the body has been rounded along its full length to make it easier to grip with one hand, two hands or by two people. The control panel is spread out over a larger area in a layout that makes it easier to see the receptacles and switches for easier operation. The fuel cock was redesigned and its space expanded for easier use. And an oil drain was added to the engine as a feature not seen on other 1kVA class compact portable generators that contributes to serviceability.
New-design handle grip
The handle grip is wide and rounded along its full length for easier carrying with one hand, two hands or by two people

Control panel


(comparison of old and new)


Wider control panel than existing models with lateral arrangement for better ease of use and visibility

Fuel cock
Fuel cock with more space around it for ease of use

Oil drain
Oil drain adopted for the first time on a Yamaha 1kVA class model for better