EF5500D
Generator products information is accessible from here.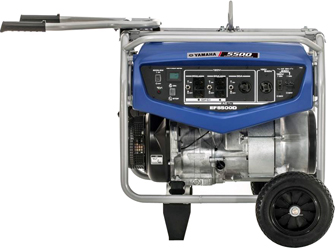 The picture and specification is for US market.
4-stroke OHV engine
Compact size, high power, low fuel consumption & low noise level.

Brushless generator
Maintainance free.

Oil warning system
Engine stops automatically when oil level(pressure) has fallen below the prescribed level.

Circuit breaker
[Electro-thermal]
Easier 'on' & 'off' of AC output with circuit breaker.

Auto decompressor
Light recoil starting.

Auto choke
Easier starting.

Fuel gauge
Fuel level confirmation at a glance.

Voltmeter
Voltage confirmation at a glance.

Electric starter
Easier starting.

Frame
Easy to carry & solid protection.

On all models

On some models
Specification Sheet
Generator
Type
Brushless,
Condenser Comensation,
Synchronous AC
Generator/Single Phase
Rated voltage (V)
120 / 240
Frequency (Hz)
60
Rated output (kVA)
4.5
Max output (kVA)
5.5
Engine
Type
MZ360 : 4-stroke OHV forced air cooled
Starting system
Recoil
General
L*W*H (mm)
740*720*800*With Handle & Wheels
Dry Weight (kg)
93
Fuel tank capacity(full)(l)
26
Operating hours (Hr)
1/2 Load: 13.5
Rated Load: 9.0
Noise Level (db A)(7m)
74.1
Features
Cell Motor
×
Dual Voltage
◯
V Meter & Hour Meter
◯
Oil Warning Lamp
◯
Economy Idle
◯
Auto Choke
×
Fuel Level Gauge
◯
AVR
×
Output mode Switch
×
Fuel Cut
◯
Wheel Kit
◯
Remote Control Kit
×
Battery
×
GFCI Receptacle
◯
Receptacle
Please read your owner's manual and all labels before operation.