EF4500iSE
Generator products information is accessible from here.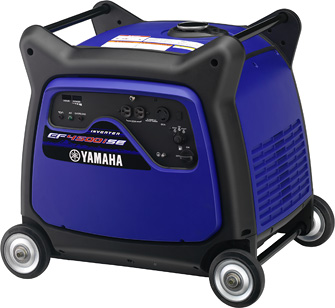 Representative model, spec.
Inverter
A computer-controlled inverter ensures high-quality electricity.

Economy control
Regulates engine rpm accordance with actual electricity load for greater fuel economy and quietness.

Circuit breaker
[Computer controlled]
Automatically cuts off the current when the output voltage exceeds the designated maximum capacity.

4-stroke OHV engine
Compact size, high power, low fuel consumption & low noise level.

Oil warning system
Engine stops automatically when oil level(pressure) has fallen below the prescribed level.

Auto choke
Easier starting.

Fuel gauge
Fuel level confirmation at a glance.

Electric starter
Easier starting.

Carrying Handle
Easy to carry.

Soundproof type

On all models

On some models
Specification Sheet
Generator
Type
Inverter type
Rated voltage (V)
120
Frequency (Hz)
60
Rated output (kVA)
4.0
Max output (kVA)
4.5
DC output
-
Engine
Type
MZ360:4-stroke OHV pressure air cooled
Starting system
Electric *1
General
L*W*H (mm)
780*616*692
Dry Weight (kg)
88.0
Fuel tank capacity(full)(l)
17.0
Operating Hours (Hr/ 1/4 load)
15.2(Economy control system : ON)
Operating Hours (Hr/ rated load)
7.4(Economy control system : ON)
Noise Level (db A)(7m)
58.0(1/4 load)-60.0(Rated load)(Economy control system : ON)
Features
Voltage regulator
Inverter
Circuit breaker system
Computer controlled
Fuel level gauge
◯
Oil level warning system
◯
Pilot lamp
◯
Economy control system
◯
Acces.
Transportation kit
Standard
DC charging leads
×
Wireless Remote Control Kit
Option
Receptacle
Please read your owner's manual and all labels before operation.
*1 Electric start
Achieving long continuous operation and lowest noise emission in the 4.0kVA class
This generator is designed for exceptional quietness. Large capacity muffler and soundproofed high output engine (MZ360) that generates at a constant 2,600rpm with no load, low load, and ated load. These features allows the generator to operate at 58dBA (@ 1/4 load) / 60dBA (@ rated load), which is the lowest noise emission in the 4.0kVA class. A high-output engine and large capacity fuel tank (17L) achieves long continuous operation of 7.4 hours (@ rated load) or 15.2 hours (@ 1/4 load).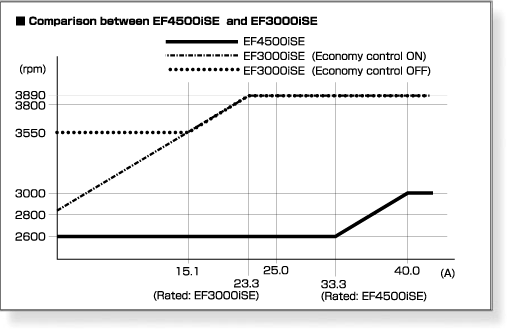 High output in a lightweight,compact body
Abundant use of resin parts and removal of the recoil starter allows the EF4500iSE to be light (88kg) and compact (332 liter volume). The high-power engine (MZ360) can supply enough electricity to allow simultaneous use of air conditioners and microwaves (rated output 4.0kVA / maximum output 4.5kVA). This provides high utility on the leisure scene.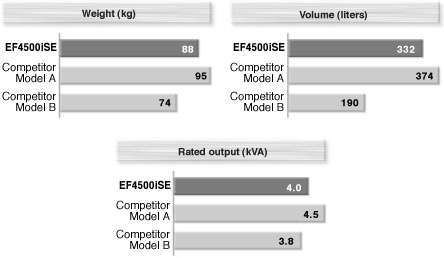 Portable and easy to service
Twin lifting bars are installed at the top and bottom on both sides of the body (lower twin bar is on the caster wheel) for easy unloading. The large four-wheeled caster (with locking function) enhances the portability of the generator. The twin lifting bars and large casters also act as a buffer against impact from other objects. The exterior panels have been designed with one detachable panel on each side for better accessibility for servicing.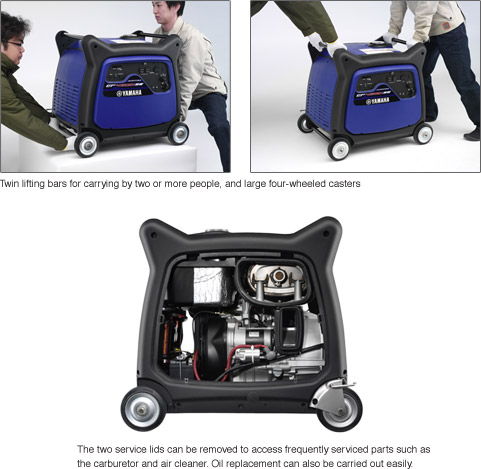 Many user-friendly functions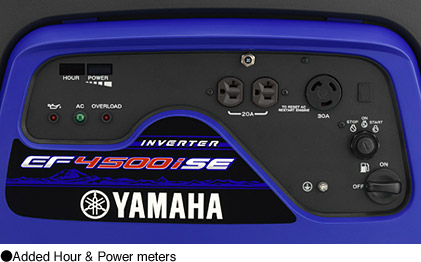 Wireless remote control
For the EF4500iSE, an optional wireless remote control is available. (*Not available in some specs.) In motor home leisure use, the remote control allows the users to start the generator wirelessly in extreme weather conditions.
The range of the remote control is approximately 20 meters in clear view with no obstacles (walls and other obstacles may obstruct the performance of the remote control). The battery life of the remote controller has been tested for use for up to 10,000 times (* Yamaha data).
To avoid operational mishaps, the main switch on the generator (key operated ON/OFF switch) and the remote control switch (square shaped seesaw switch on the upper right side of the control panel) must both be placed in the ON position. From here, the remote start switch must be pressed two times within a few seconds to help ensure reliability when starting the unit.