EF3000iSE
Generator products information is accessible from here.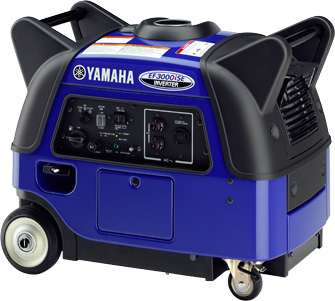 Representative model, spec.
Inverter
A computer-controlled inverter ensures high-quality electricity.

Economy control
Regulates engine rpm accordance with actual electricity load for greater fuel economy and quietness.

Circuit breaker
[Computer controlled]
Automatically cuts off the current when the output voltage exceeds the designated maximum capacity.

4-stroke OHV engine
Compact size, high power, low fuel consumption & low noise level.

Oil warning system
Engine stops automatically when oil level(pressure) has fallen below the prescribed level.

Auto decompressor
Light recoil starting.

DC output capability
Convenient for battery charging.

Fuel gauge
Fuel level confirmation at a glance.

Electric starter
Easier starting.

Carrying Handle
Easy to carry.

Soundproof type

On all models

On some models
Specification Sheet
Generator
Type
Inverter type
Rated voltage (V)
120
Frequency (Hz)
60
Rated output (kVA)
2.8
Max output (kVA)
3.0
DC output
12V/12A
Engine
Type
MZ175:4-stroke OHV pressure air cooled
Starting system
Recoil *1/Electric *2
General
L*W*H (mm)
680*445*555
Dry Weight (kg)
68.0
Fuel tank capacity(full)(l)
13
Operating Hours (Hr/ 1/4 load)
18.6(Economy control system : ON)
Operating Hours (Hr/ rated load)
7.8(Economy control system : ON)
Noise Level (db A)(7m)
54.5(1/4 load)-61.0(rated load)(Economy control system : ON)
Features
Voltage regulator
Inverter
Circuit breaker system
Computer controlled
Fuel level gauge
◯
Oil level warning system
◯
Pilot lamp
◯
Economy control system
◯
Acces.
Transportation kit
Standard
DC charging leads
◯
Receptacle
Please read your owner's manual and all labels before operation.
*1 Recoil hand start
*2 Electric start

54.5dBA Running and Silent Design to Cut Irritating Noise
An Economy Control function has been adopted which chooses the minimum engine rpm necessary for the actual electrical load. What's more, the combined effect of a compact, lightweight new-design muffler and optimum distribution of sound-absorbing material produce exceptionally quiet running.
Lightweight, Compact Body and Large Wheels as Standard Equipment

The combination of the compact engine, a compact, lightweight inverter unit, a compact alternator with multipolar magneto and outstanding electrical output-per- weight ratio and plastic-material covers, etc., help achieve a low overall weight of just 68 kg. That is light enough to be carried by two people.
Also, for greater ease in moving, the generator is fitted with four wheels.
Designed for Long Continuous Running
The highly fuel-efficient 4-stroke, OHV, single cam 175cc engine, the large-capacity fuel tank and the "Economy Control" mode that enables low-rpm running, all combine to achieve a continuous-running time of 19 hours (at 1/4 capacity load).
Supplying High Quality Electricity
An inverter is adopted to rectify the electrical current.
This provides Pulse Width Modulation (PWM) control in order to produce high-quality electricity supply. That means you can use this generator with confidence as a power source for appliances with built-in computer functions or microcomputer-controlled power tools.
Controls Concentrated on One Panel
Unbeatable ease of use is guaranteed by the single control panel that brings together all the controls on one surface, including the AC and DC outlets, the output indicator, the output malfunction lamp, the stop switch, the fuel cock and the recoil starter.
The new exterior design adopted for this model has a refined look that truly epitomizes what an IT era generators should be. Using many flowing curves and surfaces, it gives the impression of a power source that can move of its own volition.
Reliable, Low Fuel-consumption Engine
The engine adopted on this model is the Yamaha "MZ175" a 175cc 4-stroke OHV engine. Proven in use as a multi-purpose engine and on various Yamaha products like golf cars, this power unit is known for its reliability and high power output. It is also characterized by its good fuel economy and quiet running.
Environment-Friendly Design
The EF3000iSE also features clean exhaust that clears the world's strictest emissions standards, the U.S's EPA Phase II Tier II.