EF2800i
Generator products information is accessible from here.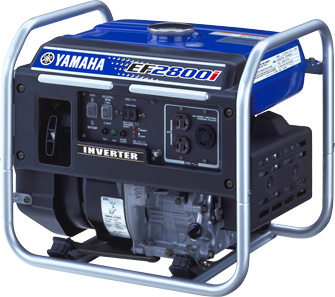 Representative model, spec.
Inverter
A computer-controlled inverter ensures high-quality electricity.

Economy control
Regulates engine rpm accordance with actual electricity load for greater fuel economy and quietness.

Circuit breaker
[Computer controlled]
Automatically cuts off the current when the output voltage exceeds the designated maximum capacity.

4-stroke OHV engine
Compact size, high power, low fuel consumption & low noise level.

Oil warning system
Engine stops automatically when oil level(pressure) has fallen below the prescribed level.

Auto decompressor
Light recoil starting.

DC output capability
Convenient for battery charging.

Fuel gauge
Fuel level confirmation at a glance.

Frame
Easy to carry & solid protection.

On all models

On some models
Specification Sheet
Generator
Type
Inverter type
Rated voltage (V)
120
Frequency (Hz)
60
Rated output (kVA)
2.5
Max output (kVA)
2.8
DC output
12V/10A
Engine
Engine
MZ175:4-stroke OHV pressure air cooled
Starting system
Recoil *1
General
L*W*H (mm)
487*395*425
Dry Weight (kg)
30.0
Fuel tank capacity(full)(l)
9.7
Operating Hours (Hr/ 1/4 load)
14.7(Economy control system : ON)
Operating Hours (Hr/ rated load)
6.7(Economy control system : ON)
Noise Level (db A)(7m)
65.0(1/4 load)-68.0(rated load)(Economy control system : ON)
Features
Voltage regulator
Inverter
Circuit breaker system
Computer controlled
Fuel level gauge
◯
Oil level warning system
◯
Pilot lamp
◯
Economy control system
◯
Voltage fluctuation
Instantaneous
Less than 25%
Setting
Less than 1%
Setting time
Within 2 secs.
Frequency stability
Less than ± 0.1Hz
Waveform distortion
Less than 2.5%
Acces.
Transportation kit
×
DC charging leads
◯
Receptacle
Please read your owner's manual and all labels before operation.
*1 Recoil hand start
Lightest Weight in its Class!
The EF2800i adopts a multipolar alternator known for excellent ratio of power output to weight. Other features like the adoption of an electrical governor and an array of lightweight design features throughout, help this model achieve the lightest weight in class at about 30kg(approx. 64 lbs.). This light body offers the big convenience of single-person portability.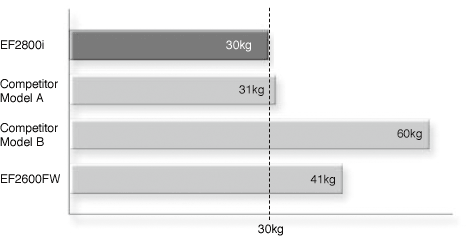 Easy to Use Compact Design!
Thorough compact-design measures like the adoption of a multipolar alternator have given the EF2800i a smallest-in-class body size equivalent to just 81.8 liters (approx. 21.4 gallons) of volume. Boasting an overall length of just 487mm and overall width of 395mm, this model can easily be loaded into a car or other vehicle with plenty of room to spare.