EF2400iS
Generator products information is accessible from here.
Representative model, spec.
Inverter
A computer-controlled inverter ensures high-quality electricity.

Economy control
Regulates engine rpm accordance with actual electricity load for greater fuel economy and quietness.

Circuit breaker
[Computer controlled]
Automatically cuts off the current when the output voltage exceeds the designated maximum capacity.

4-stroke OHV engine
Compact size, high power, low fuel consumption & low noise level.

Oil warning system
Engine stops automatically when oil level(pressure) has fallen below the prescribed level.

Auto decompressor
Light recoil starting.

DC output capability
Convenient for battery charging.

Fuel gauge
Fuel level confirmation at a glance.

Carrying Handle
Easy to carry.

Soundproof type

Parallel operation

On all models

On some models
Specification Sheet
Generator
Type
Inverter type
Rated voltage (V)
120
Frequency (Hz)
60
Rated output (kVA)
2.0
Max output (kVA)
2.4
Rated output (kVA) in Parallel use
3.8
DC output
12V/8A
Engine
Engine
MZ175 : 4-stroke OHV pressure air-cooled
Starting system
Recoil *1
General
L*W*H (mm)
527*419*461
Dry Weight (kg)
34.0
Fuel tank capacity(full)(l)
6.0
Operating Hours (Hr/ 1/4 load)
11.0(Economy control system : ON)
Operating Hours (Hr/ rated load)
5.0(Economy control system : ON)
Noise Level (db A)(7m)
54.5(1/4 load)-61.0(rated load)(Economy control system : ON)
Features
Voltage regulator
Inverter
Circuit breaker system
Computer controlled
Fuel level gauge
◯
Oil level warning system
◯
Pilot lamp
◯
Economy control system
◯
Voltage fluctuation
Instantaneous
Less than 25%
Setting
Less than 5%
Setting time
Within 2 secs.
Frequency stability
Less than ± 0.1Hz
Waveform distortion
Less than 2.5%
Acces.
Transportation kit
Option
DC charging leads
◯
Receptacle
Please read your owner's manual and all labels before operation.
*1 Recoil hand start
Lightweight, compact body and highest output in 2 kVA class
The combination of the world's first aluminum die-cast frame on a portable generator, an aluminum TCI rotor and other measures like increased use of plastic-material parts have helped achieve a lightweight (34 kg), compact (101.8 liter volume) body design. What's more, the adoption of the compact, powerful engine (MZ175) used on Yamaha's larger generators has helped achieve the highest output level (2.4 kVA) in the 2 kVA class despite the compact body. This means it has the capacity to power the kind of 13,500BTU class air-conditioner used in many recreational vehicles (RVs).
● Capable of running an air-conditioner (13500 BTU) with a base load of 360W at 30 degrees C.
● Capable of running an air-conditioner (13500 BTU) with a base load of 0W at 35 degrees C.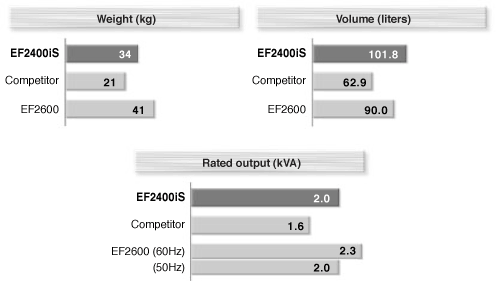 New structure for better portability and strage
The lightweight, compact body has been made even more portable with the addition of two easy to grip 22.5 mm diameter pipe handles and convenient grooves on the underside to make it easier to lift up the generator. Storage has also been made more efficient with a design that enables two units to be stacked one on the other with no additional parts added.
As an option, four wheels are also offered for easier to maneuverability by one person. And a stopper mechanism is added for greater stability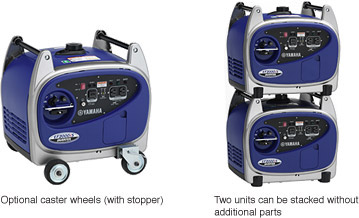 Volume and weight comparison with the existing model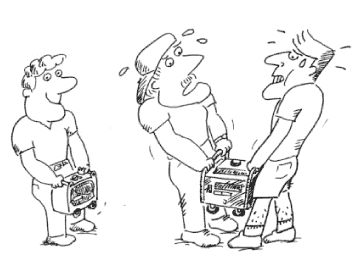 Improved operability and serviceability and an parallel use capability for greater utility
Unbeatable ease of use is guaranteed by the single side-mounted control panel that brings the AC and DC outlets and output display together with all the controls in one place. Also, the exterior panels have been designed with one detachable panel for each side that is easily removed to expose the various parts for easier servicing and maintenance. Furthermore, as a new function, terminals have been added to enable two EF2400iS generators to be run in parallel to achieve higher output and thus achieve an output sufficient to power utilities that are driven by an electric motor.
*An optional special-specification cable is necessary to utilize the parallel capability