Surf Life Saving
Report on Surf Life Saving.
Surf Life Saving Australia
Australia' SLSA, a volunteer organization with a 100-year history.
A life saving organization that was established in 1907 and is mostly composed of volunteers.
It's long history, good performance record and reputation make it hugely popular with the Australian people.
A pioneer of life saving activity worldwide.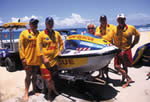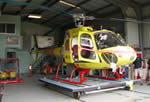 In addition to traditional rescue operations that rely heavily on manpower, recently it has steadily introduced mechanical equipment such as rubber boats and helicopters.
PWC is expected to be main equipment for the operation in future.
Advantages of using PWC for life saving
Advantages of PWC
1) Better mobility and operability in rough weather and water.
2) Absence of projections such as impeller and tiller enhances safety when nearing swimmers.
3) High speed enables rapid approach to drowning persons.
4) Better controllability makes approaching drowning persons easier.
5) Good water tightness ensures easy recovery in case of capsizing.
6) Compact body means a smaller storage space.
Merits of rescue sled
1) Lack of distance from the water surface make climbing and pulling people up onto the sled easier.
2) Light and soft material ensures easy handling and comfort.
WaveRunner as a craft for rescue
The rescue WaveRunner is mounted rear-first on a special trailer for quicker launching in rescue operations.
The rescue approach is made with care to avoid other swimmers, and when reached, the rescuee is pulled up on the rescue sled and towed back to the beach.
If there are unconscious swimmers, two lifesavers may participate in the rescue operation.

This is the SLSA rescue WaveRunner
Presently, SLSA uses a specially outfitted version of the Yamaha WaveRunner XL700.
Here is an example of a Rescue Water Vehicle used by SLSA and supplied by the dealership, Northcoast Jet-Ski at Maroochydore, Queensland.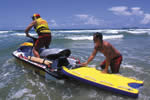 Rescue sled
A high-buoyancy mat is attached to the rear of the WaveRunner to carry the person being rescued.
A study 3-point attachment is used to ensure stability on the water.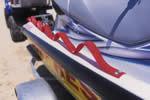 Hand straps
Straps are attached to both sides of the WaveRunner hull.
By providing a place for people to hold on, more people can be rescued at once than with the rescue sled alone.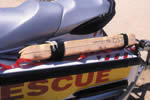 Floating tube
Attached to the hull with Velcro, this tube can be easily detached and thrown to a person in the water.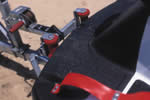 Wear guard
Wear guard material is applied to the stern of the craft to prevent friction with the rescue sled from damaging the FRP hull.